Preserving herbs from your garden is a great way to use up your harvest, and save yourself some cash. It's fun and easy, and there are several methods you can try. In this post, I'm going to show you how to preserve fresh herbs using nine of my favorite methods.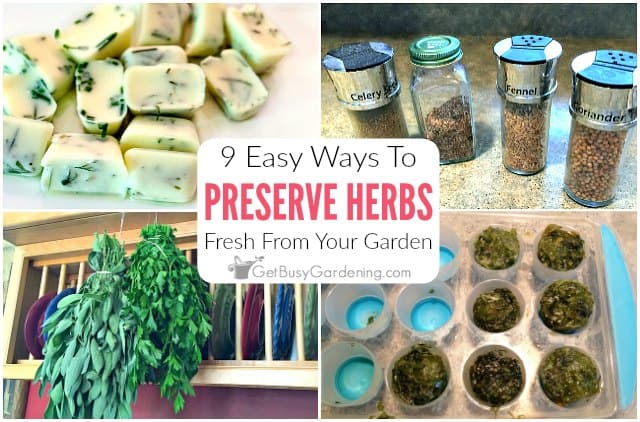 If you've ever tried growing herbs, you know that they are abundant in the summer. It's wonderful to walk out and snip off the perfect amount for your recipes whenever you need them.
But most of us can't harvest them fresh from the garden all year long. So we must come up with creative ways to preserve herbs for later use.
Preserving herbs from your garden is also a great way to save money, since buying them at the store is really expensive.
So, if you're wondering what to do with nature's bounty, then you're in the right place! Below I will show you nine ways to save herbs, so you can continue to enjoy them throughout the year.
9 Ways To Preserve Herbs
There are many ways to preserve herbs. From drying to freezing, or making delicious herb-infused oils, vinegars, and butter… the options are endless! Here are my favorites…
1. Storing Fresh Herbs In The Fridge
If you plan to use them soon, then you can store herbs in your fridge. Don't leave them in there too long though, or they could dry out or mold.
An herb keeper works great. Or you can place them in a glass of water (like you do with flowers), and cover them with plastic.
Here's how to store them in your refrigerator, and a few tricks to make sure they last as long as possible…
To keep them fresher longer, do not rinse them before putting them into the fridge
Wrap them loosely in plastic wrap (wrapping them tightly will hold in moisture, which can cause mold)
Store them in the warmest part of your refrigerator
Use them up within a week for the freshest flavor
2. Preserving Herbs By Freezing
This method is super easy and doesn't take up much space. Plus frozen herbs retain their flavor better than they do when dried.
Most herbs, including parsley, cilantro, chives, rosemary, sage, and basil freeze very well. You can use whole leaves, or chop them up first, whichever you prefer.
Then either flash-freeze them on a cookie sheet, put them into ice cube trays, or use an herb freezer tray to keep them frozen.
Store them in a freezer-safe container, and they'll be ready for use whenever you need them. Get step-by-step instructions for how to freeze herbs here.
3. Drying Your Garden Herbs
One of the easiest methods for preserving herbs is to dry them. The only downfall of this method is that they do tend to lose some of their flavor.
There are several ways to dry them, including in a food dehydrator, hanging bundles upside down, using a drying rack, or even in your oven or microwave.
Some of the best herbs to preserve by drying are basil, rosemary, mint, sage, lavender, and oregano.
Once they're completely dry, store them in baggies, mason jars, a paper bag, or any other container you want. Learn exactly how to dry herbs here.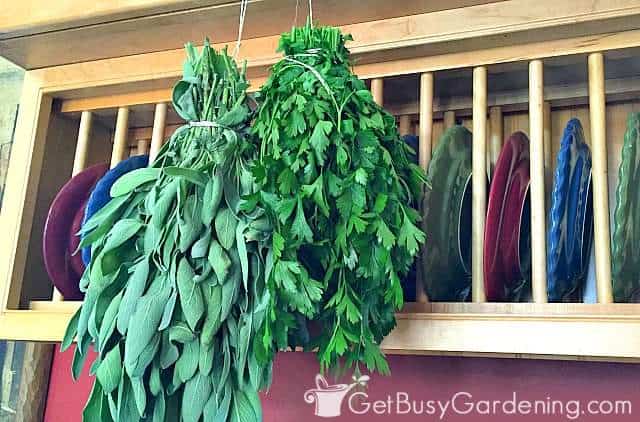 4. Preserving Herbs In Vinegar
Herb-infused vinegar is not only tasty, it looks beautiful, and has a great shelf life too. It's best to use white vinegar because it really brings out the flavor of the herbs.
There are two main methods you can use to preserve them in vinegar:
Mix fresh herbs with room temperature vinegar, then wait a couple of weeks before using it
Dry the herbs first, mix them into the vinegar, and then heat it up to infuse the flavor
Store your homemade infused herb vinegar in a glass bottle in a cool, dark place, or keep it in your fridge. You can use it in any recipe that calls for vinegar to add a punch of herbal flavor to your dish!
5. Preserving In Oil
If you love to cook, making your own infused oils is a fantastic way to save herbs. There are tons of recipes for creative ways to make herb-infused oils, and it's fun to experiment.
One of the easiest ways to preserve herbs in oil is to freeze them. Just fill up a few ice trays about half full with herbs. Then pour olive oil over them, filling it to just below the top of the tray.
Let them set them overnight, and then pop them out and store them in a freezer bag. You need to work fast when you're transferring them, because they'll start to melt in less than a minute.
Now you can grab a cube of herbal oil whenever you want to add it to a recipe, or use it for cooking.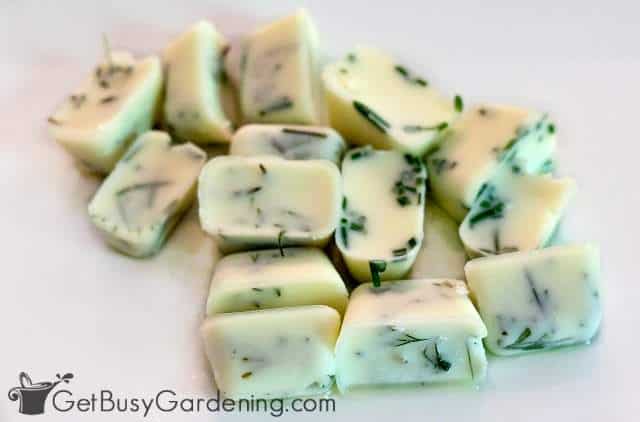 6. Making Fresh Pesto
When you think of pesto, you probably think of basil. But there are tons of different recipes for making pesto with other herbs like chives, mint, and parsley that are equally delicious.
Making pesto is a great way to use up a large herb harvest. I have a few pesto dishes that I love, so I make it whenever I get the chance. That way I always have some on hand when I'm ready to cook.
Pesto also makes a delicious dip, and is fabulous as a spread on toasted bread with a tomato slice and melted mozzarella cheese on top. Yum! Learn how to make garden-fresh basil pesto here.
7. Making Herbal Butter
Preserving herbs in butter is a great way to add a little flair to your dinner. You can melt it over the top of meat, spread it on toast, or use for sautéing vegetables.
It really doesn't matter what type of butter you use. Unsalted butter allows you to add your own salt if you feel like it needs it.
If you have a really strong-tasting herb, it can be a little overwhelming. So be cautious with the amount you use.
To make herbal butter, simply mix your herbs into room temperature butter. Then roll it up in parchment paper, and shape it into a log. It stores well in the fridge.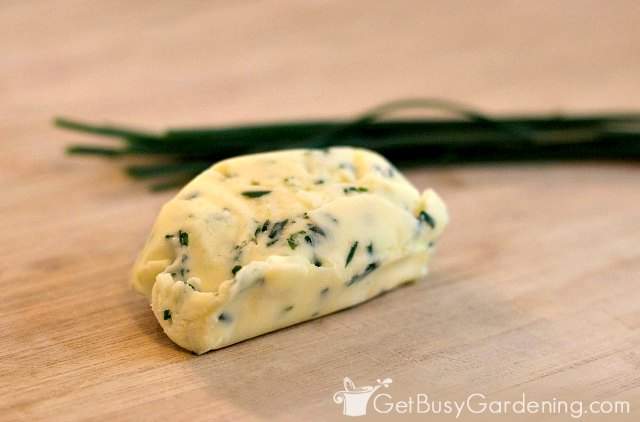 8. Homemade Salad Dressings
Another great way to preserve them is by making salad dressings, and it's really simple. Once you have the basics down, you can start experimenting with more complicated recipes.
Choose the oil, vinegar, and herbs you prefer, then start with this basic recipe…
3/4 cup of oil
1/4 cup of vinegar
1/4 cup of herbs
Combine all ingredients in a shaker bottle, and mix well
Store your homemade herbal salad dressing in a glass bottle in the fridge. Be sure to shake it well before use to mix all the flavors together.
9. Filling Up Your Spice Rack
Harvesting seeds to fill up your spice rack is another way to make use of the herbs you grow in your garden. So don't pull the plants once they start to flower, let them go to seed.
Coriander (the seeds from cilantro), celery, fennel, and dill seeds are all common ingredients in many recipes, and found in most spice racks.
I collect these seeds from my garden every year to fill up my spice jars, and I'll never need to buy them for my spice rack again.
Preserving herbs is a great way to save money, and allows us to enjoy our garden-fresh bounty all year. So don't just let your bounty go to waste this fall! Try some of these methods of preserving for future use. It's definitely worth the effort!
More Food Preservation Posts
Share your tips for preserving herbs, or your favorite methods or recipes in the comments section below.