Chives are one of the easiest types of herbs to grow in your garden. They are a perennial herb, which means they grow back year after year. They're also one of the earliest crops from my garden every spring, and one of the latest in the fall. But I can't grow them year round, so I have to freeze them for winter use. Freezing chives is super easy, and a great way to preserve the flavor of freshly harvested chives.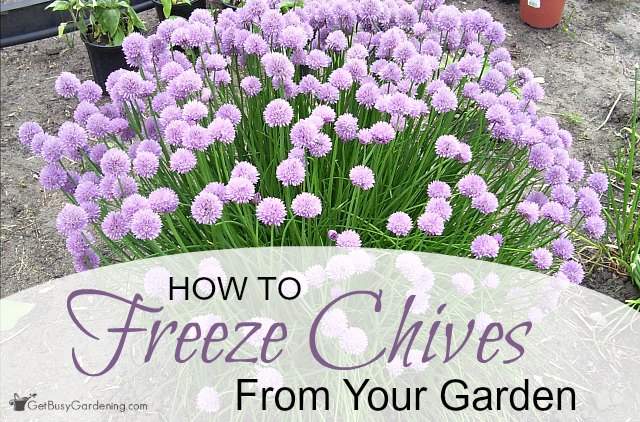 Recently I wrote a post about how to harvest chives, but how do you preserve all those chives once you've harvested them? In my opinion, the easiest way to preserve chives is by freezing them.
How To Freeze Chives
1. Rinse the chives: After harvesting the chives, rinse them in cold water and remove any brown or yellow stems. Drain them and pat them dry.
2. Dry the chives well: I like to use my salad spinner to remove the excess water from the chives so they'll dry faster (optional). If they're too wet when you freeze them, they tend to stick together.
3. Chop the chives: Once you get most of the water off the chives, simply chop them up as you normally would.
4. Flash freeze chives: Flash freezing the chives will keep them from sticking together. Spread the chives out on a cookie sheet and place them in the freezer for about 5 minutes.
Related Post: How To Prune Chives & Deadhead The Flowers
5. Storing chives: When you're done, simply pour the chives into a freezer bag or other freezer safe container, then store them in the freezer.
I grow two types of chives, regular chives and garlic chives, and preserve them both the same way. You can use frozen chives in recipes the same way you would use fresh chives, they taste just as delicious. It's so great to be able to enjoy garden fresh chives all year long.
More Food Preservation Posts
How do you preserve chives?
Pin It!