Angel's trumpet plants are easier to care for than most people think, and they grow very quickly too.
But before you can enjoy the show stopping blooms, first you need to know how to create the ideal environment for an angel trumpet Brugmansia to thrive in.
This detailed angel's trumpet care guide is designed to help you do just that.
Discover the best soil, water, light, and fertilizer to use, plus get details on pruning, propagation, pest control, and more.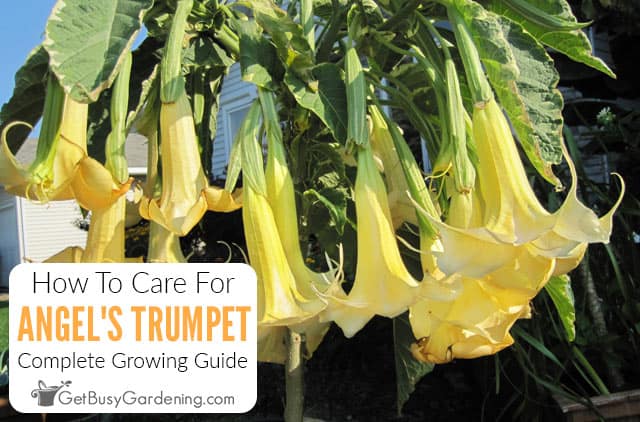 Angel's Trumpet Quick Care Overview
| | |
| --- | --- |
| Scientific name: | Brugmansia |
| Classification: | Tropical plant |
| Common names: | Angel Trumpet, Angel's Trumpet |
| Hardiness: | Zones 8-11 |
| Temperature: | 60-90°F (15.5-32°C) |
| Flowers: | Red, yellow, pink, peach, gold, white, blooms late spring-fall |
| Light: | Full sun, bright light indoors |
| Water: | Keep soil evenly moist, do not overwater |
| Humidity: | Average-high |
| Fertilizer: | Flowering plant food spring-summer |
| Soil: | Well-drained, fertile, aerated |
| Common pests: | Whiteflies, spider mites, cabbage worms, aphids |
Information About Angel's Trumpet
Angel's trumpet (Brugmansia) is a tropical flowering perennial from the Solanaceae, or nightshade, family. It's native to the mountains of South America.
These gorgeous plants known for the fragrant, abundant flowers that can bloom year round in the right conditions.
The tree-like shrubs consist of a single, thick trunk and strong woody branches that feature smooth green leaves.
The large trumpet-shaped flowers are what gives Brugmansia the nickname "angel's trumpet".
Outdoors in the garden they can reach heights up to 20', while potted specimens usually don't exceed 15'.
Different Brugmansia Types
There are many types of angel trumpets that feature different leaf shapes and flower colors. Thankfully they can all be cared for in the same way.
Brugmansia suaveolens – An oval-leafed variety with white, yellow, or pink flowers.
Brugmansia aurea – The pendant shaped flowers on this type are yellow or white and especially fragrant.
Brugmansia versicolor – Oblong green leaves and flowers that start out white, but age to a peach/apricot color, are hallmarks of this option.
Brugmansia sauguinea – The hanging flowers on this 10' variety are bicolored with yellow at the base and bright red at the edge of the petals.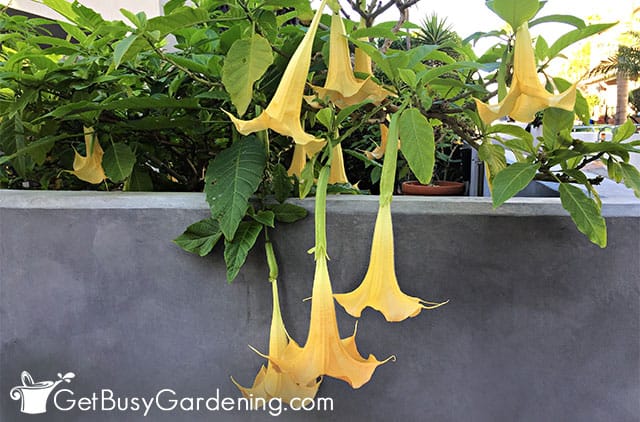 Flowers
People love angel's trumpet plants for their large, showy, brightly colored flowers.
They typically bloom from late spring through early fall, but that can vary based on climate. It's common for them to bloom year round in some areas.
The blossoms are tubular or trumpet shaped, and often hang down like a pendant. The color and exact shape can vary by variety.
At night the flowers release a strong, floral fragrance. They're also pollinator and hummingbird friendly.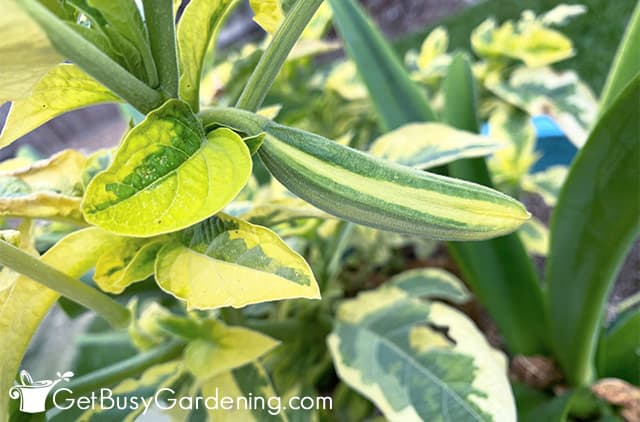 Toxicity
Angel's trumpet is poisonous for cats, dogs, and people. All parts of the plant are highly toxic, and can have serious side effects when ingested or if the oils get into your eyes.
Always handle them with protective eyewear and gloves, and keep them away from children and pets. Make sure you clean up the spent blooms as they fall.
If you'd like to learn more about the potential dangers, check out the ASPCA website for information on toxic plants.
How To Grow Angel's Trumpet
Before we chat about angel's trumpet care, first let's discuss when and where to grow them. Choosing the right location is key to their long-lasting health.
Hardiness
Brugmansia plants are not cold hardy and can only survive outside year round in growing zones 8-11, depending on the variety.
Both extreme heat and cold can prevent flowering, and low temperatures can halt growth, cause leaf drop, and eventually kill the plant.
If you live in a region where the temperature falls below 50°F (10°C) in the winter, it's a good idea to protect them or move them to a sheltered location until the spring.
Where To Grow Brugmansia
You should grow your angel's trumpet somewhere in the garden with plenty of sun and fertile soil.
They need average to high humidity, and enough space to accommodate their potential height of 10-20'.
You can also grow them in containers. Choose one with drainage holes that's heavy enough to support the weight of the full-grown plant.
If you choose to keep yours indoors, make sure to put it somewhere with lots of bright light, like a sunny south facing window.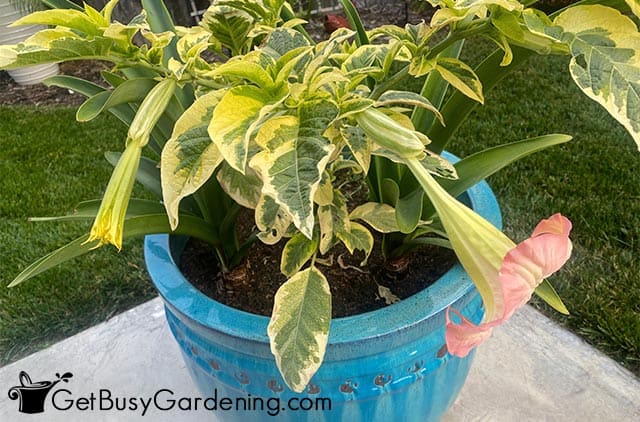 Angel's Trumpet Plant Care & Growing Instructions
Now that you know where to grow them, let's talk about how to properly care for Brugmansia plants. The tips in this section will help you create the perfect environment for yours to thrive.
Light
Angel's trumpet plants need 6-8 hours of direct sunlight every day to bloom and grow their best.
In most places, this means a full sun location in the garden. However in arid regions with high heat, afternoon shade can help prevent wilting.
Indoors they need a very bright spot, like a south-facing window, or they tend to get leggy. Consider using a grow light if you need to supplement.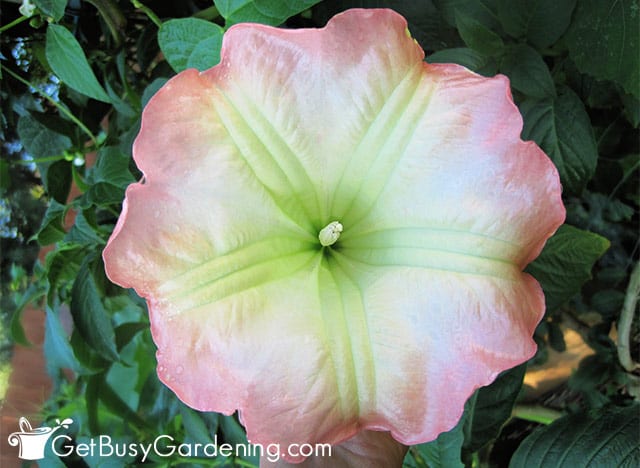 Water
Water is a very important part of angel's trumpet care. They do not like soggy soil or wet feet, but they need ample water to continue flowering and prevent wilting.
Water whenever the soil feels dry on top. In containers, that may be as frequently as every day, especially during hot weather.
Use a moisture meter probe to check when it's time, and to ensure you're not overwatering. A reading of 3-4 means they're ready for a drink.
Humidity
Brugmansia plants prefer average to high humidity. This is easy in most outdoor locations, but if you're growing an angel trumpet inside where the air is typically drier, you may need to supplement.
A humidity monitor can help you understand how dry your air is. A small humidifier or a pebble tray are good ways to increase the levels near your plant.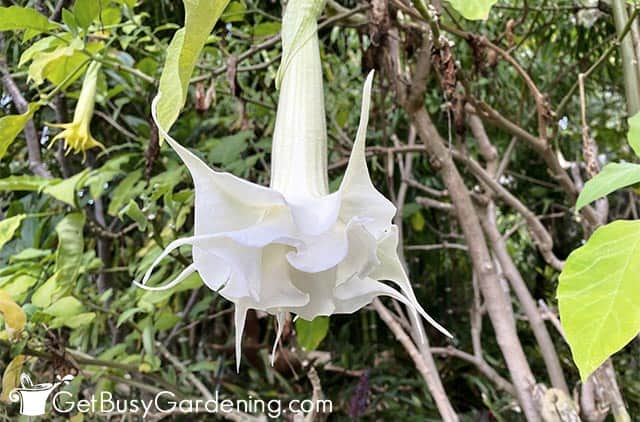 Temperature
The ideal temperature range for successful angel's trumpet care is between 60-90°F (15.5-32°C).
Anything cooler than that can stop flowering, cause leaf drop, or stunt growth. Freezing temperatures will kill the foliage, and eventually the roots.
Extreme heat can also be damaging. Wilting and flower bud drop are common during heat waves. Keep the plant well-hydrated and provide shade in the afternoon and it should recover.
Fertilizer
From spring through fall angel's trumpets are heavy feeders. So fertilize them regularly to encourage more abundant blooms and keep the foliage thriving.
Choose an organic flowering plant liquid fertilizer, or a natural option like compost tea or fish emulsion, and apply it every other week through the fall.
You can also give them a good head start by applying slow release granules during planting, or top-dress established brugmansias 1-2 times during the growing season.
Soil
Angel's trumpets aren't too picky about their soil, and can grow in a wide variety of mixes as long as it's well-draining. However they prefer something loamy, fertile, and fast-draining.
You can mix a high quality potting soil with perlite or pumice and peat moss for your containers.
In the garden, amend sandy or heavy clay soils with compost or peat moss to improve the available nutrients and drainage.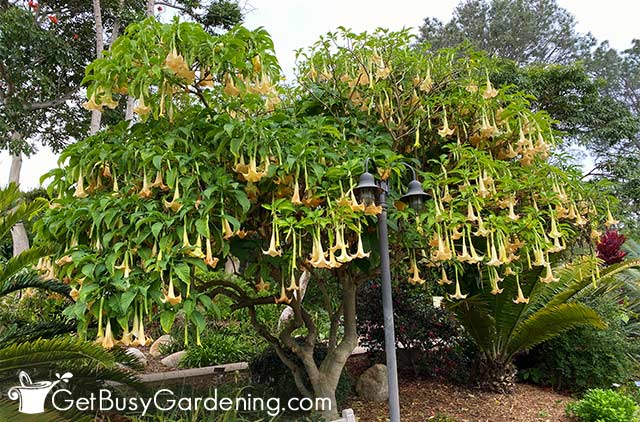 Transplanting & Repotting
The best time to transplant or repot your angel's trumpet is during the late winter or early spring.
Brugs are fast growers, and may need repotting every other year. Look for stunted growth, lack of blooms, or roots coming out of the bottom of the pot as signs that it's time.
Prepare a new container or a spot in the garden, then slide the plant from its previous pot or dig it up and lay it on its side. Gently break up the roots if they're growing in a circular pattern.
Then place it in its new home and pack the soil around it. Water deeply to let it settle and fill in any holes.
Pruning
Pruning is an important part of angel's trumpet care, and a good way to encourage more blooms and new growth, and to keep them tidy.
Always wear gloves and eye protection, and use a sharp pair of clean pruning shears.
Deadhead flowers and trim back wayward branches throughout the season as necessary.
In the late winter or very early spring, you can cut the branches back to prepare it for new growth. Always keep 6-8 leaf nodes per branch on the plant.
Brugmansia Pest Control Tips
Whiteflies, aphids, spider mites, and cabbage worms can all become issues for angel's trumpet, especially if the plant isn't in great health.
Insecticidal soap is a good organic control method. I make my own by mixing 1 teaspoon of mild liquid soap with 1 liter of water.
Neem oil can also be effective. But test any type of spray on a small section of the plant first to make sure it doesn't damage the foliage.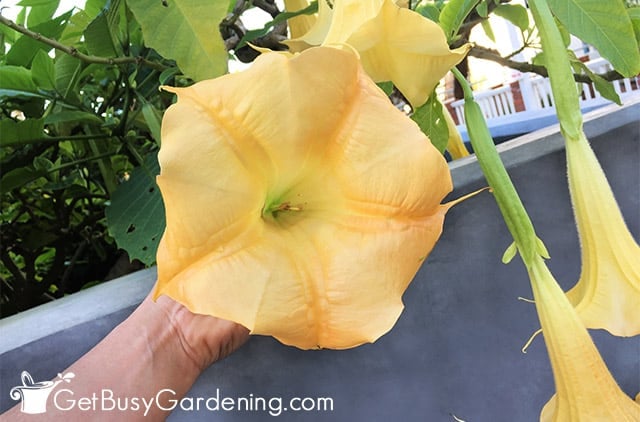 Dormancy
It's natural for an angel trumpet to enter a state of dormancy when exposed to cold temperatures. During this time, the leaves will drop off and growth will stop.
They can survive outside as long as the temperatures don't dip below freezing at night. If they do, it's best to protect your plant or move it to a sheltered location.
Otherwise you can bring them indoors. Get the detailed tips in my step by step guide on how to overwinter brugmansia plants, but there are three basic options.
Keep your angel's trumpet growing and care for it as a houseplant indoors.
Take cuttings while it's warm outside and root them in water. Then plant the rooted cuttings in the spring.
Allow the plant to go dormant and store it in a sheltered location that stays between 35-50°F (1.6-10°C), like a garage, basement, or cellar.
Angel's Trumpet Propagation Tips
Angel's trumpets can be propagated with suckers that grow at the base of the plant, from stem cuttings, or by seed. The most common method is rooting cuttings.
Make sure your cuttings have several leaf nodes. You can even cut a large branch into smaller sections.
Dust the end with rooting hormone and bury them about halfway down into dampened, aerated soil.
Place them somewhere warm and shaded for several weeks, and keep them lightly moist. Once they're rooted, transplant or pot them up.
Troubleshooting Common Problems
Angel's trumpets are usually easy to care for, but no plant is completely problem free. If you run into one of these more common issues, my tips can help get you back on track.
Leaves Turning Yellow
The most common causes of yellowing leaves on your Brugmansia are pests and overwatering.
Check the tops and bottoms of leaves closely for bugs, and treat them immediately if you find any.
If that's not it, then you may be watering too much or dealing with poorly drained soil. Use a moisture gauge to help you get it right.
Angel's Trumpet Not Blooming
There are many reasons why your angel's trumpet is not blooming, including improper care.
High or low temperatures, lack of water or light, poor nutrition, being root-bound, disease, and young age could all be culprits.
It takes baby plants a few years to reach blooming age. Once they do, they need 6 or more hours of direct light, temperatures between 60-90°F (15.5-32°C), consistent water, and frequent feedings to bloom.
If yours is containerized, consider moving it to a larger pot or pruning the roots and refreshing the soil to rejuvenate it.
Holes In Leaves
The most common reason behind holes in brugmansia leaves are cabbage worms, but they can also be caused by snails or slugs.
The best way to manage them is to hand pick the insects and drop them into a bucket of soapy water. Keep the base of your plant clean of debris to eliminate hiding spots for pests too.
Brown Leaves
Brown leaves on your angel's trumpet plant can be caused by fungal diseases, root rot, underwatering, or high heat.
Keep them well-watered during heat waves to avoid brittle, brown, and curling leaves.
If the soil is soggy or poorly drained, root rot can develop and spread through the plant. Certain fungal diseases can also cause wilting, brown leaves, and may be treatable with an organic fungicide.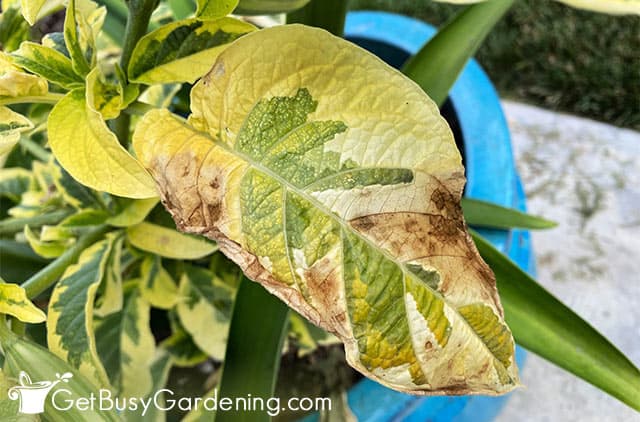 FAQs
Here I've answered some of the most commonly asked questions about angel's trumpet plant care. If yours isn't listed, please add it to the comments section below.
Is it OK to touch angel's trumpet plants?
It's ok to touch angel's trumpet plants, simply touching them won't harm you. It's the sap inside that's poisonous, so it's a good idea to wear protective gloves and glasses when you're pruning or deadheading.
Are angel trumpets easy to grow?
Angel's trumpets are easy to grow because, with plenty of sun, consistent water, and fertile soil, they'll thrive and bloom without needing much attention.
Do angel trumpets come back every year?
Angel trumpets can come back every year, or even grow year round, as long as it doesn't get below freezing for long periods of time. They are perennials in growing zones 8-11.
How long does an angel's trumpet take to grow?
How long it takes an angel's trumpet to grow depends on the environment. With plenty of direct sun, water, warmth, and fertilizer they are very fast growers that can put on several feet every year.
What is the lowest temperature a brugmansia can tolerate?
The lowest temperature most brugmansia varieties can tolerate is 32°F (0°C), but some can survive much lower temps. Always check the plant tag to know how hardy yours is and look for signs of stress, like leaf drop and stalled growth, to know it's getting too cold.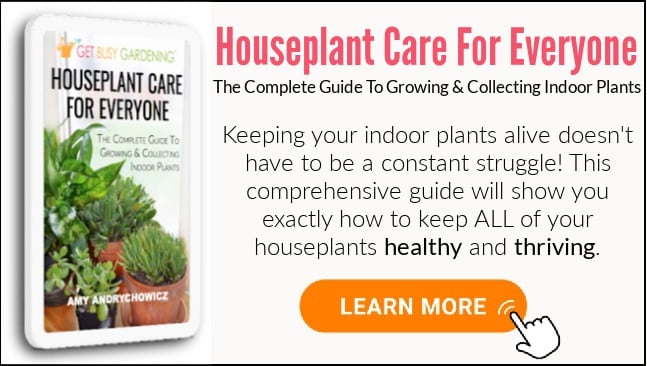 If you want to learn all there is to know about maintaining healthy indoor plants, then you need my Houseplant Care eBook. It will show you everything you need to know about how to keep every plant in your home thriving. Download your copy now!
More About Flower Gardening
Share your angel's trumpet plant care tips in the comments section below.