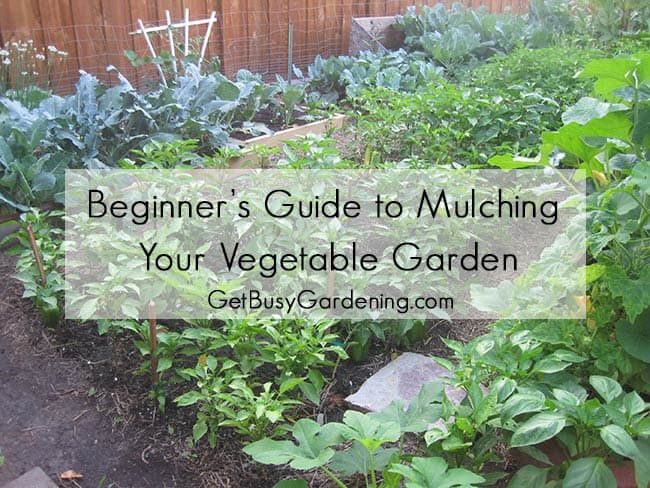 I've been hearing a lot of people saying that they're feeling overwhelmed by weeds this year. I know how you feel, weeds can quickly take over a garden area and your summer. For many gardeners, weed control is a huge chore. Some people even give up on gardening all together because the weeds are incessant. But weeding the garden doesn't have to be so time consuming.
How to Control the Weeds
One of the best ways to control weeds in the garden is to add a thick layer of mulch. It's standard practice to mulch flower gardens and other landscaped areas, but many people don't mulch their vegetable garden.
I think one of the reasons for this is because common landscaping mulches, like wood chips and rock, are too heavy for the vegetable garden. Beds in the vegetable garden need to be dug and planted every year, and heavy mulches would need to be removed before tilling or they get in the way, which adds more work.

In the vegetable garden, it's best to use a light mulch that will break down quickly and can be tilled into the soil. Materials such as hay or straw, grass clippings, finely shredded wood, sawdust, pine needles and leaves are all great choices.
Related Post: How to Prepare a New Garden Bed for Planting – part 1
The Benefits of Mulching
Mulching the vegetable garden has many benefits, and weed control is a major one. Mulch also helps to keep moisture in the soil, which means less watering. Mulch keeps the soil and plant roots cooler so plants are less susceptible to drought conditions in the heat of the summer. Adding mulch to the vegetable garden can even help to lessen the chance of many common pests and diseases, including blight and flea beetles.
Related Post: How to Prepare a New Garden Bed for Planting – part 2
Organic mulches add nutrients to the soil as they break down, improving the soil quality and attracting worms. Plus, mulching adds a nice, finished look to the garden. All of these benefits add up to a healthier, more attractive vegetable garden and less maintenance for the gardener.
For best results, add a thick layer of mulch to the vegetable garden – a 2­-4" layer of mulch is ideal for discouraging weeds from growing. When adding mulch to the garden, avoid piling it around the trunk or stems of plants as this could cause them to rot. Try to keep mulch about an inch away from the stems of plants.
After mulching the vegetable garden, a few weeds will still pop up, but they will be easy to pull. It will be significantly less than the amount you would have if you didn't mulch.
Mulching the vegetable garden is the best way to save time and energy in your garden. Your vegetable garden will be healthier, and you will have more time to enjoy the summer. After all, who wants to spend all their free time weeding and watering the vegetable garden?
More About Growing An Amazing Vegetable Garden
How do you handle weed control in your vegetable garden?