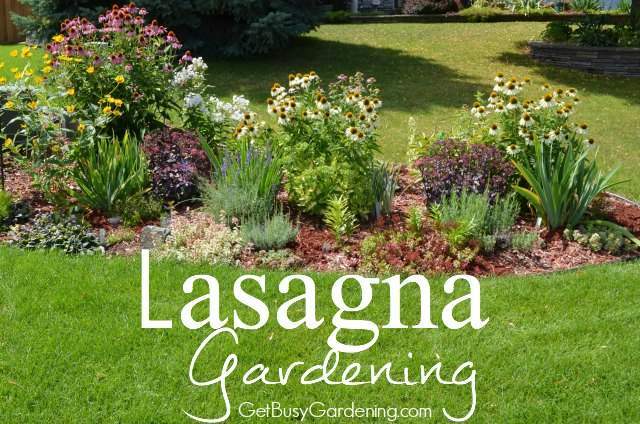 The hardest part about starting a new garden is clearing away the sod or weeds that are currently growing there. Ugh, it's so much work. In my case, we have thick, lush sod – which looks beautiful, but is a major pain to remove and dispose of.
That's it! I am planning ahead this time. Rather than wait until next spring to clear away the sod, I am going to smother it instead. This year I decided to make a lasagna garden.

What's a Lasagna Garden?
I know what you're thinking… but I'm not referring to a garden where I'll grow all the ingredients to make yummy lasagna for dinner. I'm referring to an easy way to create a new garden space by layering rather than digging.
The idea is to pile layer upon layer of organic material on top of the sod or weeds. The organic materials (including the sod and weeds underneath) will break down, creating rich soil that's ready for planting.
How To Make A Lasagna Garden
Start by laying down cardboard or a thick layer of newspapers right over the top of the weeds or grass (if you do this during the summer, mow the grass and weeds in the area down as low as you can before starting). It's easier if you wet the cardboard or newspaper so it stays put while you are adding the other layers. If necessary, you could use bricks to hold down the cardboard until the layers are wet and heavy enough to hold everything in place.
Related Post: How to Prepare a New Garden Bed for Planting
Next come the layers. Layer over the top with anything you would put into your compost bin… grass clippings, leaves, dirt (recycled from summer pots), peat moss, organic mulch, compost, pine needles, coffee grounds, yard waste, manure, straw…etc. You can also use kitchen scraps, but I'll stay away from using too many because I'm worried I'll attract unwanted pests (like raccoons!).
Also, since my lasagna garden is out in the open (rather than contained in my compost bin) I'll stay away from using paper scraps and other "garbage" that could blow into the neighbor's yard.
Ideally, you'll want to alternate layers of "browns" such as leaves and pine needles with layers of "greens" such as garden waste and grass clippings. Keep layering on top until your lasagna garden is several inches thick.
Related Post: How to Determine Sun Exposure in Your Garden
That's it! Come spring, the grass and weeds underneath the lasagna garden will be dead, and you'll have a new garden bed full of rich organic material that's ready for planting. There's no need to dig up or turn your lasagna garden. Just make sure your lasagna garden stays moist if you live in an area that doesn't get snow. This technique also works great to fill up a raised bed or amend the soil of an area with poor soil quality.
If you plan ahead, you can have a new garden area with lush, rich soil and start planting your garden right away without breaking a sweat. Now, that's what I'm talking about! If you love the idea of lasagna gardening and want to learn more, here are a few books I recommend… Lasagna Gardening: No Digging, No Tilling, No Weeding, No Kidding!, Lasagna Gardening for Small Spaces and Lasagna Gardening with Herbs
Have you ever tried the lasagna gardening method to start a new garden bed? Share your experiences in the comments below.