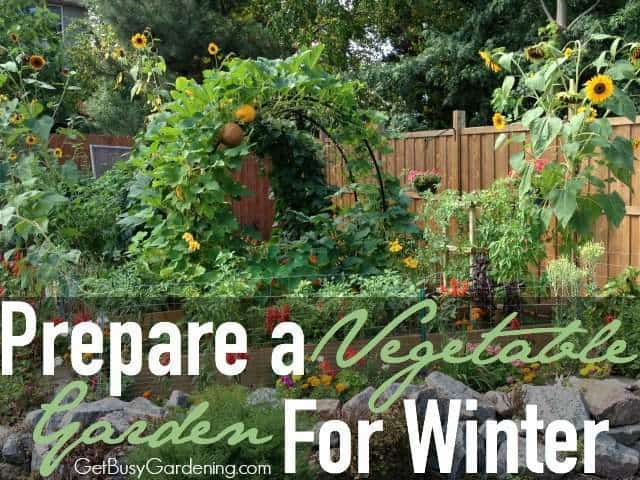 Now that we've had our killing frost and the vegetable garden is officially done for the year, it's time to start thinking about preparing the vegetable garden for winter.
Fall is a great time to add compost and manure to amend the soil in your gardens. If you do it now, it will have all winter to break down into the soil.

Fall is also a great time to test your garden soil to see exactly what you need to add in order for your plants to grow their best next year.
Amending the soil in a vegetable garden is important for growing food, especially for a newly dug garden or an area with poor soil quality. If your vegetable garden didn't do as well as you expected this year, it may be because of the soil.
Related Post: How to Prepare a New Garden Bed for Planting
A newly dug garden generally doesn't do very well the first year, it takes a season or two for the nutrients to breakdown and the soil to become rich enough for vegetables. If you have extremely sandy or hard clay soil, it will also benefit from being amended this fall.
How To Prepare a Vegetable Garden for Winter
The first step I take when preparing my vegetable garden for winter is to remove all of the dead plants and any supports/trellises I have in the garden. This will make it easier to till the soil. If you are planning to add new black dirt to the garden, I would recommend spreading this over the garden before anything else.
Related Post: Planning The Vegetable Garden
Next I spread out the well composted material from my compost bin. You can buy manure and spread that out with your compost for added beneficial nutrients.
I also like to rake the leaves from the yard and spread them out over the garden along with the compost and manure.
If you have a large garden bed, you can till the garden in the fall or you can just layer the organic materials on top.
Tilling the soil in the fall will help to kill bad bugs and diseases that overwinter in the soil. But tilling isn't necessary.
You could use the lasagna gardening method of layering to prepare your garden for winter. By spring it will be ready for planting, no tilling necessary.
For more tips on winterizing your gardens, click here… Winterizing Garden
How do you prepare your vegetable garden for winter? Share your tips in the comments section below.
Pin It!