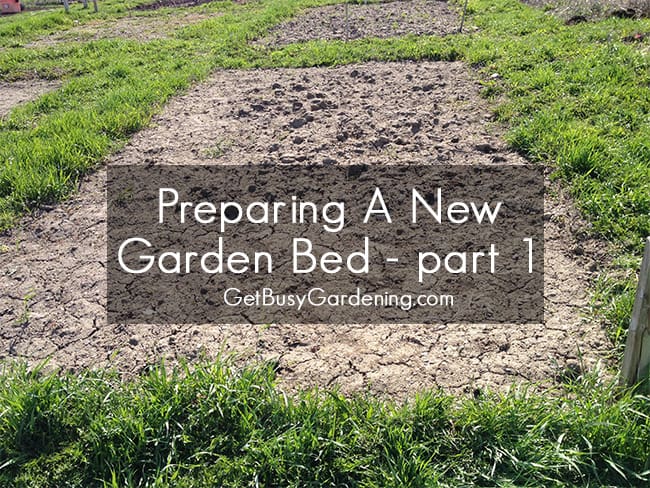 A reader on my Facebook page recently asked:
Can you do a post on how to start your garden for the first time? Like how to prepare the soil for planting. What do you put in the soil to enrich it?
I decided to write this post in two parts because it really depends on what type of garden plot you're starting with. In this first post, I will explain how to prepare a new garden bed from an area where there was a garden bed before, but it's new to you or has been neglected.

So, if you have an existing garden bed that's not completely overgrown with weeds or grass, then this is the post for you. On the other hand, if you plan to start a brand new garden bed from an area that hasn't been used as a garden before, or an area that is overgrown with thick weeds and grass, then skip ahead to part 2.
Preparing a new garden bed from an existing plot is pretty easy. One of the community garden plots we rented this year was used last year but was neglected until we adopted it earlier this spring.
The plot was pretty clean but was partially covered by a thin layer of weed seedlings, and the grass was creeping in all around the edges. Here are the steps I took to get this neglected garden plot ready for planting:
Preparing a New Garden Bed
1. Remove as many weeds as possible: First I removed as much of the grass and weeds as I could. Most of the weeds in this garden were pretty small seedlings. Small seedlings will be taken care of in the following steps so you don't have to remove every tiny weed, but try to remove as many of the established weeds and grass roots as you can. Use a shovel to cut the garden edges and turn the soil to make grass and weed removal easier.
2. Add edging to keep the grass out: This is optional, but it really helps keep grass and weeds from creeping in around the edges of the garden. I use the cheap black plastic edging, and that does a great job of keeping most things from creeping in. Plastic edging is usually pretty easy to find for free at garage sales, and many times I have found piles of it sitting at the end of someones driveway with a free sign on it. So keep your eyes peeled and snatch it up when you find it. You could spend a little extra money and buy fancier edging, like bricks or concrete bullet edgers. Just sink them into the ground so they help keep the weeds and grass from growing underneath.
3. Add compost: Next came the compost. Compost is a natural fertilizer for your garden and a great amendment to any soil type. Plus, compost is pretty inexpensive to buy in bulk. I like to add enough to my garden so that the compost is 1″-2″ deep after it's spread out. Our community garden plot is 10′ x 20′, and I added 1 yard of compost to it. You could add more if you're working with poor quality soil (e.g.: extremely sandy, rocky or hard clay soils).
Related Post: How To Test Your Soil At Home Using A Soil Test Kit
4. Till the garden: This is another optional step. You don't need to till your garden. Tilling mixes the compost into the existing soil and helps to break up the topsoil to make it easier for plant roots to penetrate the soil. But you could just plant directly into the compost or turn the compost into the soil with a shovel or pitchfork if you prefer.
5. Add a thick layer of mulch: Mulch is the key to keeping the weeds down and it also retains moisture in the soil so you don't have to water your garden as often. Before mulching, you could lay down a thick layer of newspaper for added weed control. I mulch my vegetable gardens with straw because it's inexpensive and readily available. I use heavier wood mulches in my flower gardens because it lasts longer.
Once that's done, you're ready for planting. You can follow these steps whether you're preparing a new garden bed for planting vegetables or flowers.
Are you starting a new garden bed this summer? Tell me about how you're going to prepare it for planting in the comments below.