Fertilizing vegetables is super important in order for them to produce as much food as possible. In this post, I'll show you everything you need to know, including when, how often, and how much to give them, as well as how to apply fertilizer to your vegetable garden.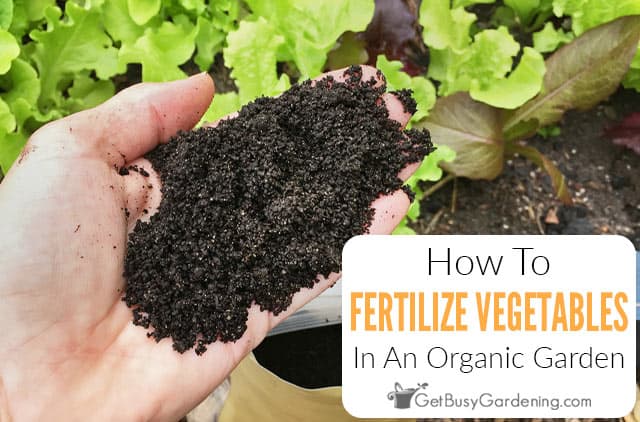 By far one of the most intimidating topics for new gardeners is fertilizing vegetables. I know if was for me when I was a newbie!
But when it comes to growing vegetables, proper nutrition makes all the difference in the world. The good news is that it's not as difficult as you might think.
After reading this article, you'll see just how easy it is. Below, I am going to dive deep into how to fertilize a vegetable garden.
Don't worry, I'm going to explain everything you need to know in a very non-technical way that's easy to understand!
Should I Fertilize My Vegetable Garden?
The short answer is yes, you definitely should fertilize your vegetable garden. It will give the plants the boost they need in order to grow stronger, and produce tons of yummy food.
Many types of vegetable plants are heavy feeders, and will perform their best when they're fed regularly throughout the summer.
It's especially important to feed veggies in pots, since they solely rely on us to provide the nutrients they need to survive.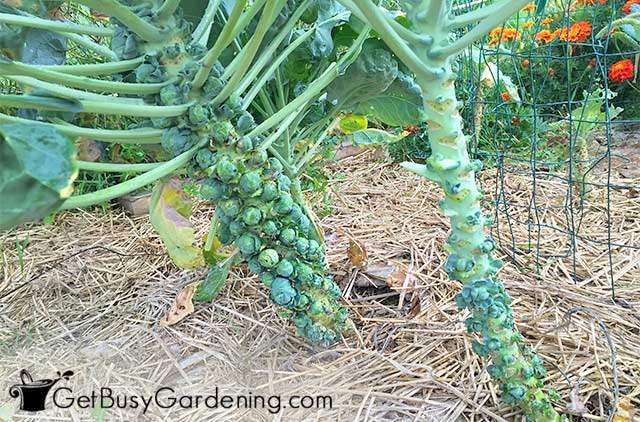 What Veggies Need Fertilizer?
All types of veggies need fertilizer in order to perform their best. However, it is more important for some than it is for others.
In general, the ones that produce flowers and fruit will benefit more from being fed regularly than non-blooming types.
Fertilizing Flowering Vegetables
Flowering vegetables are the ones that must bloom in order to produce food. For example, tomatoes, peppers, peas, squash, cucumbers…etc.
These need to be fed with high-phosphorus (P) granules (or if you prefer, a liquid version).
Phosphorus encourages blooming and healthy fruit production. So look for one where the middle number on the bag is the highest.
Fertilizing Non-Flowering Veggies
Non-flowering veggies are ones where we eat the leaves or roots, like carrots, chard, salad greens, brussels sprouts…etc.
They need lots of nitrogen (N), which supports healthy root and leaf development. So look for one where the first number on the package is the highest.
This water-soluble powder works great. Or you can use slow release type if you prefer.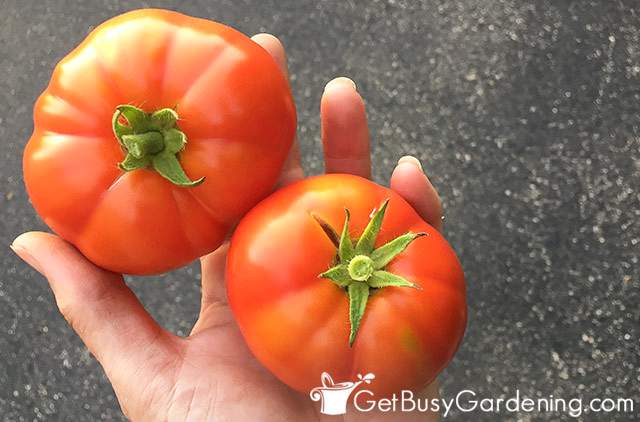 When To Fertilize Your Vegetable Garden
When you fertilize your vegetable garden is important as well. The best time of the day is in the morning before the sun gets too hot.
Never feed your veggies if the soil is dry. Dehydrated plants could absorb it too fast, which can cause major damage to them.
So, if the soil is dry, give it a deep watering first. Then wait a few hours before fertilizing to give your vegetable plants plenty of time to rehydrate.
How Often To Fertilize Your Vegetable Garden
Most vegetables are heavy feeders, and need to be fertilized regularly in order to stay healthy and produce the most food for us.
So, for best results, apply granules at planting time, and then again monthly throughout the summer. Then supplement with water-soluble and foliar feedings every 2-4 weeks.
How Much Fertilizer Do You Put In A Vegetable Garden?
The amount of fertilizer to put in a vegetable garden varies depending on where they're planted (in pots vs in the ground), as well as the size of your plot. So, it's difficult to give exact amounts here.
There is a lot of room for error using natural products though. Which makes it almost fool-proof, since you don't have to worry about getting the measurements perfect every time.
But, for best results, you should check the packing to find out exactly how much fertilizer to use in your vegetable garden for that specific product.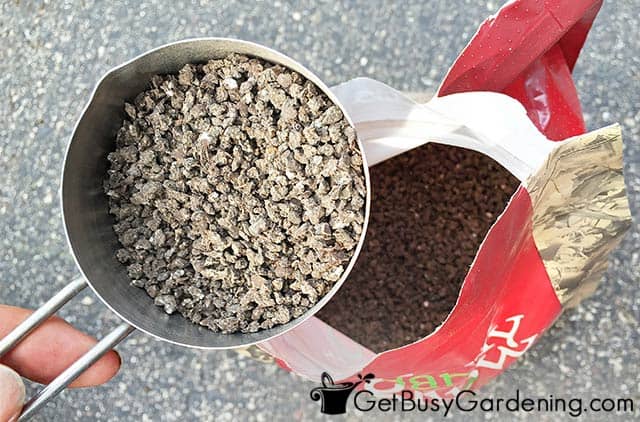 How To Fertilize A Vegetable Garden
There are a few methods you can use to fertilize your vegetable garden: top-dressing, foliar feeding, during planting, and side-dressing. You don't have to choose just one though.
It's best to combine these techniques to fertilize your veggies before or during planting, as well as doing supplemental feedings throughout the summer months.
Top-Dressing
Also known as broadcasting, top-dressing means applying fertilizer over top of the entire vegetable garden. This is usually done when you prepare your beds for planting.
But you could also do it in the fall to replenish the nutrients lost. That way they'll have plenty of time to absorb into the soil before spring.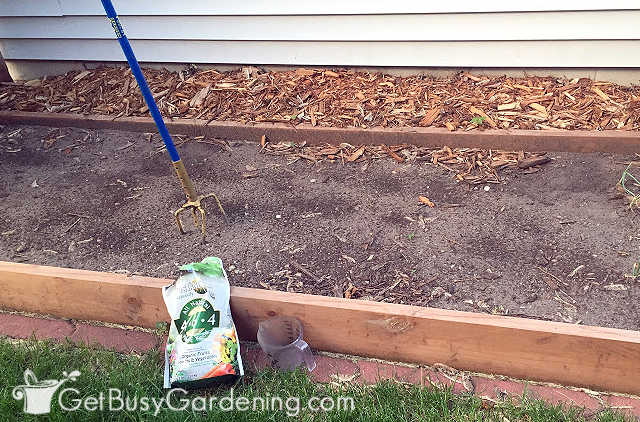 Foliar Feeding
Just like the name implies, foliar feeding means fertilizing your vegetables by spraying a liquid or water soluble product on the leaves.
During Planting
Fertilizing vegetables during planting time is one of the most common techniques that people like to use.
This involves putting slow release or dry pellets into the hole at the time of planting. But you could use a liquid to fill the hole instead, if you prefer.
Side-Dressing
Another aptly named method, side-dressing simple means to sprinkle or pour fertilizer around the vegetables or along the sides of a garden row.
Which Veggie Fertilizing Technique Is Best?
There really isn't one veggie fertilizing technique that is the best of all of them. Like I said above, it's better to use a combo of a few. I personally use them all.
But don't worry if you already planted everything, and didn't apply anything before or during. You can still use the side-dressing and foliar feeding techniques after planting, and still have great results.
How To Apply Fertilizer To Veggie Plants
The steps for how to fertilize vegetables depends on whether you're using a liquid or a slow-release product. So, I'm going to break it down into the specifics for each one.
These are just general guidelines though. So always read the label to make sure there aren't any special instructions for you to follow.
Applying Liquids
To make this easy, you can use a hose-end attachment to apply liquid fertilizer to your vegetable garden. Then just pour the recommended amount of concentrate into the hose sprayer, and you're ready to go.
If you prefer, you could use a handheld sprayer instead. Or, of course, you could always just use a watering can to do it by hand.
In those cases, add the recommended ratio of the product and water into your container, and mix it well. Then simply spray or pour it on the leaves and around the base the plants.
Applying Slow Release Granules
It's super easy to apply granules to fertilize your vegetable garden. There are only a few ways to do it, and there's really no way you can do it wrong when using natural products.
Side-dressing your veggies – Simply sprinkle the recommended amount of dry pellets or powder around the base of each plant. Then work it into the top layer of soil using a hand rake or trowel.
Top-dressing – Spread the recommended amount over the top of your empty beds, then work it into the soil using a tiller, shovel, or hand-aerator tool.
During planting – It's easy to fertilize vegetables at planting time. Simply add the recommended amount into the hole, and mix it in (or not). Then add the plant as you normally would. Yep, told you it was easy.
What Should I Use To Feed My Vegetable Garden?
When it comes to what to feed your vegetable garden, there have tons of great options these days! I always recommend using only natural and organic products, rather than synthetic or chemical ones.
They are easier to use, there's less risk of burning the plants, and they're much healthier for our gardens, plants, and us.
You can get my full list of the best fertilizers for a vegetable garden here. But below I'll list a few of my favorites…
Liquids & Water Solubles
Water soluble liquids are good for giving your vegetables a quick boost, or for foliar feeding. Here are a few that I like to use…
Slow Release Granules
For side or top-dressing, or fertilizing vegetables during planting, you should use a dry or slow release product.
They aren't immediately available to the plant, but will feed it over a longer period of time. Here are a few of my favorites…
FAQs About Fertilizing Vegetables
Below I am going to answer some of the most frequently asked questions about fertilizing vegetable gardens. If I haven't answered your question here, then ask it in the comments below.
Can you grow vegetables without fertilizer?
Yes, you can grow vegetables without fertilizer. However, unless you're certain that the soil is rich in all the necessary nutrients that they need, then you're going to want to feed them.
Most types of veggies are heavy feeders, and will use up the nutrients in the soil fairly quickly.
How do I know if my vegetable garden needs fertilizer?
You'll know your vegetable garden needs fertilizer if your plants aren't growing very fast, or they aren't producing much food.
It's best to feed them on a regular basis to avoid this and other problems. So don't wait until you see the signs of nutrient deficiencies, or it could be too late.
Can you over fertilize a vegetable garden?
Yes, you absolutely can over fertilize a vegetable garden, especially if you use synthetic chemicals rather than natural organic products.
To avoid this, always follow the instructions on the label. You can also test your soil first to find out exactly what it needs.
Should you fertilize vegetables in hot weather?
You can fertilize vegetables in hot weather, as long as they are well hydrated. Never do it when the soil is dry, or during the afternoon when the sun is the most intense.
If you're experiencing a heat wave, then it's especially important to do it in the early morning before it gets too hot.
Fertilizing vegetables is not as hard as you may think. When you give them the nutrients they crave, you'll see a big difference in their health and production. Once you get the hang of when and how to fertilize your vegetable garden, it'll become a no-brainer.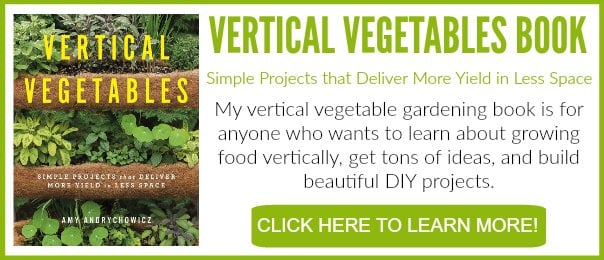 If you want to spice up your veggie garden this year, and grow even more food, then you need a copy of my Vertical Vegetables Book. It will teach you all about growing your best veggies ever! Plus, you'll get 23 step-by-step projects that you can build in your own garden. Order your copy today!
Learn more about my new Vertical Vegetables book here.
More Posts About Vegetable Gardening
Share your tips for fertilizing vegetables in the comments section below.