A concrete block raised bed is cheap and easy to build, and a great way to quickly add DIY raised garden beds to your yard. The best part is that you can build your raised bed right over the top of the grass! In this post, I will show you exactly how to build a raised garden bed with concrete blocks step-by-step.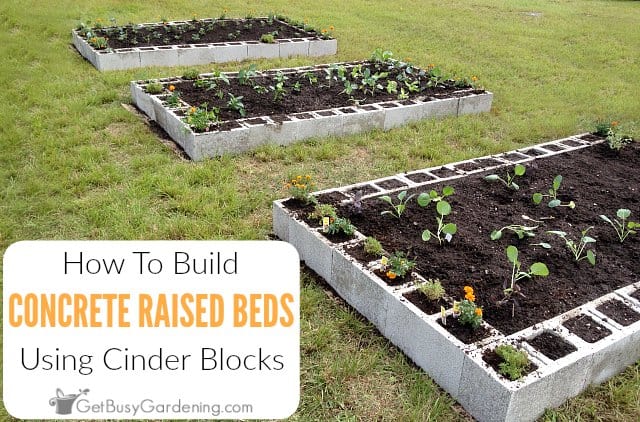 A few years ago, I got to work on a project to build a community garden. Originally, we had planned to till up the grass and plant the vegetable garden directly in the soil.
But in the end, we had to build raised beds because the ground was hard coral and limestone. Yah, good luck tilling that.
Raised gardening beds become a necessity in cases like this, when the soil is really rocky, full of tree roots, or otherwise difficult to cultivate.
One of the things I love the most about raised bed gardening is that raised beds come in many different shapes and sizes, and you can easily customize one to fit into any garden space.
Building a concrete block raised bed rather than planting directly in the ground will add extra cost to the project.
But you can keep the budget in check by using inexpensive materials, or reusing items you already have – and concrete cinder blocks are the perfect choice.
Concrete blocks are also easy to work with, and can be installed right over the top of grass or weeds, making this a quick DIY raised garden bed project that can be completed in an afternoon.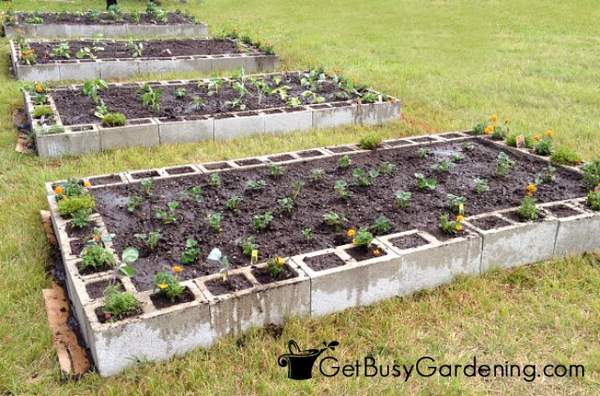 How Much Does It Cost To Build A Concrete Block Raised Bed?
Making raised garden beds can get pretty expensive if you're not careful. So, if you're looking for cheap raised garden bed ideas, then you're in luck!
Using concrete blocks for raised beds is very inexpensive. At my local home improvement store, the blocks are only about $1 each. So you could build a nice sized raised bed for gardening for under $20.
Of course that doesn't include the cost of soil, which will likely be the most expensive part of this project. But we'll talk more about that later on.
Cinder Block -vs- Concrete Block
When it comes to these inexpensive raised garden bed blocks commonly used to build foundations for houses, people usually refer to them as "cinder blocks".
Heck, even the sign at my local home improvement store says "cinder blocks" on it (maybe this is a regional thing?).
Back in the olden days, cinder blocks were commonly made from ash, and that's where the term comes from.
But these days, cinder blocks are usually made out of concrete. True cinder blocks still exist, but from what I've read, they're pretty rare.
The reason I bring this up is because there is an important difference between cinder blocks and concrete blocks.
Because of the ash, true cinder blocks can leach chemicals into the soil, and you don't want that if you're growing vegetables. If you plan to build a cinder block flower bed, then it doesn't matter what type of block you use.
If you're concerned about your cinder block raised bed leaching, then I would recommend using blocks that are actually made of concrete rather than true cinder blocks.
If you want to be sure you're building your beds out of concrete blocks rather than real cinder blocks, then just ask the retailer before you buy them.
The two terms are used interchangeably, so rest assured, when I say "cinder blocks" I really mean concrete blocks.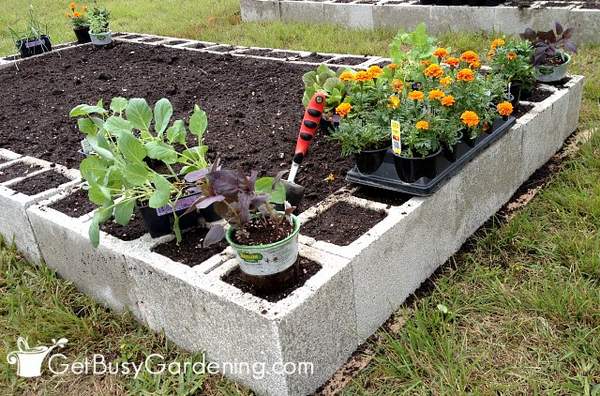 How To Build A Raised Garden Bed With Concrete Blocks
Building a raised bed with concrete blocks is pretty easy, but there are a few important steps you should take to ensure that your DIY raised garden beds look their best, and fit where you want them to.
First, you need to decide where you want to put your concrete raised bed garden. Be sure to choose a spot that is fairly level and gets plenty of sun (here's how to figure out the sun exposure of your garden).
Then decide on how many concrete block raised beds you have room for, taking care to allow plenty of space between the raised beds so that you can easily access them and walk between them.
The next step is figuring out the design for your cinder block raised garden bed(s).
Determine Your Concrete Block Raised Garden Bed Design
Since we're using square blocks that are all the same size, designing a concrete block raised bed could not be any easier. All you need to do is measure the size of the space where you want to put it.
If you have a large space like we did when we built the raised beds in the community garden, you can build several beds that are the same size.
Or you could have some fun with it and make them different sizes to create interest or a fun path through the garden.
As you come up with your concrete block raised garden bed design plan, be sure to also think about how easy it will be to work in your beds. You don't want the beds to be too wide or it can be difficult to reach the middle.
Also, be sure you leave a few feet of space between each bed so that you have plenty of room to walk and move around between them.
This becomes really important if you build your raised gardening beds right on top of the grass like we did, and need to be able to mow in between them.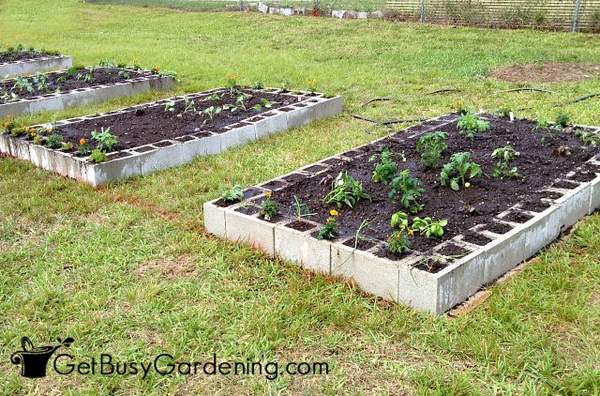 How Many Cinder Blocks Do I Need?
It's super easy to figure out how many blocks you need for building a concrete block raised bed because they are all the same size.
Concrete (cinder) blocks are about one foot long, which makes for really easy math! The beds we built were 7′ x 4′, so we needed 20 cinder blocks to build each bed.
Once you decide on your concrete block raised bed design (done in the previous step), it'll be easy to figure out how many cinder blocks you need to buy so you won't have any leftover.
Best Soil For Raised Beds
As I mentioned above, buying raised bed garden soil will probably be your biggest expense for this project. I know it's easy to think about pinching pennies here… but don't.
When it comes to gardening, the quality of the soil is super important. It's the foundation in which plants grow, and plants simply won't grow well in cheap soil.
So, whatever you do, don't buy topsoil or other types of cheap dirt for your raised beds. Be sure to fill your garden beds with high quality soil. You can buy compost in bulk, or mix your own quality soil to save money.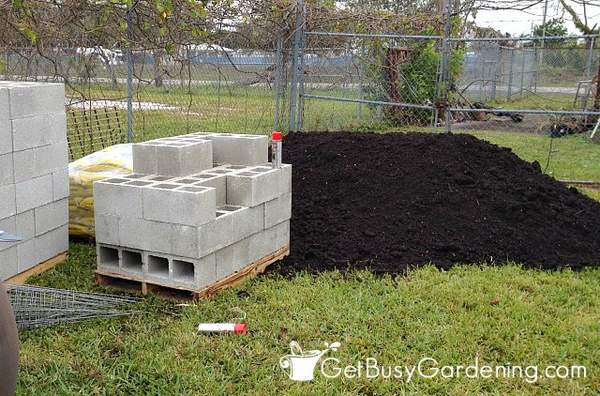 Steps For Building Concrete Block Raised Beds
Below I'll walk you through how to make these easy concrete block raised beds in your garden, step by step. Before getting started, you'll need to gather a few supplies…
Supplies Needed:
Concrete cinder blocks
Soil for raised beds
Tape measure
Marking paint or spray paint (optional)
Thick cardboard or newspaper (optional, use if you're going over grass)
Tamper tool (optional)
Level (optional, use if you want to make sure your blocks are level)
Square garden spade (optional, use if you want to remove the sod under the blocks to level them)
Step 1: Lay out your concrete block raised bed design – The first thing to do is to lay out your design so that you can make sure everything fits into the space you have planned.
It's much easier to move the blocks around or change the design if you need to at this point than it will be later on in the project. Be sure to wear gloves when moving the block, because cement blocks are heavy!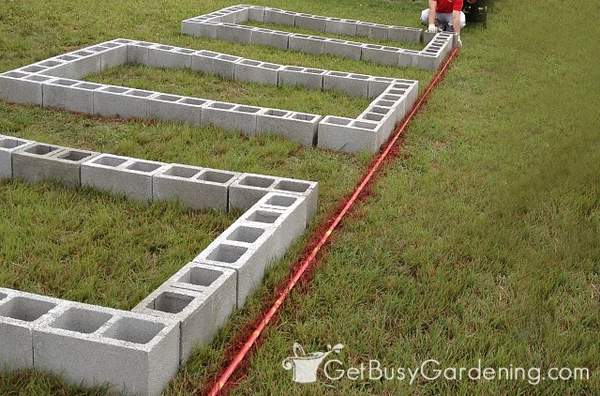 Step 2: Ensure the blocks are straight and square – Once you have the concrete blocks laid out, use the tape measure to create a straight line.
Then mark the line using the marking paint. This line will act as a guide to ensure you're keeping everything straight during the next steps.
Step 3: Remove the grass and level the blocks (optional) – If the area where you're building a raised bed garden is level and the blocks lay pretty flat, then you can skip this step.
But, if you're building on top of grass and it's uneven, then it's a good idea to take the extra step to remove the grass so the blocks will sit level.
Blocks sitting on top of the grass will settle in over time, but removing the grass will help to ensure the blocks stay in place.
You don't have to remove all of the grass, just the section that sits directly below the blocks. The grass in the center of the bed can remain in place.
To make it easy, use a square garden spade to remove the sod. Then you can use a tamper tool if desired to level the ground before laying the block. Use a level to help you make sure the blocks are straight.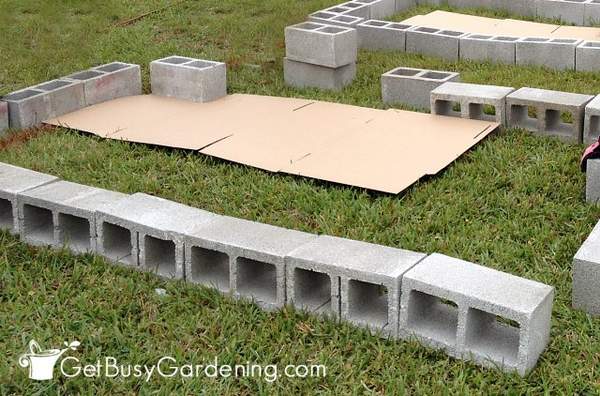 Step 4: Lay cardboard under the cinder blocks (optional) – This is another optional step, and not required if you're building your raised bed on top of dirt.
But, since we were building our concrete block raised beds right over the grass, we put down a thick layer of cardboard first to smother the grass and keep it from growing into the beds.
If you don't have cardboard, you can use a thick layer of newspaper instead.
Step 5: Fill the beds with soil – Once you're done building your concrete block raised garden beds, you can fill them with soil.
We found it easier to temporarily remove one block so that we could push the wheel barrow into the bed rather than trying to dump the soil over the top of the blocks.
Don't forget to fill the holes in the raised garden bed blocks with soil so you can use them as planters.
If you don't like the idea of using the holes in the blocks to grow plants, then you can fill them with rocks or cheap fill dirt instead of garden soil.
Just be sure to fill them with something to hold them in place otherwise they can move around easier.
Step 6: Plant your shiny new concrete block raised bed! Planting your new cement block garden is the fun part.
Just be sure to give it plenty of water after everything has been planted. Also, keep in mind that the soil in your raised bed will settle over the first few days and weeks, so you may need to add more to fill in the spaces.
The cinder blocks make wonderful planters for flowers and herbs, which can help to deter pests and attracting beneficial pollinators to the garden.
Marigolds are a great border flower in any vegetable garden, and my top choice. We also chose to use alyssum in the planter holes too, and once it's established it will cascade over the side to help to soften the look of the concrete block raised bed.
If you're looking for a cheap and easy raised garden bed project, then building a raised garden bed using concrete blocks is the perfect project for you!
If you're interested in raised bed gardening and looking for more DIY raised bed projects, I recommend picking up a copy of the book Raised Bed Revolution. It's a beautiful book that has everything you need to know about raised beds, including several wonderful DIY projects.
More DIY Garden Projects
Share your tips for building a concrete block raised bed garden in the comments below.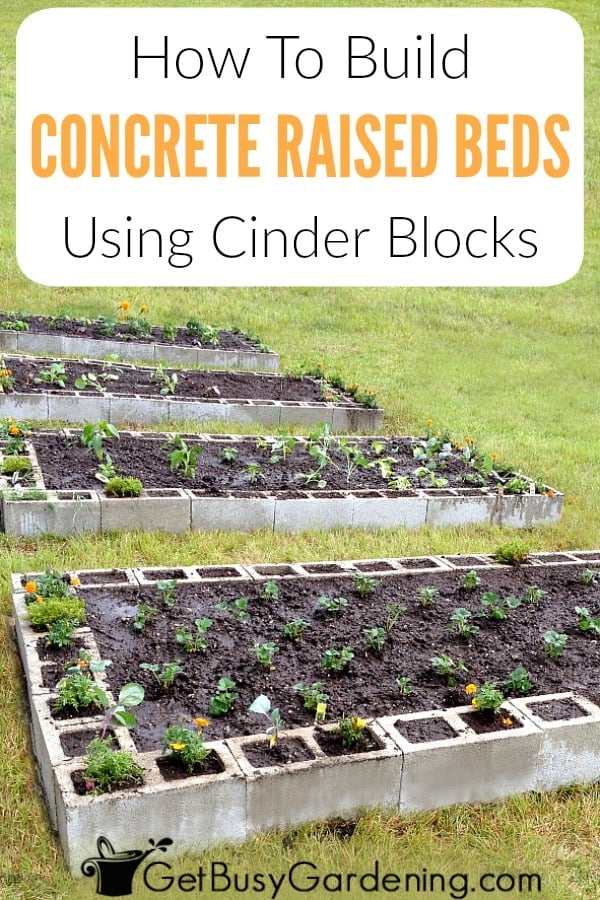 Print The Step-By-Step Instructions