Harvesting and storing basil leaves is one of the first things I do as the season starts to wind down in late summer, so I can preserve as much of the amazing flavor as I can for winter enjoyment.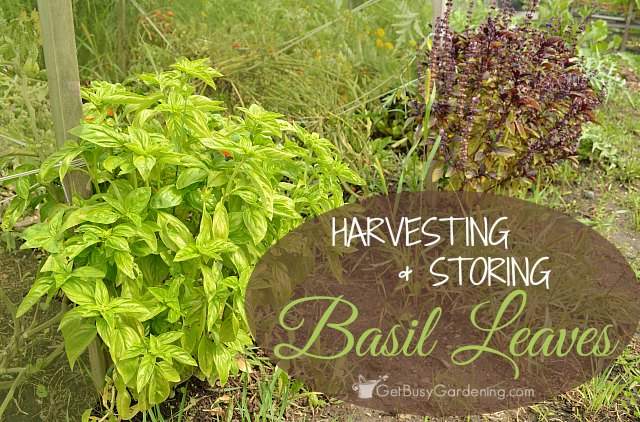 Basil is one of those plants that you can harvest from again and again, all summer long. It's so awesome to be able to walk out the back door and harvest garden fresh herbs for cooking, and to be able to have a continuous harvest.
To keep those yummy leaves growing, just keep pinching off the flowers as they start to form and that will help encourage your basil plant to produce more leaves instead of using all of its energy on flowering.
You can learn all about how to care for basil plants here.
Harvesting And Storing Basil Leaves
But alas, the time for harvesting and storing basil leaves will come and you'll want to preserve as much as you can. I'm going to be honest… harvesting basil leaves takes some time, but it's totally worth it.
When it comes to storing basil leaves, you have lots of options (including endless recipes to choose from, but I'll save that topic for a different post).
The best time to harvest basil is when the plant has lots of leaves, but hasn't started to flower yet.
If your basil is already flowering, don't worry! You can still harvest the leaves after the plant is flowering, you just might not get as large of a harvest.
Harvesting Basil
The leaves are what you are after when you're harvesting basil. It can be a bit of a tedious job, so make sure you're not in a rush to get it done.
Also, plan to harvest your basil leaves when it's not super hot out, and keep the leaves out of direct sun while harvesting to keep them from wilting.
To make it a bit easier, you can cut entire stems and bring a whole bunch inside the house for harvesting or fresh cooking.
To harvest basil leaves, simply pinch off each individual leaf. Mildew can be a big problem with basil, so make sure to select only the healthiest, freshest leaves.
Check each leaf as you harvest, and discard any leaves that show signs of disease, or leaves that are starting to turn yellow or brown.
As you harvest your basil, drop the leaves into a dry bowl or basket. You don't want basil leaves soaking in water for any period of time because they will turn brown quickly.
Related Post: Free Garden Harvest Tracking Sheet & Guide
Storing Basil Leaves
Though harvesting basil leaves is a bit tedious, storing the leaves is much easier. It's best to use up freshly harvested basil leaves within a few days after you harvest it.
If you have basil leaves you want to keep in the fridge, make sure they are completely dry before storing them.
Wet basil leaves will turn brown very quickly. I use my salad spinner to spin dry my basil leaves then I can store them in the fridge right in the salad spinner.
It works great and the basil leaves will stay fresh for a few days in the fridge. You can also use an herb keeper to store fresh herbs in the fridge.
By far the easiest way to store basil leaves for the long term is by freezing them. Plus, frozen basil keeps its flavor better than dried basil.
You don't even have to chop basil leaves up before freezing them. Once they're frozen, the become very brittle, and you can crush them up really easily right in the freezer bag if you want.
Basil freezes very well, and it doesn't take much prep time either. All you need to do is put the leaves into freezer bags and pop them into the freezer.
Again, it's best to make sure the leaves are pretty dry before freezing them this way (or you might end up with one giant basil popsicle).
You could also flash freeze individual leaves on a cookie sheet for 10-20 minutes before putting them into the freezer bag, and that way they won't stick together at all.
But if you do want basil popsicles, you can use herb freezer trays or mini ice cube trays to freeze them as well.
Another way to preserve your fresh harvest of basil leaves is to dry them in dehydrator or a warm oven, then crush or grind them up and fill a spice jar for your pantry.
I use my mini food processor to crush the leaves for my spice rack, but you can also buy an herb grinder too.
Like I said, dried basil leaves don't retain their flavor as well as they do when you freeze them… but it still adds a nice flavor and aroma to your favorite dishes. Plus it helps to keep my spice rack full!
You could also make a batch of garden fresh basil pesto with your basil leaves, and freeze that for later use.
Pesto freezes just as well as basil leaves do (you can also use the herb freezer trays or mini ice cube trays to freeze pesto in perfect portions for cooking!).
Harvesting and storing basil leaves for winter use is well worth the effort. Trust me, you will thank me later!
Before you store your basil though, make sure you enjoy a fresh capris salad (with tomatoes, fresh mozzarella cheese and balsamic vinegar… heavenly!!).
Or drop a few fresh leaves into your favorite pasta dish or salad. Trust me, you'll want to savor that amazing flavor because there's nothing else like it.
More Garden Harvesting Posts
Share your tips for harvesting and storing basil leaves in the comments section below.
Pin It!