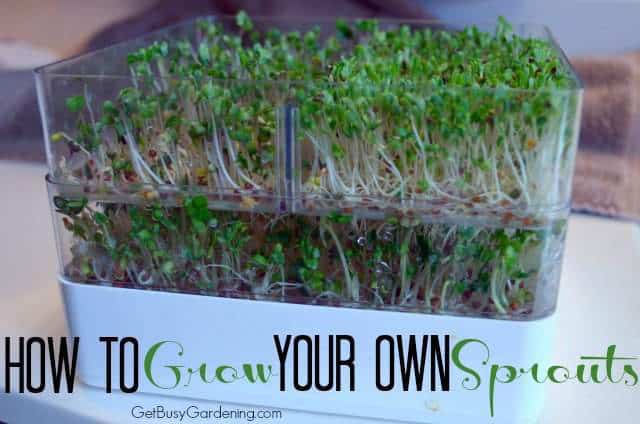 Sprouts are delicious, nutritious and fun to grow. I love to eat sprouts on sandwiches, in salads and in various meals (they are delicious with eggs). They also make a great snack on their own. Growing sprouts is easy, and very fast. Once you see how easy it is to grow your own sprouts, you'll never spend money to buy them at the grocery store again.
What you need to grow sprouts
In order to grow sprouts, you will need two things: a seed sprouter and some seeds.
1. Seed Sprouter: Most places that carry seeds will also carry seed sprouters, or you can easily find one online. Mine is from Botanical Interests, you can buy one here… Seed Sprouter.
2. Seeds: I recommend that you buy seeds that are specifically sold as sprouting seeds, or you buy certified organic seeds for sprouting. There are several different types of seeds that work well for sprouting, including all types of legumes and grains. I tried three different types of seeds, broccoli, alfalfa, and a sprout mix.
Related Post: Growing Vegetables: The Ultimate Vegetable Garden Guide
How To Grow Your Own Sprouts
1. Rinse the seeds and soak them overnight.
2. The next morning, transfer the seeds into the seed sprouter and gently rinse them.
Related Post: Make Your Own Crushed Red Pepper
3. Stack the trays and put the lid on the sprouter. At this point, you will want to start to rinse the seeds twice a day. I left my sprouter in a nice warm room so the seeds would sprout faster.
4. Watch them grow. The seeds will start to sprout very quickly. Mine had already started sprouting when I went to rinse them later that first evening.
Here are more progression photos as the sprouts grew, so you can see how quickly these seeds sprouted…
The instructions didn't say anything about giving them sunlight, but I noticed they were looking a little pale once the sprouts started to grow leaves, so I moved them to a spot where they got filtered sunlight (do not put sprouts in direct sun).
After moving them to the sunny room, the green really started to pop.
Once the sprouts reached the top of the container, it was time to feast! I moved them into the refrigerator to keep them from growing any larger and to help keep them fresh.
The first time I read the directions, I thought that growing sprouts sounded like a lot of work because you have to rinse them twice a day. But the sprouts grew so fast, I could practically sit and watch them grow. So, you only have to worry about rinsing twice a day for a few days. Sprouts are easy to grow at home, and make a great treat in the middle of the winter.
More Posts About Growing Food
Do you grow your own sprouts? Share your tips in the comments below.
Pin It!