Yellow flowers are so bright and cheery, how could you NOT love them? They add little bits of sunshine to any garden area or outdoor pots. You're sure to find some fabulous ideas in this list of 21 of the best yellow blooming annuals and perennials.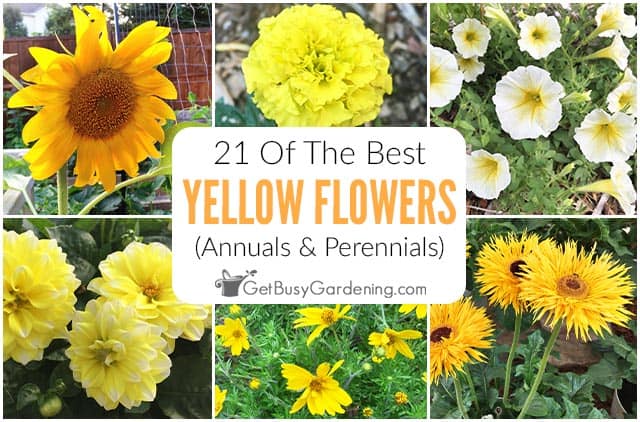 Who doesn't love yellow flowers? It's such a happy color, it never fails to brighten your mood, and sometimes even your day.
Plus they really stand out in any garden, and make your outdoor containers pop too. Heck, you could create an entire bed just using these plants, and it would be fantastic – with constant blooms from early spring through fall!
Well, if you're looking for yellow blooms, either annuals or perennials, to add to your beds or summer containers, then this list is for you!
There are so many to choose from, I won't even attempt to get close to naming them all here. But, I did wanted to compile a list of some of my favorites.
21 Of The Best Yellow Flowers For Your Garden
Like I said, this list of the best yellow flowers is far from comprehensive. However, there should be something here for everyone who wants to add some stunning yellow blossoms into their gardens.
1. Calibrachoa – These tender perennials with trailing foliage do well in zones 9+ in the direct sun. Calibrachoas are a great plant to mix in your beds, or to put in hanging flower baskets.
2. Dahlia – These beautiful tropical perennials have underground tubers that will survive as long as the ground doesn't freeze. They can be used as annuals in colder climates.
Dahlia plants grow 36-48" tall in the full sun. There are a few different types with yellow flowers, and the dinner plate varieties have huge blooms that are spectacular in both the ground or in pots.
3. Cosmos – Cosmos are a fantastic annual flower that makes a great backdrop for shorter plants in your garden.
They love the sun, and will grow 24-48" tall. The varieties with yellow blossoms are very eye-catching against their delicate green foliage.
4. Canna Lilies – Though they are tender perennials, cannas do well in any climate. They will grow 3-8ft high in a sunny spot.
The light yellow varieties are spectacular when paired with dark green foliage, and add a wonderful tropical feel to any garden. Learn how to grow cannas here.
5. Portulaca (aka: moss rose) – Portulaca, or moss rose, is an annual plant that likes sun to part shade, and is drought tolerant. It makes a super cute ground cover with its succulent looking foliage, and bold, colorful flowers.
6. Marigold – This bright and cheery annual does well in sun to partial shade, and will grow 6-12" tall. Marigolds make an excellent border plant, and attract bees.
With their bright yellow blossoms against the dark green leaves, they add a pop to any area, and command attention!
7. Coreopsis (aka: golden tickseed) – These lovely annuals prefer sun to part shade, and will be 18-24" high.
The delicate looking flowers of the coreopsis dance in the breeze, and make your garden come to life. They act like perennials because they reseed themselves, so they are perfect for a wildflower garden.
8. Sunflower – These are probably the best known of all of the annuals with yellow flowers. There's no doubt that the classic sunflower is cheery and beautiful. They love tons of sun, attract bees, and will grow 4-12' tall with their large, showy blooms.
9. Calendula – This yellow annual flower is an aggressive reseeder that does well from full sun to part shade, and will grow to a height of 6-12".
The gorgeous blooms of the calendula plant are not only beautiful, they are also edible, and can be used in teas and other recipes. They're often used to make soaps, salves, and medicinal tonics.
10. African daisy (Osteospermum) – The African daisy is a tender perennial, often used as annuals, that grows 12-18" tall. They will do well in zones 9 and up, are drought tolerant, and like lots of direct sunlight.
11. Zinnia – Zinnias are great for cutting, and the butterflies and bees adore them! These annuals thrive in the sun, and they will grow 36-48" tall.
There are different varieties that have yellow flowers, some are solid colored, and others are mixed with white or orange. Learn how to grow them here.
12. Petunia – These tender perennials are often sold as annuals, and can survive year round in zones 9 and up. Petunias have fragrant blossoms that do well in full sun to part shade, and be 18-24" long on their trailing stems.
13. Snapdragon – Commonly sold as annuals, these cute perennials do well from sun to part shade in zones 7 and up.
Snapdragons are wonderful for adding texture and height to your beds or in mixed containers, and the bright yellow blooms especially stand out. The bees like them too!
14. Gerbera (gerber daisy) – Another tropical perennial in zones 9+, and thrives in full sun. Gerber daisies tall flower stems will reach 6-18" high, and are great for pots or in the garden. The flowers are beautiful in any color, but yellow just might be my favorite!
15. Gladiolus – Glads have tall, spiky blooms that thrive in the sun, and will grow 6-18" in height. These tropical bulbs are excellent for cutting, and make a bold statement at the peak of summer in any garden. The bright yellow blossoms often steal the show!
16. Pansies (viola) – This popular perennial plant is hardy in zones 7-10, but is often used as an annual in other climates. These cute little cold-loving flowers will grow to a height of 6-12".
Yellow flowering pansies have always been my favorite, and they come in lots of different shades. You can find them in solids, or mixed with other colors, and they make a fantastic early spring or fall addition to your beds or outdoor planters.
17. Ranunculus – These tender perennial bulbs are 6-18" tall, and do well in a sunny spot in zones 8-11. Ranunculus are wonderful for containers or your garden, and have delicate rose-like flowers that look like they're made out of tissue paper.
18. Celosia (cockscomb) – If you're looking for some unique flowers, then this one's for you. Celosias come in lots of varieties – from soft, rounded, puffy flowers, to tall spiky plumes.
They are annuals that enjoy lots of sun, and will grow to be anywhere from 12-36" high in either pots or the garden.
19. Gazania – This drought tolerant perennial thrives in zones 8-10, and the blooms will reach 6-12" tall. The bright yellow daisy-like flowers are great for borders in hot, sunny gardens or pots.
20. Bidens – Many gardeners use them as annuals, but bidens are perennials in zones 8-11. They are drought and heat resistant, attract both bees and butterflies, and will bloom year round in containers or the ground. The dainty yellow flowers will reach a height of 6-18" tall, and really pop against the dark, lacy foliage.
21. Prickly Pear Cactus – The hardiness of these desert perennials varies by variety. Some will survive down to zone 4, while others only live in 8 or higher.
Prickly pears can also be grown as annuals in pots or your garden. They have show-stopping yellow flowers that the bees love, and grow 6-48" tall. Just take care not to touch the prickly leaves.
Yellow flowers in the garden bring so much cheer and sunshine, even on a gloomy day. Adding some of these yellow annuals and perennial blooms to your beds or planters will really make them stand out, and give you constant color all summer long.
Recommended Books
More Posts About Flower Gardening
What yellow flowers would you add to this list? Add your top picks in the comments section below.