Who doesn't love growing lettuce in their garden? It's definitely a must for me, I can never get enough of garden fresh salads! If you get into the habit of collecting and storing lettuce seeds every year, you'll never have to buy them again. You'll also be able to share with friends or trade them for other gardening seeds.
Lettuce is one of the easiest vegetables to grow from seed, and it's just as easy to collect and store the seeds from your garden every year.
One of the things I love the most about growing lettuce from seed is that I can sow the seeds from late winter through late summer, and enjoy garden fresh lettuce throughout the growing season.
Lettuce seeds will even sow themselves in the garden, but don't worry, it's easy to pull out unwanted volunteers.
How to collect lettuce seeds
Before you will be able to collect lettuce seeds, the plant must bolt (i.e.: flower). It's nice, because you can continue to harvest leaves off of the lettuce plants until they start to bolt.
One lettuce plant will produce a ton of seeds, so you really only need to allow one or two plants from each of your favorite varieties to bolt.
Lettuce plants aren't very pretty once they bolt, and the flowers are insignificant. When lettuce seeds are ready to harvest, the flower head will be dried out and have puffs of white cotton coming out around the top, similar to a dandelion.
The easiest way to collect lettuce seeds is to carefully pinch the flower heads off the plant, and drop them into a bucket or bag.
Once you get them inside, break apart the flower heads and the lettuce seeds will fall out. Lettuce seeds are small, flat and oval shaped. They can vary in color from dark gray-brown to almost white.
Allow lettuce seeds to dry completely before storing them. Try making some DIY seed envelopes for storing or sharing your lettuce seeds with friends.
Once you're done collecting lettuce seeds from the garden, there will be a lot of chaff (flower head pieces and other plant debris) mixed in with the seeds.
It's difficult to get rid of all the chaff with lettuce seeds. But don't worry, chaff won't affect the lettuce seeds ability to germinate.
If you don't have lettuce growing in your garden, here are some great, quality seeds you can buy to get started… Red Velvet Lettuce Seeds, Valentine mesclun, Mesclun Medley, Leaf Lettuce Blend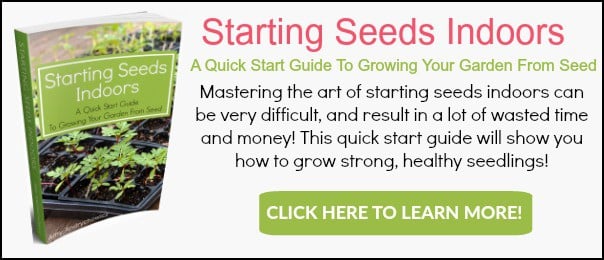 If you want a quick-start intro, or need a quick refresher about how to start seeds indoors, then my Seed Starting Indoors eBook would be perfect for you!
Otherwise, if you want to learn everything you need to know about growing all of your own seeds, then enroll in the Online Seed Starting Course today!
More Posts About Saving Seeds
Which seeds are your favorites for collecting and storing seeds from your garden?