Terracotta pots have a timeless beauty and can last for several years if given some TLC once and a while. One of the advantages of using terracotta pots is that they absorb water, and help prevent over-watering (I use them to grow all of my succulents and cactus plants).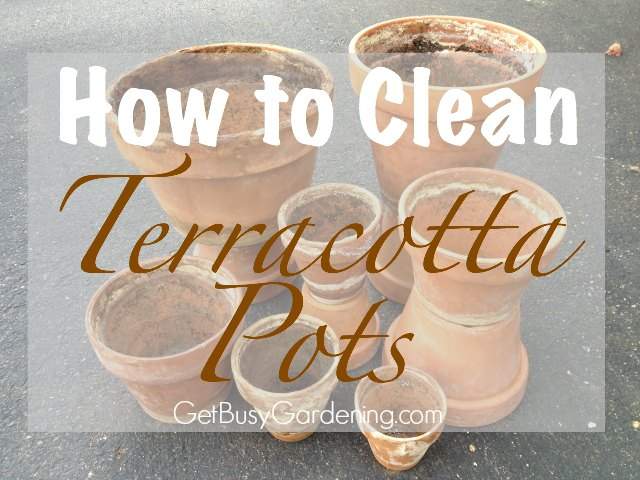 But, terracotta pots also absorb fertilizers, salts and other chemicals that are in the water. Over time, these chemicals will build up and create a crusty residue on your beautiful clay pots. (skip the chemical fertilizers and use an organic fertilizer, I use fish emulsion and an organic compost solution – they work better than chemical fertilizers and are much better for the environment! Win, win!)
The good news is, it doesn't take much time to give new life to your crusty old terracotta pots. So why buy brand new terracotta pots when you can save yourself tons of money with just a little elbow grease. Check this out, I recently got a bunch of free clay pots from a nice lady on Craigslist. There were about 25 various sized terracotta pots in total – awesome score, right?! The clay pots are very old and they looked nasty, but I could see the beauty that lies beneath all that crusted on grime.
How To Clean Terracotta Pots
Step 1: Remove any loose dirt from the pot.  Brush as much dirt as you can off of the clay pot, but you don't have to get it all off. I got this fancy pot brush for Christmas a few years back, and love it for cleaning my pots.
Step 2: Soak clay pots in vinegar/water solution.  Ideally, you would use 1 cup of white vinegar (5% acidity) for every 3-4 cups of water. The less vinegar you use, the longer you'll need to soak the pots. Completely submerge the clay pots in the solution. You may hear a sizzling sounds or see bubbles. Don't worry; that's a combination of the vinegar doing it's job at dissolving the crusty buildup, and the clay pot absorbing the water. I start by soaking crusty clay pots for 20-30 minutes. If the buildup wipes or scrubs off easily, they're done. Otherwise, I'll soak the pots longer. Keep checking until all the residue is easy to remove. You may need to use your brush to scrub it off.
Related post: Tips For Repotting Houseplants
For really tough crusty buildup, you can soak the pot in pure vinegar (here I'm just soaking the rim of the pot where the buildup is the worst). If you soak the entire terracotta pot in vinegar, you should soak it in water afterward to dilute the vinegar the pot absorbed.
Related Post: How To Organize Gardening Tools and Supplies
Step 3: Run through the dishwasher. As a last step, I run the terracotta pots through the quick wash cycle on my dishwasher. This will help to disinfect the pots and clean them. If you don't have a dishwasher, you can scrub the pots in soapy water (will require a little extra elbow grease).
That's it, I told you it was easy. As for those dirty old terracotta pots I got for free. Well, here's what they look like after I finished cleaning them…
Related Post: DIY Succulent Potting Soil
Can you believe these are the same terracotta pots? Seriously, this took about 30 minutes of my time (not counting the time I let the pots soak, and the time it took for the dishwasher to run). Now I have what look like brand new terracotta pots. I'm pretty sure it's been several years since these terracotta pots have been cleaned (if ever). It's good practice to clean terracotta pots every time you use them to keep them looking beautiful, and prevent pests and diseases.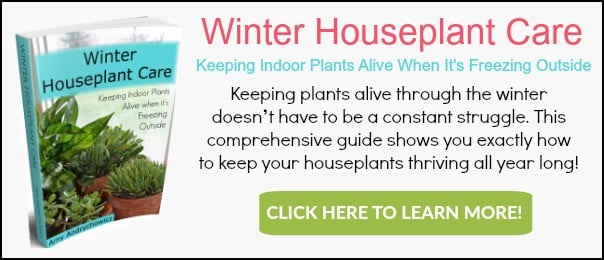 Recommended Books:
More Tips For Growing Houseplants
Related Products
Click here to read more about the basics of how to care for a houseplant… Houseplant Care
Do you clean your terracotta pots, or do you like how the old crusty clay pots look?