It's super easy to make your own DIY potting soil for container gardening, and it's cheaper than buying the commercial stuff too. In this post, I'm going to show you how to make an easy, all purpose container gardening soil that's perfect for growing vegetables, herbs and flowers in pots.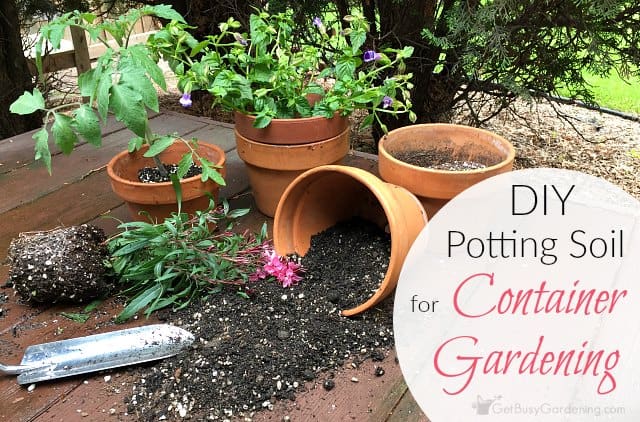 Planting A Garden In Pots
Soil is the foundation in which plants grow, so it's essential to always start with a good potting mix. This is especially true for growing plants in containers, since they rely on us to provide the nutrients they need to survive.
I've been experimenting more with container gardening over the past few years, and I've really been enjoying it. Since containers are… well, contained, it's much easier to control soil borne diseases like blight.
Containers also make fertilizing easier too, and you can give each container different soil amendments and fertilizer to give every single plant exactly what it needs to grow it's best.
Add in a simple drip irrigation system, and you have a self-watering container garden that's basically no-maintenance, which is fantastic!
Potting Soil For Container Gardening
There's not doubt that growing plants in pots is a great solution for bad garden soil (or no garden) and yards with limited space.
But, container growing has it's challenges. One of the biggest challenges is the fact that the soil in containers can't regenerate or gain any extra nutrients from the earth, and the plants roots can't sprawl out or go deeper into the soil to get what it needs.
They have to completely depend on us to give them what the need to survive.
Soil is the foundation for growing healthy plants, so it's super important that we always use high quality soil. This is especially true for growing plants in containers!
Related Post: How To Test Your Soil At Home Using A Soil Test Kit
Never cheap out on potting soil for container gardening. If you start with a good potting soil mix, your plants will grow much better.
Good potting soil makes all the different in the world!
Potting Soil -vs- Garden Soil
Lots of new gardeners make the mistake of thinking that you can just fill your outside potted plants with garden soil. I mean, your plants grow great in your garden, so why wouldn't that same soil work in containers too?
Dirt is dirt, right? Wrong. I don't recommend using garden soil -vs- potting soil for growing plants in containers for several reasons.
First, garden soil has lots of potentially nasty stuff in it, like bugs and other creatures, disease organisms, and even weed seeds. Put all of those yuckies into a container, and you're just asking for trouble.
Plus, garden soils are too heavy for use in containers, and will quickly become compacted in there, making it extremely difficult for the plants to grow.
It's best to leave the garden soil in the garden.
The Best Potting Soil For Container Gardening
Choosing the right potting soil for container gardening is important, but doesn't have to be intimidating.
When it comes to growing plants in containers, you want a fluffy, porous, sterile potting soil that allows water and air to reach the roots of the plants.
The best potting mix for container gardening is one that is light, and won't become compacted in the container. The mix should drain well, but also hold moisture.
Many types of potting soil for indoor plants (especially cheap potting soil!) are too heavy, and really not the best potting soils to use for outdoor container gardening.
Benefits Of Making Your Own Container Gardening Soil
There are lots of benefits of making your own soil for container gardening. Making your own bulk potting soil mix is always much cheaper than buying a pre-made quality container gardening mix at the store.
Plus, you control the ingredients, so it's easy to make sure your soil is organic, and doesn't contain any added chemicals (which is especially important in a potting soil for vegetables and herbs).
Another thing I love about making my own potting soil mixes is that I can easily modify the recipe if I need special soil for any of my potted plants.
Related Post: Choosing Plants For Container Gardening (Made Easy!)
That way, I'm always confident that I'm using the best potting soil mix for each type of plant I'm growing.
And, making large batches of bulk potting mix means I always have my DIY container mix on hand when I need it.
How To Make Potting Soil For Containers
Over the years, I've seen lots of organic potting soil recipes online that are pretty complex, and I've always found that to be very intimidating.
I'm constantly looking for ways to make gardening easier for you, the new gardener (and, let's be honest, easier for me too!).
So, I've come up with a super simple potting soil recipe for making my own general purpose potting soil for container gardening.
I wanted the recipe to not only be simple, but also made with ingredients that are easy to find at any garden center (where you find the potting soil for sale) and available online.
Plus, these are common ingredients I use in my other organic potting soil recipes too, so they're very versatile!
Container Mix Potting Soil Ingredients
* if you prefer, you can use a general purpose potting soil instead of peat moss or coco coir as your base ingredient. Any type of all purpose potting soil will do, but I recommend buying an organic potting mix that doesn't contain any added chemical fertilizers, and avoiding any type of moisture control potting mix.
Along with your potting soil ingredients, you'll also need a few supplies to combine and mix your potting soil, and to fill your containers. So, before you begin, you might want to grab these items too…
Supplies Needed:
Measuring containers (I use a 1 gallon bucket as my measure, but you can use any size container you want)
Shovel or trowel
Large garden tub or wheelbarrow
Water (if your ingredients are really dry)
All Purpose Potting Soil Recipe For Container Gardening
**  If you use peat moss (which is acidic), you'll need to also add a little bit of garden lime to the mix in order to balance out the acidity to a neutral ph level.
What is a "part"? – A "part" is just a generic unit of measure, and it can be anything you want as long as you use the same type of measure for each "part". So, for example if you use a 1 gallon measure as your part, then this potting mix recipe would convert to 2 gallons of peat/coir/soil, 2 gallons of compost, 1 gallon perlite, and 1/4 – 1/2 gallon vermiculite.
Steps For Mixing Container Potting Soil
This is the easy (and fun!) part, and it might get a little messy (which is part of the fun, right!).
All you need to do is dump all of the ingredients into your garden tub (or wheelbarrow, or whatever container you're going to use for mixing soil), and then use a shovel or trowel to stir it all together until it's mixed well. Add water as you stir if your ingredients are dry.
Once everything is thoroughly mixed together, your soil can be used right away.
Optional Organic Soil Amendments
As I mentioned earlier, the recipe above is for an all purpose potting soil for container gardening. This potting mix recipe works great for growing herbs, vegetables or flowers in pots.
But, there are a few other optional ingredients that you could add to your soil to help your plants grow even stronger. (You don't need to add all of these, I'm just giving you options for some great organic soil amendments)
1/2 – 1 part worm castings (aka: worm poop. helps create rich, fertile soil, feeds the plants, increases yield)
1/2 part biochar soil enhancement  (helps soil retain nutrients and moisture, builds and enhances soil fertility)
1/4 part natural organic soil builder (organic soil amendment that enriches the soil, helps improve water retention and drainage)
Preparing & Filling Your Containers
Before you begin filling your containers, always be sure to start with clean pots. Dirty containers can harbor diseases and pests, and you don't want to risk it.
So, if you're reusing a container, simply use a flower pot brush to remove all the crusted on dirt, and wash the pot with soap and water to clean it well.
When you fill your containers, make sure to leave about an inch of space between the the soil and the the top of the containers.
You want to leave plenty of space for the water to collect and soak in. If the pot is too full, the water will just run over the sides of the pot, making a mess and depriving your plants of water.
Fertilizing Your Container Gardens
One of the biggest challenges of growing plants in containers is that the soil loses it's nutrients much faster. The plants use up the nutrients, and some nutrients are flushed out the bottom of the pots whenever they're watered.
So, it's super important to make sure you feed your outdoor potted plants on a regular basis – after all they are depending on you to give them the nutrients they need to survive.
This is especially important for herbs, fruits and vegetables, since they need tons of nutrients in order to produce yummy food for us!
I highly recommend using an organic granular fertilizer when you first plant your containers. Choosing organic fertilizers is not only healthier for us, it's much better for our plants too.
Plus, chemical fertilizers can burn the roots of tender plants, causing major problems in the long run. And who wants to mess with harmful chemicals anyway?
Related Post: Organic Vegetable Fertilizer Made Easy
These days there are tons of wonderful options for natural fertilizers, and they are super easy to use too! I use either an organic vegetable fertilizer or one that works great for flowers and vegetables in all of my containers when I plant them.
You should also use an organic liquid fertilizer weekly throughout the summer. My favorites are liquid compost fertilizer tea (which you can get as a concentrate, or buy compost tea bags and brew your own), or a seaweed fertilizer (like this one or this one).
Natural organic fertilizers are the bomb! Seriously, you will be amazed at how much better your plants will grow when you use them!
Storing Your Homemade Potting Mix
One of the benefits of making your own homemade potting mix is that you can make it in bulk, and then store the rest for later so you'll always have it on hand when you need it.
To save your unused potting soil for container gardening, simply store it in a airtight container in the garage, shed or basement.
Just make sure that the container is sealed and airtight. This will help to keep the soil moist, and keep the bugs out. I store my potting soil in a five gallon bucket with a tight fitting lid. If your bucket doesn't have an air-tight lid, I recommend these lids, which fit on a few different sizes of buckets.
Potting soil is a breeding ground for pests like soil gnats, and you don't want anything contaminating your beautiful soil while it's in storage.
Making your own potting soil for container gardening is easy, and much cheaper than buying the commercial stuff.
You control the ingredients, so it's easy to ensure that you're using the best soil mix for container gardening. You can adapt this all purpose container gardening soil recipe to use for any plants you want.
Plus, when you make it in bulk, you'll always have some on hand whenever you need it!
More Homemade Potting Mix Recipes
Products I Recommend:
Share your tips and recipes for making your own potting soil for container gardening in the comments below!