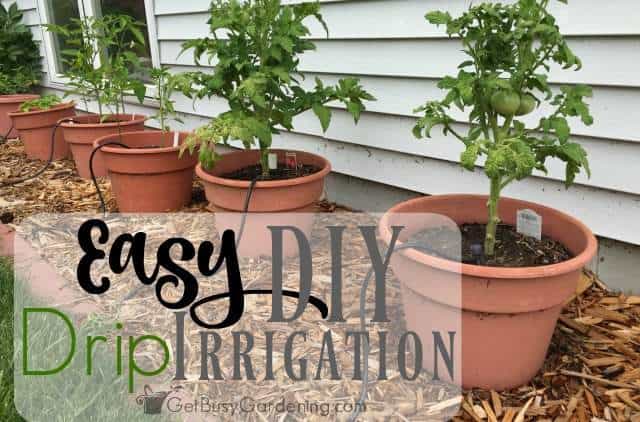 We have an area behind our house that gets full sun and would be perfect for growing, but it's under the eaves of the house so it doesn't get much water. My husband put a few pots of peppers there last year, but watering all of those pots became a major chore in the heat of the summer. We had a drought last year, so we had to water these pots a few times a day.
My husband told me he wanted to line the area with pots of peppers this year, so we decided to try adding a drip irrigation system to make watering easy.
It turns out, putting in a drip irrigation system is just as easy as it was to add overhead sprinklers to our greenhouse. Plus we had some of the poly tubing left over from that project, so we were able to use that for this project – bonus. This is what the main line tubing looks like for the drip irrigation system (1/2″ Poly Tubing).
There are drip irrigation kits you can buy that make it even easier, or you can buy all the parts you need separately. We started with a kit, then bought the extra parts we needed so we had enough supplies to add drip irrigation to all of our pots.
Product List
Easy Steps for Installing a Garden Irrigation System
The first step in installing the drip irrigation system was to determine how many drip heads we needed, and how far apart they would be. We set out the pots and laid down the main line hose, then measured and marked where we needed to add the drip tube lines.
 Once we measured it all out, we cut the main tube line, and caped the end of the poly tube with an end cap.
It's easy to add the drip lines and micro sprinkler heads. Simply punch a hole (using a drip irrigation hole punch) where you want the drip line, then attach the drip line connector first to the main line tube, then attach the micro tubing drip hose onto the connector.
There are stakes that hold the micro heads in place, so they stay where you put them. We centered the micro heads in the pots.
Then we tested the heads to make sure they were all working with no leaks. The tops of the heads twist so you can control the amount of water that comes out. We adjusted each one so they weren't spraying outside the pots.
Once all the drip tubes were installed and tested, we secured the main line tubing into the ground with some drip irrigation tubing stakes. The stakes clip onto the main line tubing, which makes securing the tubing easy.
Then we buried the main line tubing to give it a cleaner look.
Last, we set the timer on our digital hose timer to run on a schedule so we never have to worry about watering these pots again. I recommend checking on your pots regularly to make sure they are getting the right amount of water. We'll turn the drip irrigation timer off when we get a lot of rain, and increase the length or how often the drips run during dry periods.
Not only is this good so we don't have to water these pots, but it makes it much easier to ensure our peppers are getting a consistent amount of water. Hopefully this will help prevent blossom end rot, which was a problem for our container grown peppers last year. Drip irrigation systems are great for containers, as well as the garden.
More DIY Gardening Projects:
Do you have a drip irrigation system? Leave a comment below and tell me what you use it for.