Watering Christmas cactus correctly is essential for maintaining your plant's health and preserving its beautiful appearance.
In this post, I'll explain how to tell when it's time to water your Schlumbergera buckleyi plant, and give detailed step-by-step instructions for keeping it properly hydrated.
By following the techniques in this guide you'll learn all you need to know about your Christmas cactus plant's moisture needs, including the best types of water to use, and how to adapt your watering schedule as the seasons change.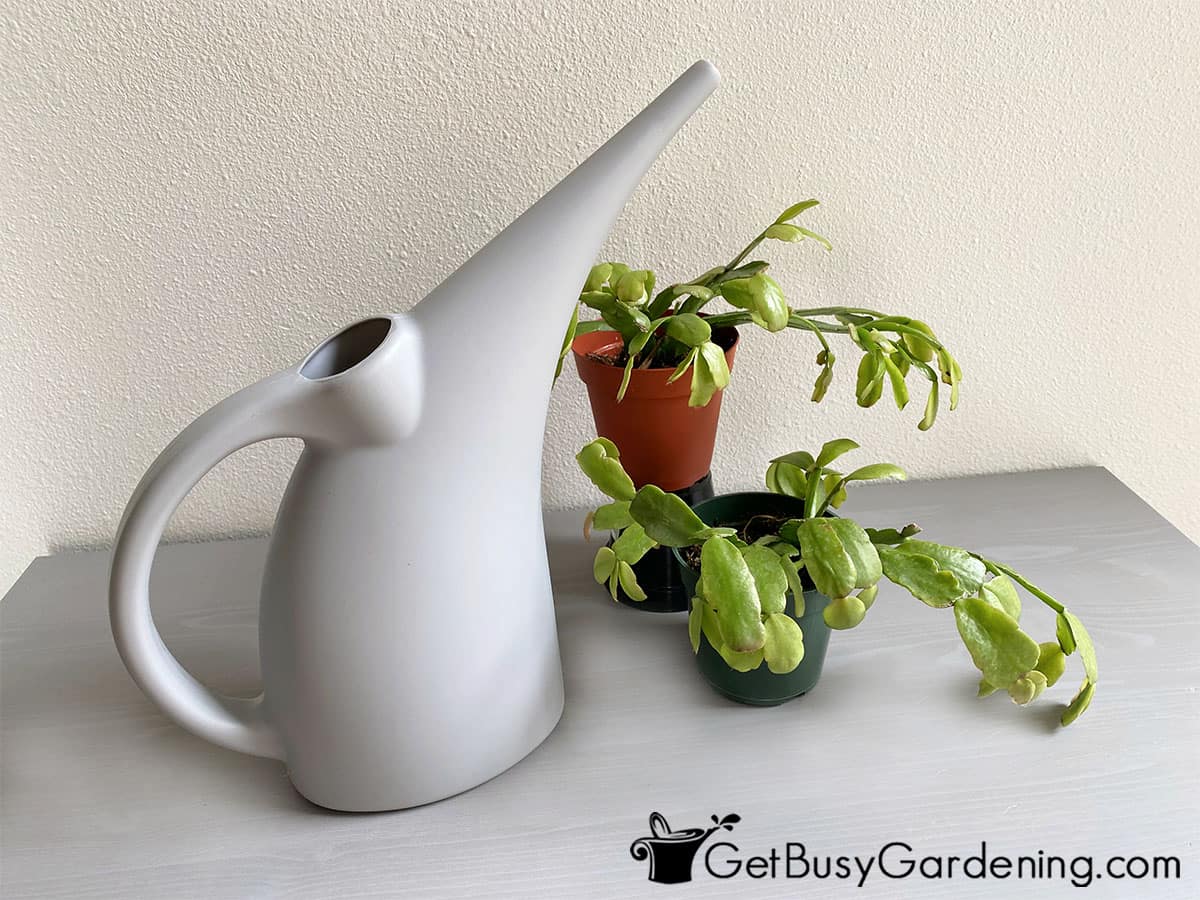 Christmas Cactus Water Requirements
The Christmas (aka December) cactus needs consistent moisture, and they don't like to be overly wet or completely dried out.
Despite their common name, they're a type of succulent plant, so they can't tolerate extreme drought conditions that desert cacti thrive in.
In nature they are epiphytes that grow on other plants or rocks, and get most of their moisture from the air rather than the ground.
Does Christmas Cactus Need A Lot Of Water?
Christmas cacti don't need a lot of water, but they do need consistent moisture, however it's important not to overdo it.
Over or under watering can cause the leaves, segments, or buds to drop, or lead to root rot, and wilting, mushy leaves, along with other problems.
Related Post: How To Care For A Christmas Cactus Plant (Schlumbergera buckleyi)
Best Type Of Water For Schlumbergera buckleyi
Unlike some plants, the Christmas cactus isn't overly sensitive to impurities like salts and fluoride in tap water. That said, I do recommend using distilled or rainwater because they are purer.
To avoid shocking or harming your plant, make sure the water is tepid, or at room temperature. And if you do decide to use city tap water, allow the chlorine to evaporate first by letting it sit out for 24 hours.
When To Water Christmas Cactus
To know when it's time to water your Christmas cactus, check the soil regularly. It should be dry 1" deep before giving it more.
I don't recommend watering on a set schedule because it's more likely you'll give it too much. Always check how dry or wet the soil is first.
How Do I Know If My Christmas Cactus Needs Water?
The easiest way to tell if your Schlumbergera buckleyi needs water is to push your finger into the soil. If the top inch feels dry, then it's time to give your plant a drink.
Alternatively, use a moisture gauge – a small hygrometer probe that displays how much water is in the soil. A reading of 1 to 3 will tell you that it is dry and it's time to irrigate your plant.
Should I Water My Christmas Cactus While It's Blooming?
It's important to water your Schlumbergera buckleyi while it's flowering. Keep the soil evenly moist and make sure that it never dries out completely.
But it's equally important not to overwater during this time, as this can cause the flowers and buds to drop.
When forcing your Christmas cactus to rebloom, reduce the amount of water you give it and allow the soil to dry out more between drinks. Once it sets buds you can return to your regular routine of keeping the soil consistently moist.
Do You Water Christmas Cactus After It Blooms?
Your plant will need a short rest when it's done flowering, so give it less water at that time and allow the soil to dry out more throughout the winter. Do not to let it become bone dry though.
When you start to see new leaves forming in spring you can return to your regular watering schedule.
Related Post: What To Do With Christmas Cactus After Blooming
How Often To Water Christmas Cactus
There are a few things that influence how often you'll need to water your December cactus, including the time of year, the environment, and the size of the plant.
In general, you'll need to water it more frequently during the spring and summer compared to the colder months, particularly if your plant is outside.
The size of the pot makes a difference, too. I recommend checking large containers on a monthly basis and smaller ones weekly.
How Often To Water In Spring & Summer
Spring and summer are the seasons of active growth for your Christmas cactus, so it will need more water during this time.
The increased temperatures and sun exposure will also dry the soil out faster, especially if it's outdoors.
Check your indoor plant every 2 to 3 weeks to see if it needs a drink, or your outdoor plant weekly.
Start cutting down on the amount of water you give your Schlumbergera buckleyi in late summer.
How Often To Water In Fall & Winter
You won't need to water as much during the cooler months as the plant's growth begins to slow down.
Allowing it to dry out more in the fall will encourage it to flower. Once it sets buds in early winter, keep the soil evenly moist to stop the buds and/or flowers from dropping.
Make it a weekly habit to check your plant during the colder months. Your heating system can dry out the indoor air, which means you may have to water more often.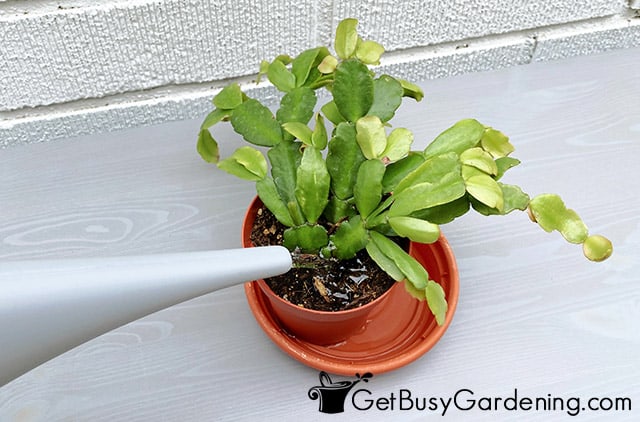 How Much To Water Christmas Cactus
Your December cactus should never dry out completely, since this can cause the buds and flowers to drop and the leaves to wilt.
But you need to be careful not to give it too much water either, as the roots may rot if the soil is soggy.
Instead, check the soil using your finger or a moisture gauge and only give your plant a drink if the top inch is dry, or the gauge shows a reading between 1 and 3.
Underwatering Symptoms
It's less common to underwater a Christmas cactus than to give it too much, but it's good to know the signs just in case.
You'll notice that some of the symptoms listed below are very similar to those of overwatering. That's why it's so important to determine if your plant really does need a drink before giving it more.
The signs of an underwatered Schlumbergera buckleyi are:
Buds and/or flowers dropping
Entire plant looks droopy
Dry, pale-looking soil
Soil pulling away from the inside of the pot
Leaves turning brown or look lighter in color
Overwatering Symptoms
Not only is overwatering far more common than underwatering, it's also the #1 killer. Although they like consistent moisture, saturating the soil can cause irreparable harm.
Here are the signs that your Christmas cactus is getting too much.
Soggy soil, with water puddling on the surface
Mushy, limp, or droopy leaves and branches
Buds and/or flowers dropping
Leaves and segments dropping
Mushy roots
Tiny gnats flying around the plant
A sour smell caused by rotting roots, branches, or stems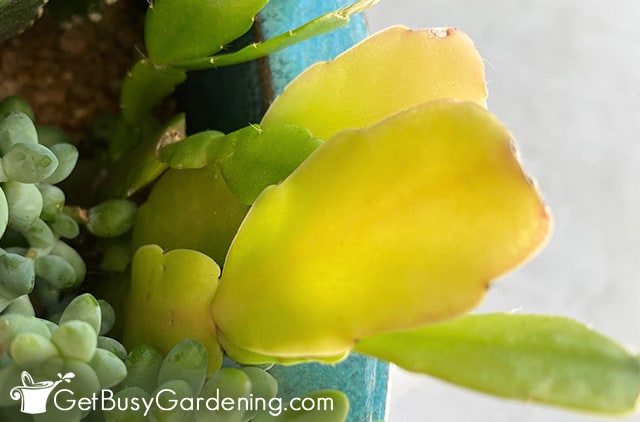 Christmas Cactus Watering Techniques
There are two different methods you can use to irrigate your Schlumbergera buckleyi – either watering from the top or the bottom.
Top-watering is the best method to use, as soaking the rootball can quickly over-saturate the soil. Below, I'll describe both techniques and the pros and cons of using them.
Top Watering
To water from the top, pour it slowly over the soil until it pools briefly on the surface and you can see it flowing through the drainage holes at the bottom of the pot.
Avoid pouring water over the top of the leaves, as they may rot if it sits on them for too long. Make sure that all excess water has drained away, then empty the drip tray and replace the pot.
This is the method I recommend you use for watering your Christmas cactus because it ensures the plant is never soaking and prevents overwatering.
Bottom Watering
To water from the bottom, you fill the drip tray so that the plant can absorb it through the drainage holes in the pot.
The problem with this method, however, is that the soil can feel dry at the top even when the roots are saturated. This means it's very easy to overwater your plant.
For that reason, I don't recommend bottom watering unless the soil has dried out so much that it's unable to absorb water through the surface. In that situation, soak it for around 20 minutes, or until it starts absorbing moisture, then immediately empty the drip tray.
Related Post: How To Propagate Your Christmas Cactus
FAQs
How much water does a Christmas cactus need?
The exact amount of water a Schlumbergera buckleyi needs varies, depending on its location, environment, size, and the time of year. The best approach is to check the soil often and only water your plant when the top inch is dry.
Do you water a Christmas cactus from the top or bottom?
I recommend watering your Christmas cactus from the top, not the bottom. It's the safest method as it lowers the risk of saturating the roots, which could lead to rot.
Should I spray my Christmas cactus with water?
You can spray your Christmas cactus with water if the indoor air is dry, as it prefers a humid environment. Mist it very lightly, however, as the leaves may rot if water sits on them for too long.
Can you water a Christmas cactus too much?
Yes, you can water a Christmas cactus too much, and overwatering is actually their #1 killer. That's why it's important to check the moisture level of the soil rather than sticking to a set schedule for watering.
How wet should Christmas cactus be?
A Christmas cactus should never be wet, but they do like to be kept evenly moist. The soil should never be soggy, nor should you allow it to dry out completely.
What is the best way to water a Christmas cactus?
The best way to water a Christmas cactus is from the top, pouring it over the surface of the soil and allowing it to drain from the bottom of the pot. Empty the drip tray immediately so that the roots don't become saturated.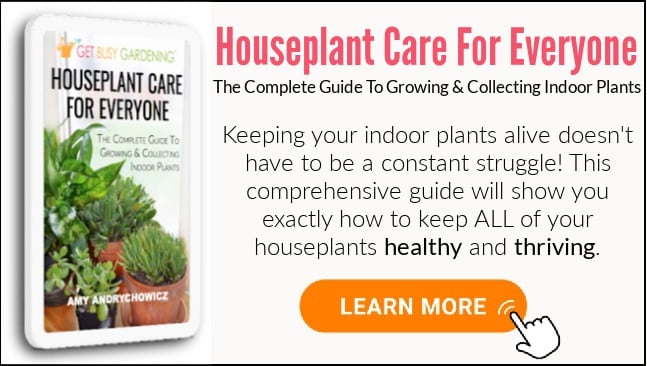 If you want to learn all there is to know about maintaining healthy indoor plants, then you need my Houseplant Care eBook. It will show you everything you need to know about how to keep every plant in your home thriving. Download your copy now!
More About Watering Plants
Share your tips for watering Christmas cactus in the comments section below.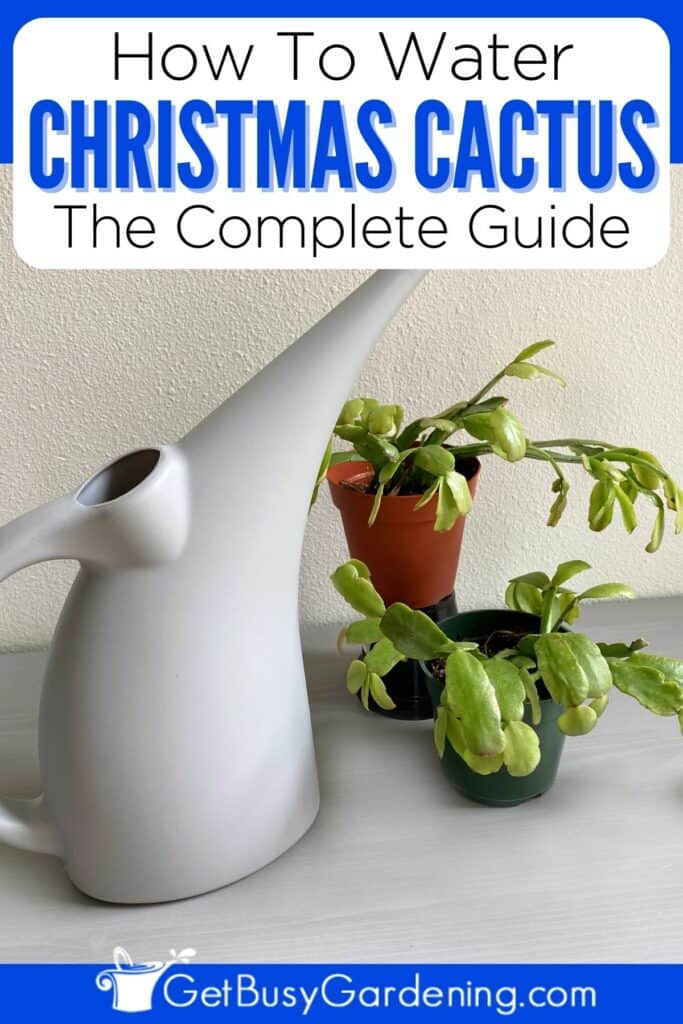 Step By Step Instructions