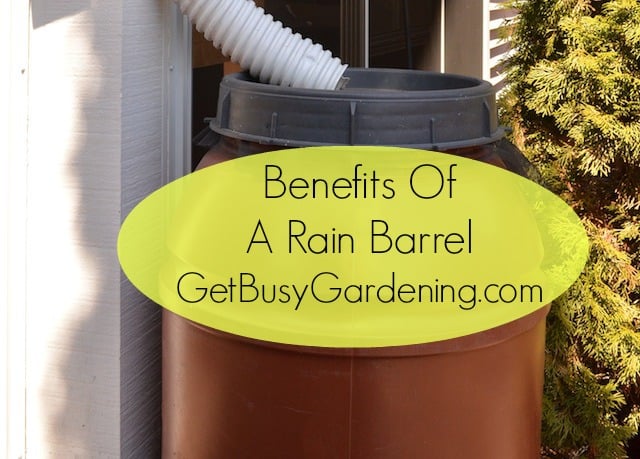 It's been very rainy here in Minnesota for the past several days, and all of this rain makes me think about how much I love my rain barrels! I currently have two rain barrels and each one holds 80 gallons of rainwater. I hope to buy at least one more this summer.
A rain barrel is designed to capture rainwater and store it until you need it. Rain barrels benefit the environment, your plants and your budget, and rainwater harvesting is becoming very popular these days.

Related Post: How Do Rain Barrels Work?
Rain Barrels Benefit The Environment
Rain barrels benefit the environment by reducing the amount of rainwater runoff from our roofs. Rainwater runoff is a huge problem in urban and suburban areas, polluting our waterways with fertilizers, pesticides and other contaminants.
The rainwater runoff is collected in a rain barrel rather than running off into the streets; keeping dirt, fertilizers and yard debris out of our local waterways, improving the local water quality.
Sure, one little rain barrel isn't going to make a huge impact, but just think of the difference we could make if everyone in the neighborhood had a rain barrel or two.
A rain barrel can also reduce erosion by slowing down the flow of rainwater runoff. I have noticed a huge improvement in the erosion problem I had on one side of my yard just by adding a rain barrel to the gutter on that side of the house.
Rain Barrels Benefit Your Plants
Not only are rain barrels good for the environment, they're great for your plants too. Rainwater is the best type of water to use for watering potted plants. It's much better for plants than municipal water.
Municipal water contains chlorine and other chemicals that can build up in the soil and harm sensitive potted plants. Even well water contains iron and other minerals that can also build up and harm sensitive plants.
Rain Barrels Benefit Your Budget
Rain barrels also help to save money on your water bill. Rainwater can be used for many things, and a rain barrel can give you a steady supply of free water.
I mainly use my rainwater for watering my potted plants and filling up my ponds and water features when they get low, but it could be used to water the gardens as well.
Rainwater could also be used to fill up wash buckets for tasks like washing the car, washing windows, washing the dog, or other household chores.
Rain barrels are very trendy and easy to find these days. They are widely available at farm and garden stores, home improvement stores, garden centers or on the internet.
Some cities have programs where they offer rain barrels at discount prices to residents to encourage people to go green and preserve water. Many people even make their own rain barrel.
Related Post: How To Set Up A Rain Barrel
For me, having a rain barrel is a no brainer. I only wish I could use mine year round.
What about you, do you have a rain barrel? Leave a comment below and tell me your favorite thing about having a rain barrel.