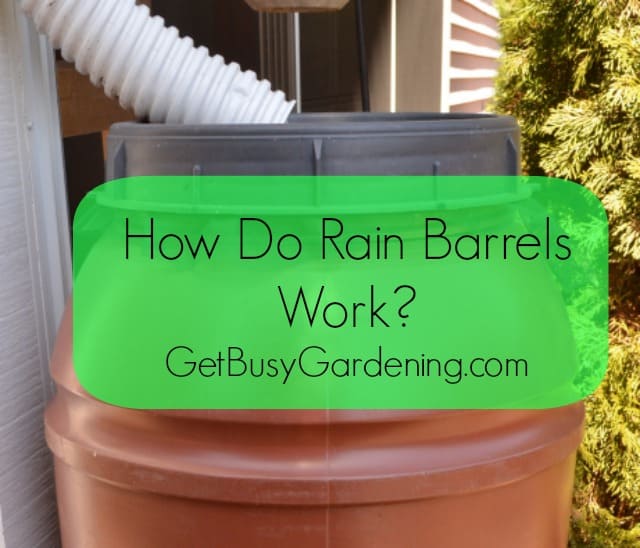 Last week a reader asked me "How do rain barrels work?" and I thought that was an excellent question to answer in a post.
A rain barrel is a container used to capture and store rainwater. Rain barrels have been around for a long time, but they have become very trendy over the past few years. You can find rain barrels for sale at home improvement stores, garden centers and online. Many people have also made their own rain barrel out of anything from a small whiskey barrel to large food grade containers.

Rain barrels are usually set up so that the water runoff from the gutters of a house, garage, shed or other structure is directed into the barrel. Most rain barrels have a large opening in the top or side of the barrel to allow the water to run in from the downspout. Each time it rains, the rain barrel will be filled with rainwater from the downspout. Then the water will sit in the barrel until it's ready to be used.
Related Post: How To Set Up A Rain Barrel
It's amazing how fast a rain barrel will fill up with very little rainfall. Most rain barrels have an overflow valve near the top where the excess rainwater will drain out when the barrel is full, but when there is a heavy rainfall, excess water can bubble over the top of the barrel rather than out the release valve.
Rain barrels don't come with a pump, so water pressure will occur naturally. I use concrete blocks to elevate my rain barrels, which not only makes it easier to fill watering cans, but also allows gravity to help with water pressure. Even so, the water won't be able to flow uphill.
Also, the farther away you run the hose from your rain barrel, the slower the water pressure will be. The weight of the water also helps with water pressure, so the more water that's in the barrel, the faster the water will come out of the barrel.
Rainwater can be used for many things. I use it mainly for watering my potted plants and keeping my ponds and water features full during the summer. Rainwater is also great for watering the garden and filling up wash buckets to use for washing windows or the car.
Related Post: Benefits Of Rain Barrels
Do you have a rain barrel? Leave a comment below and tell me how you use the rainwater you collect.