Pruning a wandering jew plant is not difficult, but it can be intimidating for beginners who aren't sure how to do it. So in this post, I'm going to make it easy and show you all you need to know, step by step.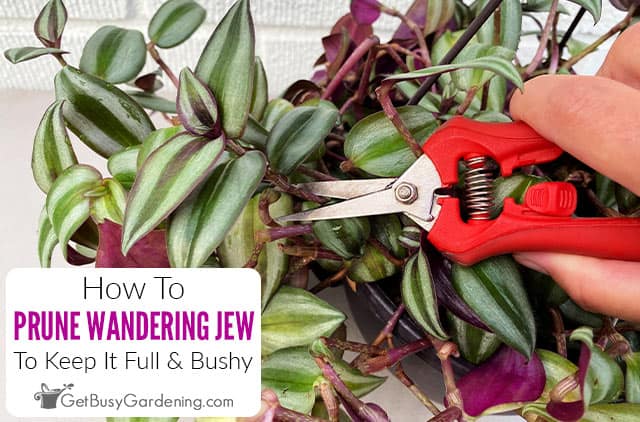 If your wandering jew plant is looking leggy, then it's time to prune it. This may sound scary to you, but it's really not that difficult to learn how.
Thankfully, they're forgiving enough to take a hard trim and still thrive. Once you learn the steps, it will become a habit for you to keep it healthy and full.
Below I've shared when and how to prune a wandering jew, including step by step instructions, and the best tools for the job.
Should I Prune My Wandering Jew?
Yes, you should prune your wandering jew (Tradescantia, aka wandering dude or inch plant) periodically. In fact, it should be a part of your regular care routine.
When you trim it back, multiple branches will form below the cuts, promoting bushiness, and reducing legginess. It's also a good way to clean up dead leaves or weak segments.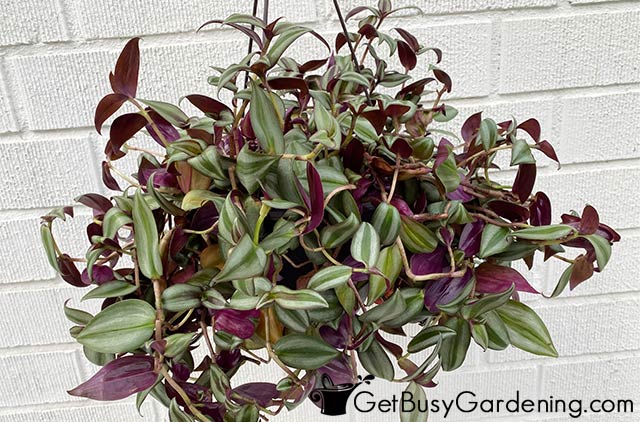 Why Prune Tradescantia?
I've already mentioned several reasons why you should regularly trim your Tradescantia. Below is a full list so you can see the benefits of keeping it maintained.
Prevents legginess – When left on their own, inch plants may 'wander' away and develop long, leggy stems with sparse leaves. This is especially common on those that are kept indoors.
Control the size and shape – Regular pinching results in denser foliage and creates a fuller, bushier shape. It'a also a good way to control the overall size of the plant.
Invigorates them – Trimming away dead or weak growth can reinvigorate your wandering dude plant, and promote vibrant, thick new branches and leaves.
Maintains health – Removing unhealthy or dead stems and leaves can help to keep them free of diseases, fungus, and pests.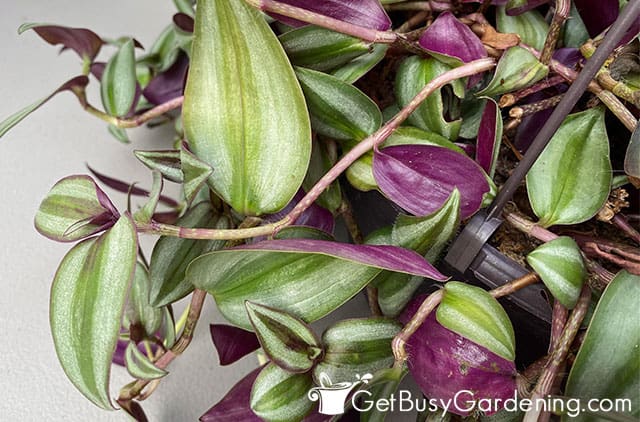 When To Prune Wandering Jew
The best time to prune a wandering jew is during the spring and early summer, which is its period of active growth.
It's a good idea to do this routinely throughout the warmer months to keep it looking healthy and full.
Tradescantias rest during the fall and winter, and trimming them during this time usually causes weak, sparse, and leggy tips.
However you can cut away dead or dying stems at any time of the year.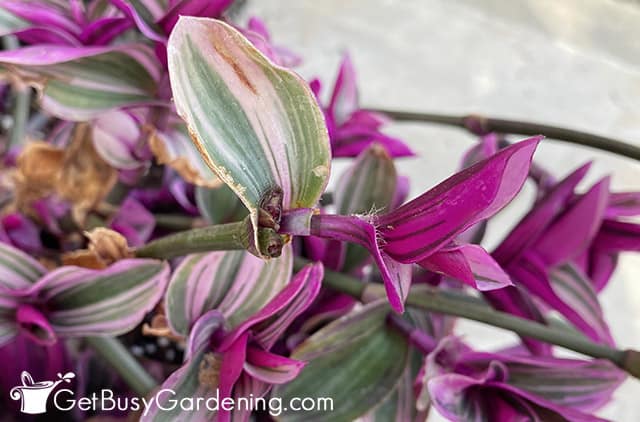 Tools For Trimming Tradescantia
Starting with the right tools is key for properly pruning your wandering jew plant.
The thin, delicate branches make tools like precision pruners, micro snips, or bonsai shears the best choices.
You can try regular pruners, but it's usually more difficult to get a nice cut, and they may end up crushing or tearing the stem instead.
Whichever tool you choose, make sure it's sterilized and sharp so you get clean and precise cuts every time.
Also, Tradescantia sap can be irritating for people with sensitive skin, so you may want to wear gloves while pruning.
Techniques For Pruning A Wandering Jew
There are two approaches to pruning a wandering jew. One is to cut it back to control or fix legginess, and the other is to pinch off the tips to promote bushiness.
Pruning A Leggy Wandering Jew
Pruning a leggy wandering jew is straightforward. They can handle a heavy trim, so you could remove all of the long, sparse stems at once if you want to.

Cut them back so they're the same length as the shorter tendrils, or down to where the leaves are bushier on the branch.
Never trim inch plants all the way to the soil line though, they need some foliage left intact on each stem, or they won't grow back.
Related Post: How To Propagate Wandering Jew Cuttings In Water Or Soil
Pinching Wandering Jew To Keep It Bushy
Pinching is a technique that's commonly used to control the shape and size, and keep your wandering dude bushy. It's also a good way to remove the spent flowers, and keep it looking tidy.
To use this technique, simply pinch off the tips of the stems just above a lower node segment. You can do this with your fingernails, or use a tool like precision pruners or micro snips if you prefer.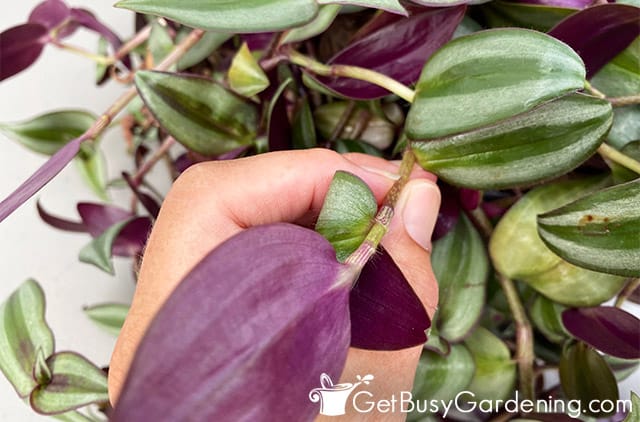 How To Prune A Wandering Jew
Learning how to prune a Tradescantia to keep it in the best shape possible is easy. Follow the step by step instructions below for the best results.
Step 1: Remove dead branches – Start by trimming away any shriveled or brown branches back to live leaves, or all the way to the base of the plant if that stem is completely dead. This clears the clutter and makes it easier to see what you have left to work with.
Related Post: Why Does My Wandering Jew Have Brown Leaves & How To Fix It
Step 2: Trim weak or thin areas – Next, remove any thin, weak, or leggy sections of your wandering dude plant down to a lower leaf segment. You can either pinch them back with your fingers, or cut them using clean, sharp shears or snips.
Step 3: Find the longest tendrils – Look for the longest tendrils, or those that have become scraggly, and cut them back to the same length as the shorter, fuller ones.
Step 4: Deadhead the flowers – Now that you've removed all of the ugly and unhealthy parts, deadhead any remaining spent flowers by plucking them off. This will clean things up even more.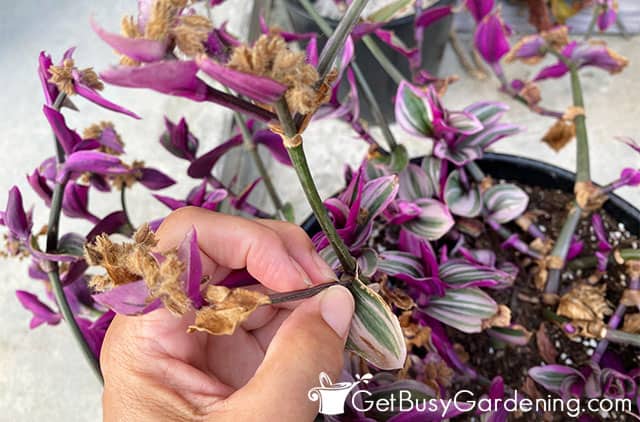 Step 5: Pinch back the tips – Before pruning anymore, take a step back and examine the size and shape of your wandering jew. Look for areas where you'd like it to fill in more, or any spots that are uneven. Then make a few final cuts to balance it out, if necessary.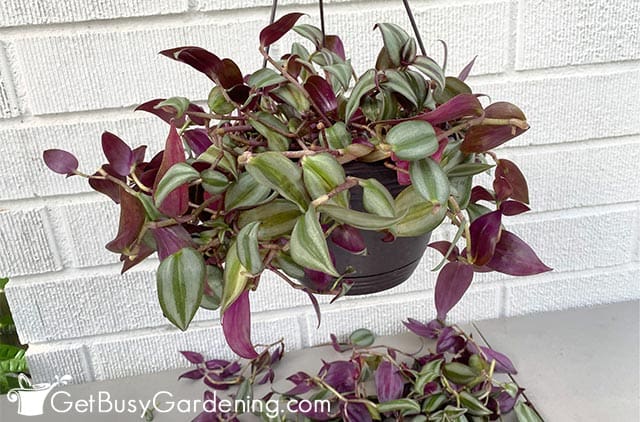 FAQs
Here I've answered some of the most commonly asked questions about pruning Tradescantia. If yours isn't on the list, please add it to the comments below.
Where do you trim a wandering jew?
Where you trim a wandering jew depends on the type of pruning you're doing. You can cut dead or weak branches back to the first set of fuller, thicker leaves. Or pinch thin, leggy tips off just above a lower leaf joint.
How do I make my wandering jew fuller?
You can make your wandering jew fuller by maintaining a regular pruning routine. Throughout the spring and summer, remove leggy, thin stems, and pinch back the tips often to promote fullness.
How do I fix my leggy in Tradescantia?
The best way to fix a leggy Tradescantia is by routinely pruning away any weak or sparse tendrils and tips. Cut them all the way back to the healthier, thicker leaf clusters.
How do you keep a wandering jew plant bushy?
You can keep your wandering jew plant bushy by pinching it back regularly throughout the spring and summer. Remove thin, scraggly sections and tips just above a lower joint to encourage branching.
Pruning your wandering jew is a great way to get them fuller and stronger. Use these steps to keep yours looking its best for many years to come.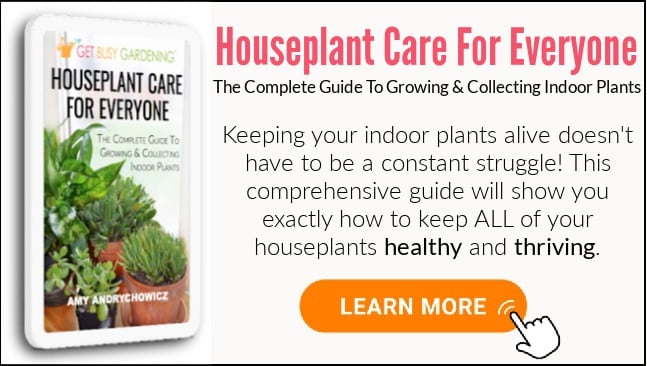 If you want to learn all there is to know about maintaining healthy indoor plants, then you need my Houseplant Care eBook. It will show you everything you need to know about how to keep every plant in your home thriving. Download your copy now!
More About Pruning Plants
Share your tips for how to prune wandering jew in the comments section below.