Pruning roses is the best way to keep your shrubs and climbers healthy, and blooming their best.
In this post, you'll learn when to do it, and the best tools to use. Then I will show you step-by-step exactly how to prune roses.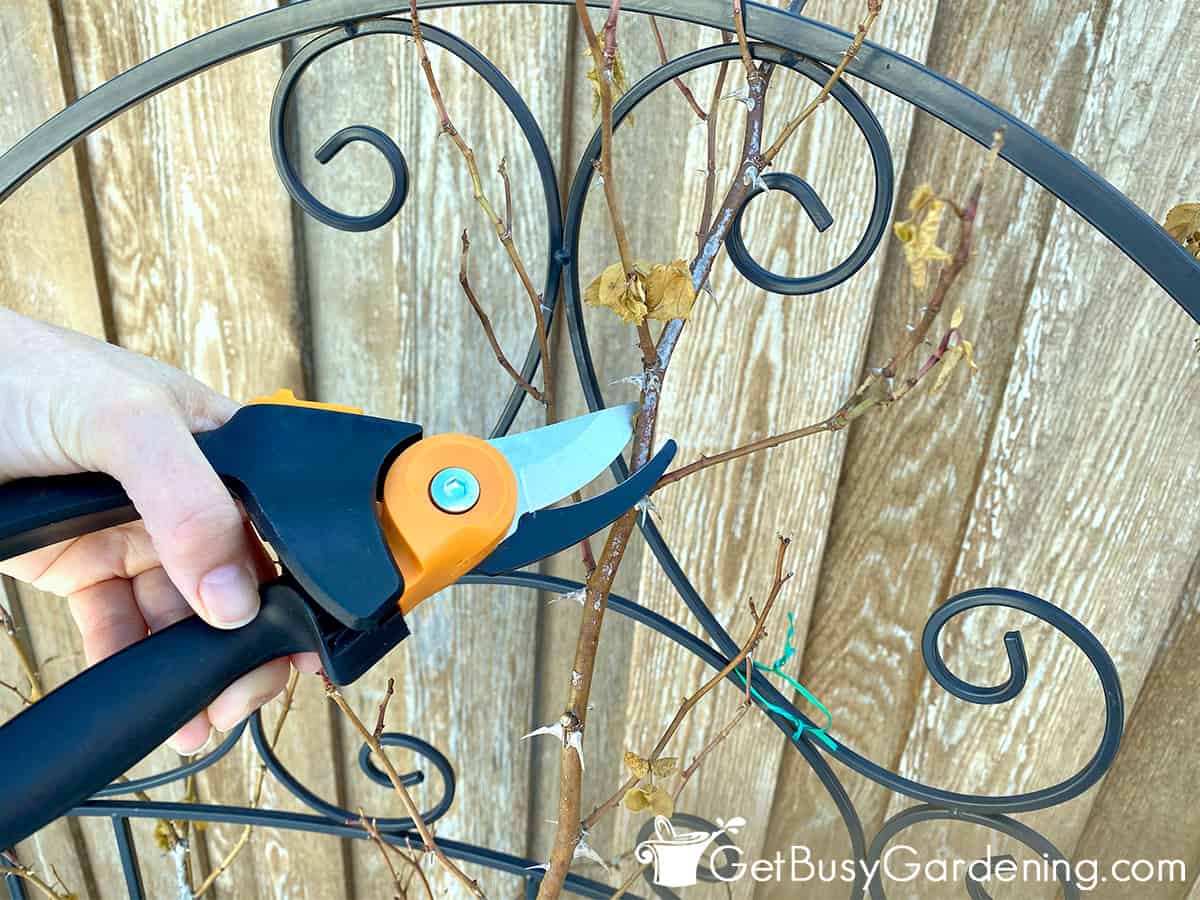 Roses are one of the easiest plants to learn how to prune, and you really can't overdo it. Plus it's very beneficial to the plant.
Trimming roses triggers healthy new growth, prevents disease, and creates tons of gorgeous blooms. If you've never done it before, or your roses are looking sad and overgrown, then this is for you.
Don't worry. When pruning, roses are very forgiving, and will recover even if you make mistakes when you're cutting them back.
Below I'm going to help you break through the fear, and show you exactly when and how to trim a rose bush, step-by-step.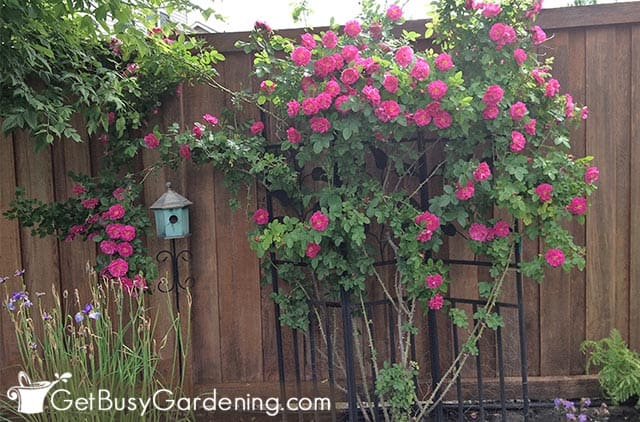 Do Roses Need To Be Pruned?
It's easy to neglect roses, because they don't need to be pruned regularly in order to grow and bloom year after year.
But, if you want to keep them healthy and full of flowers, trimming helps a ton! If you never cut them back, over time they will bloom less, and look more scraggly.
It may sound scary, but it's actually really easy. And the good news is that you really can't kill a rose by over pruning it.
Why You Should Prune Roses
As I already mentioned, if you never trim them, rose bushes and climbers won't bloom as prolifically. But there are other benefits too. Pruning roses on a regular basis…
encourages tons of flowers
helps to prevent fungus and disease
triggers healthy new growth
gets rid of ugly, damaged, or dead canes
results in a fuller and bushier plant
keeps them looking their best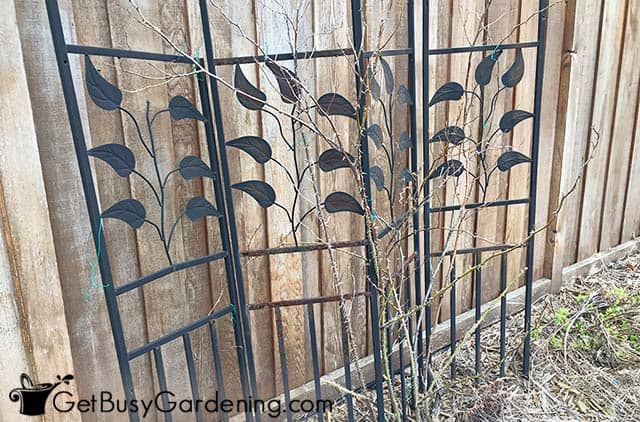 When To Prune Roses
Late winter or early spring is the best time to trim roses. Pruning triggers fresh, healthy new growth, which is exactly what you want to do in the spring.
But don't do it too early, or a hard freeze could kill the tender new growth. On the flip side, pruning too late could end up cutting off most of the flowers for the year.
So how can you figure out when to do it? The easiest way to make sure you're getting the timing right is to wait until you see new buds on the plant.
You can prune rose bushes as soon as you see the buds starting to pop, or you can wait until the leaves are just beginning to grow.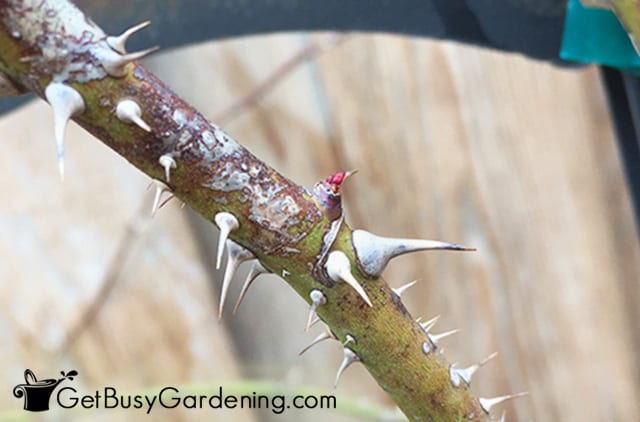 Tools For Pruning Rose Bushes
Quality tools really do make a huge difference when pruning and cutting back roses. The canes are woody, and can become very thick. Plus they are thorny, which makes it a bit more difficult (and painful, LOL).
So you'll need a few sizes of pruners to get the job done safely and efficiently. Here's what you'll need for pruning…
Supplies Needed: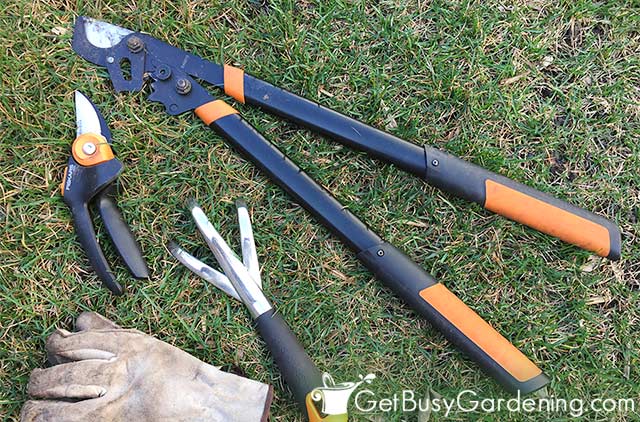 Proper Rose Pruning Techniques
When pruning roses, make each cut about 1/4″ above a healthy bud. Anything between the cut and the bud will die back. And you don't want a bunch of ugly dead canes sticking out everywhere.
To figure out where to cut each branch, find the first bud on the healthy part of a stem. Then make your cut right above that.
If you still feel uncertain when pruning, another way to do it is to start close to the top, and keep cutting back until you see green inside the stem. Then you can find the next bud down from there to make your final cut.
Healthy canes are green around the inside edge, and lighter green or even white in the middle. Unhealthy or dead canes are brown or gray in the middle, so keep cutting until that dead stuff is gone.
Also, try to make each of the cuts at a downward angle to keep water from entering the wound, and causing rot.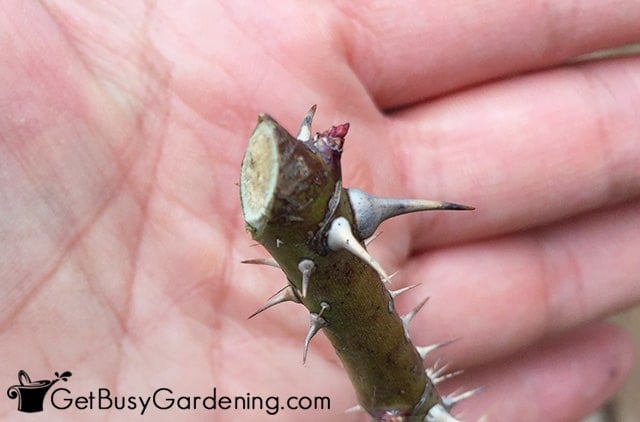 How To Trim Rose Bushes Step-By-Step
Pruning roses is easy, I promise. Really, the hardest part in this whole process is keeping yourself from getting pricked by the thorns.
If you're trimming more than one bush, it's a good idea to disinfect your tools between each to prevent the spread of disease. Wipe the blades with rubbing alcohol, or wash them with soapy water to clean them.
Here's a quick overview of the steps, with more detailed instructions below…
Remove all the dead branches
Prune out the damaged stems
Remove any crossing canes
Clean up all debris around the base of the plant
Step 1: Remove all the dead canes – Pruning out the dead rose canes and winter damaged branches first will make the rest of the steps much easier, because you're basically clearing the clutter.
It's usually pretty simple to spot the dead branches, because most of the time they're brown or gray in color.
But healthy stems can be brown too, so sometimes you need to make a cut before you can tell if the cane is dead. Dead canes are brown on the inside, so if you don't see any green, keep on cutting.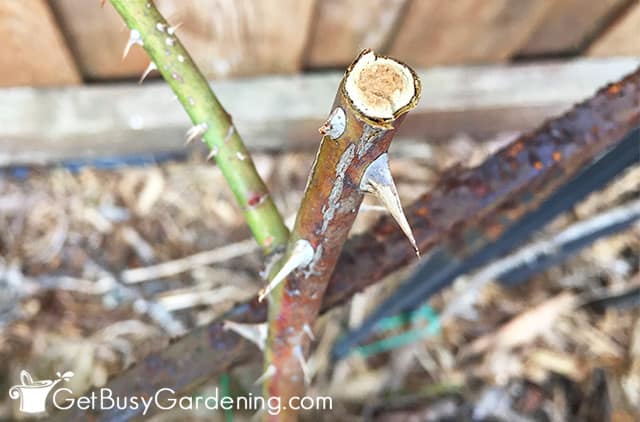 Step 2: Prune out any damaged canes – Branches that are cracked, broken or otherwise damaged should be removed, even if they're still alive.
Damaged canes are an invitation for pests and disease, and we don't want to deal with any of that. So, find the next bud below the damaged portion of the stem, and make your cut just above that.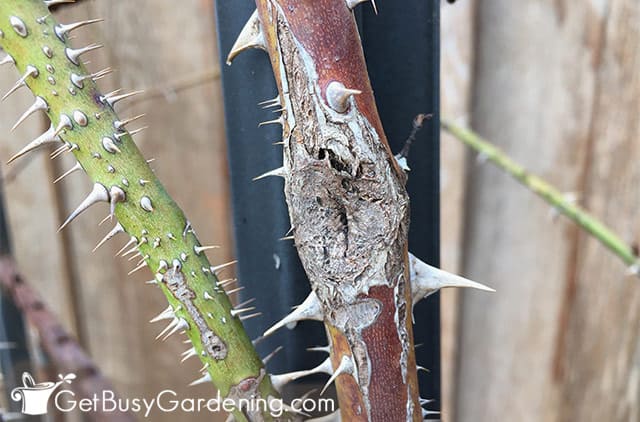 Step 3: Remove any crossing canes – What I mean by crossing canes are any stems that are overlapping and touching each other.
The reason we want to remove crossing canes is because they can rub together in the wind, and damage each other over time. Keep the stem that's in the best shape, and remove the other one.
In the photo below, I removed the smaller stem in front because it already had quite a bit of damage on it, and the other cane looked much healthier.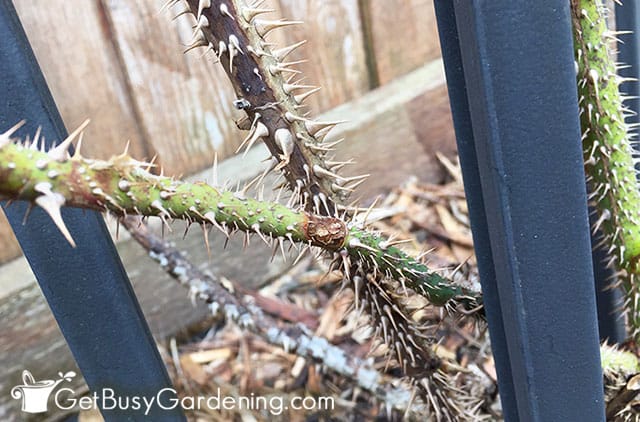 Step 4: Clean up all debris around the base – This sounds like a silly step that you could just skip after trimming rose bushes, but it's actually really important.
It's essential to clean up all debris around the bottom of the plant after you're done pruning, in order to remove any diseased material.
It's also good to remove any mulch or leaves that are covering, or right up against the base of the stem to help prevent rotting.
I use a hand rake for this job rather than my hands because I can't tell you how many times I've gotten stuck by a thorn doing this.
Be careful though, you don't want to damage the stem or any new buds that are down there.
This spring my climber got quite the haircut. I chose to do a heavy pruning because it's been a few years since the last time I've done it.
If this is your first time trimming roses, then you might feel more comfortable stopping much sooner than I did. I don't want you to panic if you end up cutting off more than you meant to.
So start small, and work your way into it if that makes you feel more comfortable. But remember, you're not going to kill a healthy rose plant by over-pruning it.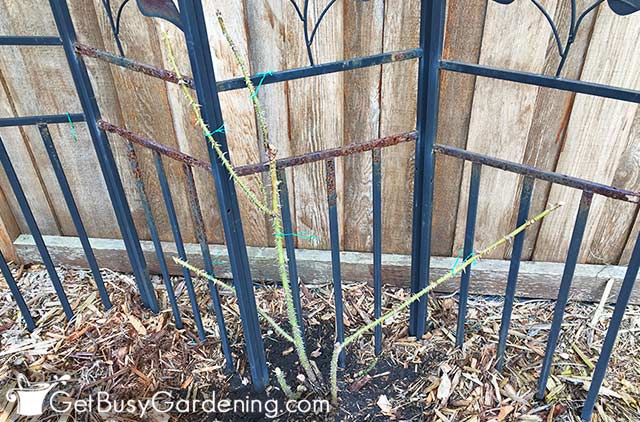 FAQs About Pruning & Trimming Roses
In this section, I'll answer some of the most commonly asked questions about trimming roses. If you can't find your answer, then ask it in the comments below.
What is the best time of year to prune roses?
The best time of year to prune roses is late winter or early spring, just as the buds are starting to develop, but before the leaves begin to open.
Is it OK to prune roses in autumn?
Yes, you can trim roses in autumn, but it's very important to wait until after the first hard frost. If you do it too early, it can trigger new growth that will only be killed during the winter, which can damage the plant.
The purpose of pruning roses in fall is to remove any tender new growth, and tall, or overgrown branches. This will help to prevent wind and winter damage to the main canes.
Can I cut my rose bush to the ground?
Yes, but it's not usually necessary. The only reason for cutting rose bushes to the ground is if all of the canes are either severely damaged or dead.
It's better to follow the steps above to give them a heavy pruning, rather than just cutting them down to the ground.
How much should I prune roses?
You should trim back roses as much as they need it in order to remove all of the dead and damaged canes. They are very hardy, and can handle a heavy pruning.
Do you trim a rose after it blooms?
You don't need to trim a rose bush after it blooms, but deadheading can help to encourage more flowers to open. To deadhead roses, simply snip or pull off the faded flowers.
Pruning roses is an important part of their maintenance, and early spring is the perfect time to do it. Not only will you be rewarded with tons of flowers, but your shrubs and climbers will be much healthier.
More Posts About Pruning
Give us your best tips for pruning roses in the comments below.