Planting spring bulbs is a wonderful way to add early season color to your flower garden. In this post, I'll walk you through everything you need to know about when and how to plant bulbs for spring blooms.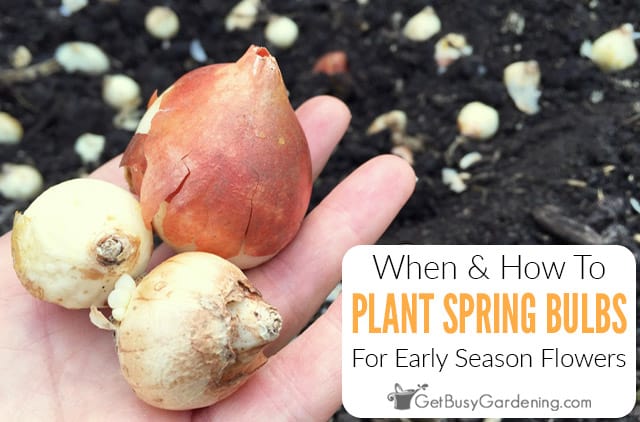 Spring flowering bulbs are some of my favorites every year. It's so exciting to see those first green shoots poke up through the cold soil.
You might think that planting spring bulbs sounds complicated, but it's actually a fairly simple process. You just have to plan a little bit further in advance, and get the timing right.
While it is an easy process, there are a few things to keep in mind before you start digging.
Don't worry, I've got you covered! Below I will show you all you need to know about planting spring bulbs, so you will be rewarded with a burst of color every year.
Here's what you'll find in this step by step guide…
Planting Bulbs For Spring Flowers
If you find that your early season flower garden is dull and boring, then planting spring bulbs is exactly what you need to do!
It's always so exciting to see these extremely hardy bloomers pop out of the ground before the snow is even done melting.
Exactly what us weary northern gardeners need to see after a long, cold winter!
Planting bulbs for spring flowers is easy, and doesn't take much effort. But, it's important to get the timing right in order to have a garden full of cheerful blooms come spring.
When To Plant Spring Bulbs
For new gardeners, the hardest thing about planting spring bulbs is figuring out the best time to do it.
If you put them into the ground them too early, they might start growing in the fall, which will steal energy from the bulb.
When they don't have enough stored energy, they won't flower in the spring. Or worse, they may not survive through the winter.
On the flip side, if you do it too late, they won't have time to form roots before the ground freezes. But it is better to err on the side of planting them too late rather than too early.
The best time to plant bulbs for spring is 6-8 weeks before the ground freezes in the fall.
The easiest way to tell when the timing is right is once the weather has started to cool down in early fall (late September to early October here in MN).
Types Of Flower Bulbs For Fall Planting
There are tons of different types that you can put in your garden in the fall. Make sure that you choose a variety of colors and textures to mix and match.
You can also stagger the ones with different bloom times for constant spring color. Here's a list of some of my favorites…
Where To Plant Spring Flower Bulbs
The best place to plant spring bulbs is in a full sun location where the soil is fast draining. Definitely avoid areas where water pools, or they will only rot.
They also perform best in loose, fertile soil. Amend poor quality soils with worm castings or compost, and add an organic bulb fertilizer for flowers.
How Deep To Plant Bulbs For Spring
The rule of thumb for how deep to plant is 2-3 times deeper than the height of the bulb.
That means you should bury the larger ones deeper than the smaller ones. For example, if the bulb is 2″ tall, then you should plant it 4-6″ deep.
If you're unsure of the exact depth, just look at the package your bulbs came in. It should tell you exactly how deep to put each variety you have.
How To Plant Spring Bulbs Step By Step
Below I will walk you through the exact steps for how to plant spring bulbs. But first, you'll need to gather a few tools and supplies.
Supplies Needed:
Step By Step Instructions
Step 1: Choose a location – Find the spot in your garden where you want to plant spring flower bulbs.
The best location for them is in the full sun. Also, make sure the soil in the area has good drainage.
Step 2: Clear the area – Loosen the soil, pull out the existing weeds, and remove any large rocks or sticks.
Step 3: Dig the hole – You can either dig each hole individually using your planter tool, or make a large one with your shovel to plant several spring flowering bulbs at once.
Step 4: Prepare the soil – They will perform best in rich, organic soil. So, before planting, add bulb food, and compost or worm castings into the hole.
Step 5: Lay out the bulbs – Place the bulbs in the hole with the pointy tips facing up, and the flat end down.
The roots will grow out of the flat side of the bulb, and the leaves and flowers will sprout from the pointy end.
Rather than putting them all in a neat row, try to randomly stagger them. This way they'll look much more natural in the garden.
Step 6: Plant them – Some gardeners find it easier to use a plug tool to plant each individual bulb. But you can certainly use a shovel, or even a garden knife to pop them into the ground.
Step 7: Cover the bulbs with soil – Completely cover the bulbs with soil, and then gently pack it down so it comes into contact with them.
Step 8: Water them (optional) – If the ground is really dry, and there's no rain in the forecast, then water the bulbs to moisten the soil.
Step 9: Cover them with mulch – Adding mulch over the top will keep the weeds from taking over the area. Don't worry, the bulbs will be able to find their way through it in the spring.
Tips For Planting Spring Bulbs In Layers
As I mentioned above, flower beds look best when you intermix several different varieties. The more you group them together, the better they will look.
If you want to plant different types and sizes together, then you can layer them to create a fuller effect. Here are some tips for doing that…
Dig the hole so it's deep enough for the largest bulbs, and plant those first.
Bury the large bulbs until the hole is shallow enough for the smaller ones.
Stagger the smaller ones in the spaces between the large ones, rather than directly on top of them.
Once you have the smaller ones spaced, bury them all completely with dirt, then water, and cover with mulch.
Before you walk away, don't forget to add a plant marker so you can remember where all of your bulbs are located, and also what they are. But hey, if you like surprises, then ignore this part.
FAQs
Now you have the basics down, but you might still have some questions. Here are answers to a few of the ones I get the most about planting bulbs for spring.
How deep should you plant spring bulbs?
A good rule of thumb for figuring out the correct depth to plant spring bulbs is 2-3 times deeper than their height. But always read the instructions on the package for the best results.
Should you soak spring bulbs before planting?
There's no need to soak them before planting. However, if you are late getting them into the ground, then soaking them for 12-24 hours can speed up the rooting process.
Adding fish emulsion or liquid kelp to the water before soaking will help them root even faster.
Why are bulbs planted in the fall?
Spring blooming bulbs need a period of cold dormancy in order to grow and flower. So if they aren't planted in the fall, they probably will not bloom in the spring.
Can you plant flower bulbs in the spring?
Though technically you could plant cold hardy flower bulbs in the spring, I don't recommend it. They won't flower when planted in the spring.
Plus, they might not have enough time to build up the energy they need to survive the winter.
Planting bulbs for spring blooms has such a great pay-off. It is so exciting to see those first few shoots of green emerge from the ground. And, now that you know how easy it is, I bet you will be adding more and more spring bulbs to your garden every year.
Related Products
More Flower Gardening Posts
Share your tips for spring bulb planting in the comments section below!