I've been growing squash on my homemade squash arch for a few years now, and I love how it looks. The squash arch makes a gorgeous addition to my vegetable garden, and I get tons of compliments on it.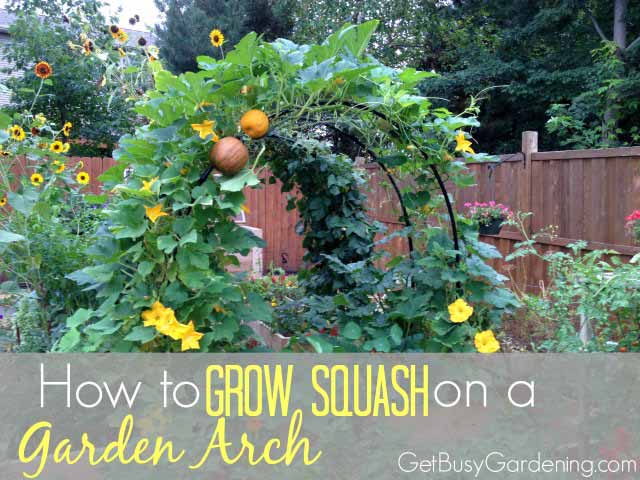 I've also shared my design with you so you can build your own squash arch, and many of you have!

After planting the squash in the spring, we want the plants to quickly cover the garden arch, but the squash vines don't always cooperate.
Squash vines aren't great climbers on their own – you have to train the squash to grow over the arch.
Gravity is fighting us, and the heavy squash vines want to grow along the ground rather than up our squash arch.
So, I thought I would write a quick post to show you how to train squash vines to grow on your squash arch or any other vertical support you choose to use.
How To Grow Squash on a Garden Arch
It's easiest to train the squash vines when they are small and just starting to vine out. But, squash grows very quickly in the heat of the summer, so sometimes you don't get to it in time.
Related Post: Growing Cucumbers On A Trellis
That's ok, even if the squash has grown into a bushy plant at the bottom of the squash arch, it can still be trained to grow up the support.
The first thing you need to do is carefully untangle the vines and straighten them out. As you untangle and straighten each vine, gently pull it up next to the arch.
Don't force the vine, you're just trying to show it where to grow. Squash vines aren't as delicate as peas and beans, but they can break fairly easily if you force them too much.
As you work to pull the vine up the arch, gently weave it through the fencing, or loosely tie it to the support using plant ties or old nylons.
Related Post: Growing Vertically
Keep wrapping and weaving the vine through the squash arch until the vine is fully supported by the arch. New growth should start to grab on to the arch and support itself in a matter of days.
Check on the squash vines every few days and train new growth as needed to keep the squash arch shapely, and keep the squash vines in check.
Once the squash vines have grown over the top of the arch, you won't have to worry about training it as much, but every now and then you'll see a straggler that needs to be tucked into place.
My favorite types of squash to grow on my arch are Sugar Pie Pumpkins, Butternut Squash and Delicata Squash.
More Posts About Vertical Gardening
Do you grow your squash plants vertically? Tell me about it in the comments section below.