Foundation planting is more intimidating than it is for other garden beds because it's the main focal point in front of your house. I want to make it easy. So, in this post I will walk you through everything step by step, from planning and design, all the way through planting.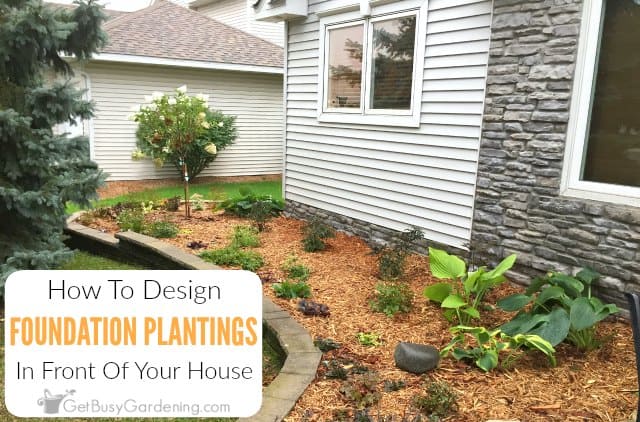 Figuring out what to plant in front of your house can be very stressful for new gardeners. But it's really not that much different than any other garden bed.
Below, I'm going to simplify the fundamentals of foundation planting. Plus, I'll give you tons of tips and ideas for planning and designing the beds in the front of your house.
Then I'll walk you through the process of creating my own front yard foundation garden plan, and how to plant everything, step-by-step.
What Is Foundation Planting?
Foundation planting is a general term used to describe landscaping and flower beds that are located next to or around the base of a house.
Most people think about the front of their house when they hear this term. But foundation gardens can also be on the sides or in the back.
Foundation Planting Basics
I want to make this super easy for you, so I will break it all down starting with the basics. But before you go ripping out those old scraggly shrubs or shopping for plants, take some time to do some planning.
Not only will this help ensure a lovely foundation landscape design, it will make it much easier to choose the plants too.
Figure Out The Sun Exposure
Before you start planning, you should measure the sun exposure of the area. If you're like me, you may find that you have two different exposures to deal with.
The plants directly in front of my house are in partial shade, but the ones on the end are in full sun. So, I had to incorporate that into my design plan. Learn how to determine the sun exposure of a garden area.
Measure The Planting Area
When landscaping under front windows, you should measure how high they are. That way you can get shrubs and plants that are the proper height and won't end up covering the windows once they're mature.
Also, measure the depth and width of the area so you can get an idea of how many plants you'll need to fill it, but not overcrowd it.
Look At The Style Of Your House
As you brainstorm ideas, first think about the style of your house. You may find it easier to do some research to get inspiration for the specific style you have.
Take some photos of the front of your house and bring them to the garden center with you. They should be able to suggest plants that will work the best.
Provide The Proper Spacing
Proper spacing is one of the most difficult things about designing a beautiful foundation planting.
It's hard to think about waiting a few years before everything fills in. But resist the urge to crowd the plants, especially shrubs.
Planting too close together will create a messy, overgrown feeling once everything reaches full size.
You can always fill the empty spaces with annuals and containers until the perennials and shrubs mature.
Sketch Your Foundation Planting Design
If you're having a hard time visualizing everything, then it might help to sketch out your design out first.
You can use a photo of the front of your house to draw on, or you can just sketch it out on paper to get an idea.
Even if it's not perfect or to scale, putting your ideas on paper can help to get the creative juices flowing.
How To Design Foundation Plantings
Choosing plants is fun, but it can also be stressful – especially for foundation planting! So below I'll share some tips for how to choose the best plants and shrubs for the front of your house.
If you need specific ideas, then check out my list of 21 of the best foundation plants here.
Determine The Plant Sizes
The most important thing to consider when planning your foundation garden is the size of the mature plants.
You don't want anything that will cover the windows and look overgrown, or constantly need to be trimmed.
Also, be careful when choosing trees and large shrubs. Too often I see people planting these right next to the foundation, not thinking about their full size.
Once they mature, large specimens can cause major headaches, and possibly even damage to the foundation, siding, or roof of your house.
Think About Complementary Colors
Another important thing to think about during the design phase is the color. Choose plants that complement the color of your house, as well as ones that create a nice contrast.
They should also complement and contrast each other, to make things really pop.
For example, dark foliage on the bushes you choose could make a lovely backdrop for bright and colorful perennials and flowers.
Consider The Shapes
You may also want to consider the shapes that you use in your foundation planting design.
Look at the dominant shapes of your house, and see if you can incorporate varieties that will compliment or mimic those shapes. Don't overdo it though.
Plant In Layers
When planning the beds for the front of your house, think about creating layers. The tallest should be placed in the back, then each row should tier down, so the shortest ones are in the front.
Don't go by the size of the plants at the garden center though, they aren't mature yet. Read the tags and plan your layers based on what the sizes will be when everything is full grown.
Add Visual Interest
One of the biggest mistakes I see with foundation planting design is when the beds are filled with ugly or boring plain green plants.
Using evergreen shrubs in your design creates a good anchor and year-round foliage. But be sure to mix in lots of contrast and color to add visual interest and make your house pop.
If you're struggling with which colors to choose, look at your house for inspiration. If you have a red door, add a few pops of red into your design.
If you have brick on your house, then choose plants and flowers that will accent the colors in the brick.
Read the label for bloom times so that you can choose a good variety for constant color all summer long.
Create Unity Throughout The Landscape
Don't just look at the front of your house, take a step back and look at your entire yard before you start planning your design.
See if you can incorporate the style and plants from other garden areas into your foundation beds to create unity throughout the landscape.
Foundation Planting Design Step-By-Step
To give you an example, and help get your creative juices flowing, I will walk you through the process of redesigning my foundation planting in the front of my house, step-by-step.
Here are the quick steps, and below I will discuss each one in detail.
Remove the old plants
Test & amend the soil
Cultivate the soil
Lay out your design
Place the focal plants first
Layer in the rest
Live with it for a few days
Plant everything
Add mulch
Before you start, be sure to have the area marked by the utility companies. This is especially important to do before landscaping around foundations.
We've lived in this house for 16 years, and I never knew this pipe was here before! Think of what could have happened if I would have hit that with my cultivator. Yikes!
Step 1: Remove the old plants – Don't feel bad about removing the old plants! Of course, you can leave the ones you know you want to keep (I left a few in mine).
But you may find that it's easier to start with a clean slate. Put the ones you want to keep into pots, and incorporate them into your new foundation garden design, or relocate them to a different area.
Step 2: Test & amend the soil – Foundation soil is usually very poor quality because the builders use cheap filler that is full of rocks and dirt.
So you will likely need to amend the soil before planting anything. If you've never done it before, I recommend testing it first.
That way, you will know exactly what you need to add to it. Determining the acidity will also help you choose the right plants.
Step 3: Cultivate the soil – Not only is foundation soil poor quality, it's also been compacted by all the heavy home-building equipment. The soil next to my house was so hard that it was difficult to even dig a hole.
Cultivating will not only mix in the nutrients you added in step 2, it will also help to break up the compacted soil so that it's easier for the plants to become established.
Once you're done, rake it so it's even and leveled out again. Just be sure to keep the grading so that the soil goes down at an angle away from the house.
Grading the soil around the house is important so that the water runs away from the foundation, avoiding any moisture issues.
Step 4: Lay out your design – This step is super important, so don't skip it, or you may end up having a lot of rework in your future.
I actually returned a few things after I laid it all out because I realized I wouldn't have enough space for everything.
So before you start digging, place everything where you want to plant it. Leave them in their pots so that you can easily move things around.
Step 5: Place the focal plants first – Think of your focal or anchor plants as the backdrop to your landscaping. Most people use shrubs, but you could use large perennials or even climbing vines.
Whatever you decide, just be sure it's proportionate to the area. Your anchors should fill the space, but not overwhelm it in a few years.
I knew I would be putting three focal shrubs under the high windows on my house to break up the plain siding.
But, I didn't want to completely cover the beautiful brick, or use anything that would block the low windows on the right.
In addition, I had a big corner to fill, so I wanted to choose a large focal plant for that area too.
Step 6: Layer in the rest – Now that you know the location and size of your focal plants, it's time to add the rest of the layers.
The tallest ones (the anchors) should be in the back next to the house. Then layer each row down so that the shortest ones are in the front.
Once you have it all placed where you like it, take the time to measure the correct amount of spacing. Measure both from the house, and also between all of the plants so that it's not overcrowded once everything fills in.
Step 7: Live with it for a few days – Now that you have it all spaced properly and laid out how you like it, walk away.
Leave it for a few days or even the whole week before you plant anything. If you haven't moved anything by the end of the week, you know it's right.
Remember, it may look sparse now, but in a few years it will look fabulous. Squint your eyes and try to imagine what it will look like when everything is full grown.
Step 8: Plant everything – Like I mentioned above, foundation soil is usually very compacted. So dig a hole that's twice the size of the rootball, and pour some water into it before planting.
Loosening up the soil like this will make it easier for the roots to become established. It's a good idea to leave the top of the rootball slightly above the soil line, so that it won't sink too deep once the dirt settles.
Learn more about how to properly transplant garden plants here.
Step 9: Add mulch – Once you have everything planted, all that's left to do is add mulch. I recommend using a natural hardwood mulch for foundation beds rather than rock.
Rock can get very hot in the sun and burn plants. It's also a pain to work with if you need to dig up or replant anything later.
Wood mulch helps to retain moisture, keep the roots cool, protect the plants during the winter, and feed them as it breaks down.
Choose one that will compliment the color of your house and also accent the plants. Learn how to properly lay mulch here.
I'm thrilled with the results of my new foundation planting. Before it looked scraggly and tired, and it was in desperate need of a major change.
Now the curb appeal is so much nicer, and I love walking by it. It may look a little sparse now, but once everything fills in, it's going to look amazing!
Foundation planting, especially in front of your house, can be stressful and intimidating. But if you take your time and follow these steps, you'll end up with flower beds that will complement your home, and add tons of curb appeal that you will love.
Recommended Books
Related Garden Design Posts
Share your foundation planting ideas or design tips in the comments section below.