Building a DIY greenhouse is easier than it sounds. This design is simple, plus you can take it down and store it when it's not in use. If you've always wanted to learn how to build a greenhouse for your garden, this is for you!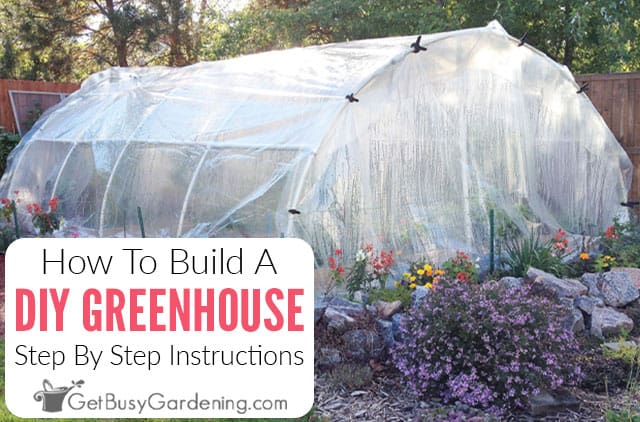 Ever since I started gardening, I dreamed of having a greenhouse of my own. Because Minnesota has such short summers, I never got to spend as much time in the garden as I wanted to.
A few years ago, my husband helped make that dream a reality by designing and building a DIY greenhouse for our veggie garden.
I was thrilled! It has been amazing to be able to work in my garden for several months longer than I could without it.
Now, I want to share that design with you, so you can build your own greenhouse too. With it, you will be able to beat the cold, and extend your growing season too!
My DIY Greenhouse
The best part about having this homemade greenhouse is getting a HUGE jump on the gardening season – we're talking months here.
A snowstorm in March? Freezing temps in October? Bring it on Mother Nature! I'll be in my greenhouse.
In fact, about a month after we put it up the first year, we had a late spring snowstorm.
While a fresh layer of snow (8 inches!) was falling outside, I was inside of the greenhouse, happily planting seeds in my garden! Can you believe it?!
It's amazing how warm it gets inside there, even on cloudy days. We put our DIY greenhouse up in January or February every year, and the snow starts to melt inside of it right away.
Our Greenhouse Design Plans
There are tons of different greenhouse design plans out there. But we couldn't find one that was easy enough for any hobby gardener to build themselves.
So, my husband created his own design. The goal was to make it out of materials that are easy to find, simple to work with, affordable, and lightweight.
This DIY greenhouse isn't meant to be a permanent structure, though you could leave it up year round if you wanted to.
But we designed it to be something we could easily take down during the summer, and store in the garage when it's not in use.
Related Post: Easy DIY Overhead Sprinkler System For Greenhouse Irrigation
How To Build A Greenhouse
This DIY greenhouse design is pretty straight forward, and would be an easy project for any handy person to build.
The great news is that all of the materials you will need to build your own greenhouse (besides the plastic film) are readily available at any home improvement or hardware store.
What Materials Are Needed To Build A Greenhouse?
You don't need any fancy or expensive supplies to build a greenhouse with this design. Heck, you might already have some of this stuff on hand. Here's the list of materials needed…
¾" PVC pipe
1″ PVC pipe
1 ½" PVC pipe
Concrete blocks
Related Post: Beginner's Guide To Cold Frame Gardening
What Kind Of Plastic Is Used For Greenhouses?
Greenhouse film is specifically made to hold up to the elements, like wind, rain, snow, and sun.
So whatever you do, do NOT skimp on the greenhouse film, and buy some cheap plastic instead.
Cheap plastic (like the stuff you could get at a home improvement store, for example) will not last for more than one season.
It will become brittle, and then tattered and ripped to shreds in the wind in only a few short months.
Quality greenhouse film will last you for several years, and it will be much, much cheaper in the long run (and much easier to work with too!). Here's the plastic film that I recommend.
Download The Greenhouse Building Plans
I absolutely love my greenhouse, and would never attempt to garden in Minnesota again without it! I've had it for several years, and it has had no problem standing up to the test of time.
If you love our DIY greenhouse design too, and want to build your own, click the button below to download the detailed step by step instructions right away!
Interested in building a greenhouse of your own?
Click the "Buy Now!" button to purchase your step-by-step instructions.
How To Build A DIY Greenhouse PDF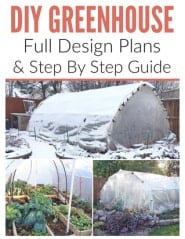 Related Products
More DIY Garden Projects
Share your tips or design ideas for how to build a greenhouse in the comments below.