Cold frame gardening is a great way to extend the growing season, without investing a ton of money. In this post, I'll tell you all about cold frames, what they are, how, when, and why to use them, and give you tips for the best success.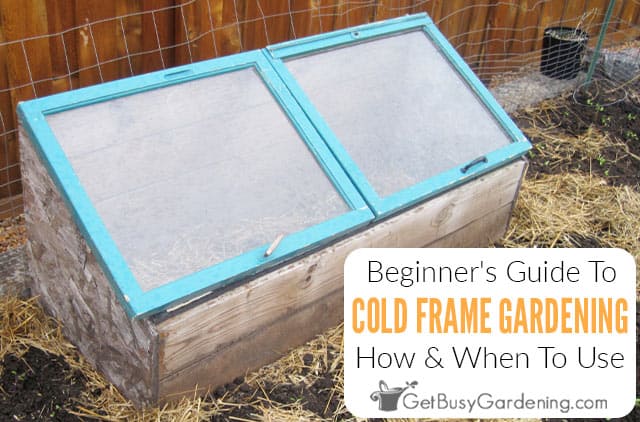 One of the hardest parts about being a gardener in a cold climate like Minnesota is our short growing season.
Fortunately, cold frame gardening allows me to keep my plants going much longer than I can naturally. I'm able start planting earlier in the spring, and keep everything going through the fall – and even into winter!
Cold frames are a great way for beginners to try their hand at extending the gardening season, without having to buy a big expensive structure.
If you're ready to try your hand at cold season gardening, then this is the perfect way to get started. In this detailed guide I will show you all you need to know in order to be successful.
What Is Cold Frame Gardening?
Cold frame gardening uses raised boxes with clear covers to protect plants from the cold, snow, and other extreme weather.
Using these simple structures can extend your growing season by weeks, or even months. Some people can even garden year round!
What Is A Cold Frame?
A cold frame (also called a cold box) is a structure that is used to protect plants from freezing. Essentially, it's a box with a clear lid and an open bottom
The base can either sit on top of the ground, or it could be sunken into the soil a few inches for extra insulation.
What Is A Cold Frame Made Out Of?
Anyone can build a cold frame with little or no cost. They are easy to make using recycled materials.
The box can be constructed using several types of recycled items such as wood, cinder blocks, brick, or straw bales.
The top could be fashioned out of an old shower or patio door, windows, clear plastic, or any other durable, transparent material.
For example, I made mine for free out of two old windows I got from a neighbor, and scraps of lumber I had in the garage.
Of course, you can always buy one if you're not up for the challenge of constructing it yourself, they aren't super expensive.
How Does A Cold Frame Work?
Cold frames are essentially mini greenhouses. They capture solar energy, and shelter plants from the harsh cold, wind, snow, ice, and rain.
During the day, the sun heats the ground underneath. That heat is trapped inside at night, keeping the plants warm, and protecting them from freezing.
Why Use A Cold Frame
Cold frame gardening is a great way to extend your growing season, and it's not difficult to get the hang of.
But like anything, there are some limitations. Here are a few of the advantages and disadvantages of using them.
Advantages
You can start gardening several weeks before annuals and vegetables could normally be planted outside.
Many gardeners use them to stretch their season by several months, or even year round!
Since it's not a permanent structure, you can remove it and store it during the summer months.
It's inexpensive to buy or build one yourself, and a great way to try your hand at extending the season, without a big investment.
Disadvantages
Cold frame gardening is a very active process that requires some upfront planning and management.
You need to closely monitor the temperature inside because it can get too hot very quickly (even on cloudy days).
If not monitored carefully, it can end up frying (killing) the plants, seeds, or seedlings inside.
Properly venting the lids to prevent overheating takes some practice, and can be a very manual task.
Different Types Of Cold Frames
You can make your own out just about any material: wood, polyethylene, plastic etc. The material you choose depends on what you plan to use it for.
Lightweight materials, like plastic, glass, or poly covers, are great for extending the season in the spring and fall.
But they won't have enough insulation to protect the plants during the harsh cold winter months.
Thicker materials like straw bales, bricks, or wood are better if you want to try your hand at cold frame gardening through the freezing winter months.
Tips For Using A Cold Frame
While they require careful monitoring, I have been able to lengthen the growing season for my plants by a few months.
It may take a season or two to get the hang of, but you will figure out what works best for you and your climate.
Below are some of the tips I have picked up (or learned the hard way, ehem) over the years for successful cold frame gardening.
When Should I Use A Cold Frame?
Most commonly, cold frames are used to garden longer than you normally could. Use them in late winter/early spring to get a head start.
Then again through the fall as a late season extender. You could even use it through the entire winter, especially in milder climates.
Where To Put A Cold Frame
The best location to place a cold frame is a spot that is facing either south or west, where it will get lots of sunshine.
Ideally, you should choose a place where it is sheltered from strong winds and heavy rain, for best results.
Putting it up against an existing structure, such as a house, garage, or fence, will offer more protection, and help to keep it warmer at night.
Venting it
In my experience, the biggest challenge of cold frame gardening is proper ventilation. It's amazing how hot it gets in there on a sunny day, even when it's frigid outside.
You must be diligent about venting the top to release the excess, and keep the inside from overheating. So put an indoor/outdoor thermometer inside to monitor the temperature.
Once it starts heating up, you can vent it manually by propping open the lid on sunny days, and closing it in the evening.
Better yet, buy an automatic vent controller! This handy little gadget will automatically open and close the lid at specific temperatures, making it a no brainer for you.
How To Keep A Cold Frame Warm At Night
On extremely bitter nights, you can cover your cold frame with a blanket to help keep the heat in, and give it more protection.
Snow is also a wonderful insulator, so you could pile that on top too. Just be sure to remove it from the lid in the morning so it can warm up again in the sun.
What To Grow In A Cold Frame
In the spring, a cold frame works great for planting seeds, hardening flats of seedlings, or planting starts in the ground early.
You can also extend your gardening time in the fall by planting second crops of cold weather vegetables in late summer. Then enjoy the harvest weeks longer than you could before.
FAQs
In this section, I'll answer a few of the questions I frequently get asked about cold frame gardening. If you can't find the answer to your question here, ask it in the comments below.
Does a cold frame need to be airtight?
No, a cold frame does not have to be airtight. In fact, it is better if it isn't airtight to allow oxygen and carbon dioxide to move around.
What is the difference between a cold frame and a greenhouse?
The main differences between a cold frame and a greenhouse is their size, cost, and maintenance.
Greenhouses tend to be much larger, costly, and more permanent structures. Where cold frames are smaller, less expensive, and usually installed seasonally.
Cold frame gardening is a great way to try your hand at extending the growing season, without spending a ton of money. Once you get the hang of it, it's easy, and very rewarding!
More About Cold Climate Gardening
Share your cold frame gardening tips in the comments section below.