Summer is a wonderful time for growing plants. Many people choose to move their houseplants outside during the summer to bask in the sunshine and humidity. But when fall comes and it's time to bring the houseplants back inside for the winter, it's important to take a few steps to ensure the transition is painless for both you and your houseplants, and avoid bringing bugs and houseplant pests indoors. Debugging potted plants before bringing them back indoors a critical first step for house plant pest prevention.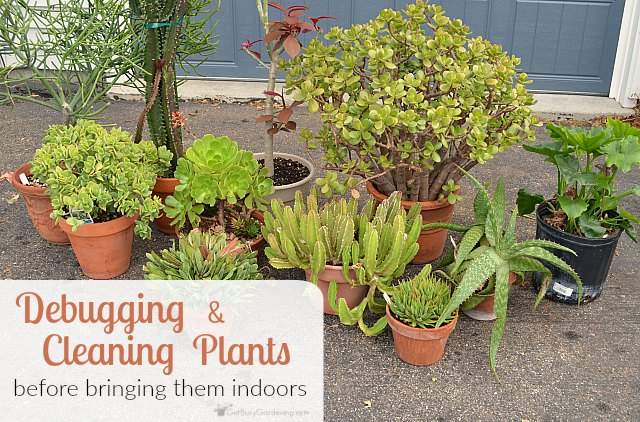 Plan to start bringing your houseplants inside several weeks before cool weather hits in the fall. If houseplants are left outside for too long, cold weather could trigger them to drop their leaves, or worse, it could kill the plant. Plus, the transition back inside will be more of a shock to them if they are left outside too long when the weather starts to cool down. A good rule of thumb is to move houseplant back inside a few weeks before the heat goes on in the house.
If you have a lot of houseplants, plan to move them back inside in small batches. Trying to do a marathon weekend of cleaning and moving plants back inside can be very stressful and exhausting for you (and hard on your back!). Also, if you find that a houseplant is pot-bound, repot it into a larger container before moving it inside – that way the mess will stay outside.
As I mentioned above, debugging and cleaning potted plants before bringing them back inside is a crucial step to avoid houseplant bug problems. Aphids, mealybugs and other houseplant insect pests aren't normally a problem when houseplants are outside, but can quickly turn into a major infestation during the winter if they are brought inside on your houseplants.
Easy Steps for Debugging and Cleaning Potted Plants
Debugging and cleaning potted plants before bringing them inside sounds harder than it is. There are a few simple steps you can take to ensure your houseplants are pest free before bringing them back indoors in the fall. (Note: Only use this method for houseplants that are in pots with drainage holes!)
Fill a large tub/bucket with water and add a few squirts of a mild liquid soap (I use Dr. Bronner's Baby Mild organic soap).
To kill bugs on the plant soak the whole plant, pot and all, in the tub of water for about 15-20 minutes. The soapy water will kill any bugs that are on the plant or in the soil.
If the foliage isn't covered completely by water, use a spray bottle of soapy water to wash the leaves that are sticking out of the water (I use 1 tsp of Dr. Bronner's Baby-mild Liquid Soap per 1 liter of water in my spray bottle). If you don't want to mix your own, you can buy an organic insecticidal soap instead.
After soaking, pull the plant out of the tub and scrub the pot with a scrub brush (here's the one I have Flower Pot Bristle Brush).
Rinse the whole plant and the pot with the hose to get all the soap and dirt off.
Set the plant aside and allow all the water to drain from the pot before bringing the plant back indoors.
This method for debugging and cleaning potted plants is great because now your houseplants will get a good watering before you bring them back indoors, so you don't have the added step of watering all of your houseplants once they're inside. Another added benefit to soaking the plants is that all the dead leaves and other debris will float to the top, making it easy to discard (I use a wide kitchen strainer to skim all the debris off the top of the water before removing the plants from the tub).
Keep in mind that even if you go through all the steps to debug and clean your houseplants before you bring them indoors, you can still have problems with plant pests. Mealybugs are especially tricky because they can live for several months without a host plant, and hide in tiny cracks and crevices. So, if you find any houseplant pests after bringing your plants back inside, you could spray the infested plant with a Neem oil solution, a pre-mixed organic horticultural oil or hot pepper wax spray. I recommend using these all natural pest control products because they work better than the synthetic ones – plus, I'm sure you don't want to be spraying toxic chemicals in your house.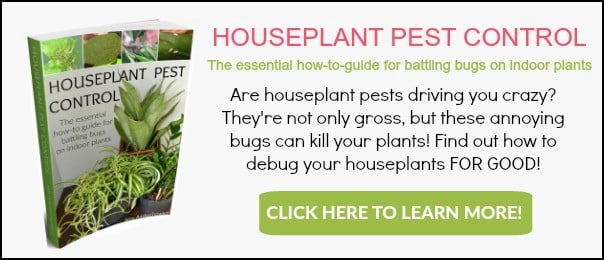 Recommended Reading:
More Posts About House Plant Pest Control
Organic Pest Control Products I Recommend
For more information and tips for how to combat those super annoying indoor garden pests, click here… Houseplant Pests
How do you debug and clean your potted plants before bringing them back indoors in the fall? 
Pin It!