If you want to attract bees to your flower beds, then it's important to choose the right types of plants. In this list, you will find my top picks for the best bee plants that are sure to keep these important pollinators coming back for more.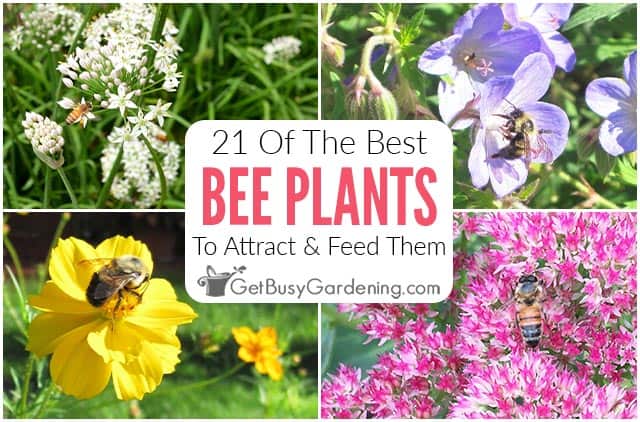 If you want to add tons of bee plants and flowers to your yard, then you're in the right place!
This list will help you find a variety of both annuals and perennials that will attract various species of these important pollinators.
I've also included details about each, including sunlight and general care requirements, and even the ideal zones so you know which ones will work in your climate.
You're sure to find lots of great options for bee plants that will work for you, and create welcoming beds that will be buzzing with activity all summer long.
What Are The Best Plants For Attracting Bees?
The first step to create a bee-friendly garden is to use the right types of flowers. But the trick is that they don't always like every type, and some even make reaching the nectar inside impossible.
So it's important to know what to look for when choosing plants. Here are some things to consider…
Single petals – Flowers with double petals make it difficult, if not impossible, for bees to get to the pollen inside. Choose ones with single petals instead.
Colors – Bees are attracted most to flowers that have the following colors: blue, purple, white, and yellow.
Pollen-rich – Since they are pollinators, they prefer plants with lots of pollen.
Native plants – Plants that are native to your area will naturally have the food and colors that bees really enjoy.
Best Bee-Friendly Flowers List
Browse this list and check out some of the best choices for bee plants and flowers. Everything on this list will give them the food and pollen they need, and are pretty too!
1. Bee Balm
This native species goes by many different names – wild bergamot, firecracker plant, and mountain mint are some of the most popular. It has vibrant red, pink, or purple petals that bloom from late spring to early fall.
This full sun perennial will thrive in a wide range of climates, from zones 4-9. It's a fun one because it adds height to your outdoor area, reaching anywhere from 36-48".
Bees love it because it is a rich source of sweet nectar, and you will love it because it adds beauty and dimension to your green space.
2. Purple Prairie Clover
A fantastic choice for beginners, this pretty plant is also called violet prairie clover. As the name suggests, it has stunning violet blooms that reach from 12-36" tall.
It is hardy in zones 3-9 and drought-tolerant, so it doesn't need tons of water or maintenance. The cone-like flowers bloom later in mid-summer and require full sun.
3. Sunflowers
As you might guess from the name, these annuals enjoy soaking up as much sunshine as possible.
Some varieties will tower well over 10', while others are shorter. These annuals thrive within a variety of climates, and are the most substantial in mid-summer and early fall.
Bees will flock to their large flowers that contain more than enough pollen to gather and share.
4. Russian Sage
Like an untamed and wild bush in appearance, bees adore the aromatic flowers of Russian sage. You will adore the silver-ish foliage, which will add wonderful contrast in your beds.
This perennial does best in zones 4-9 in full sun to partial shade. It's a taller option with heights ranging from 24-36".
The stunning blossoms appear anywhere from late spring through early fall, with a blue-violet color.
5. Coneflower
Also commonly referred to as Echinacea, this beauty appears with graceful pink, purple, and even white blossoms in mid-summer and mid-fall.
Depending on the variety, it can reach 24-36", or as tall as 4-6'. It's a very hardy choice that can survive in a large range of zones (from 2-10).
It will do best in full sun, but also does very well in partial shade, it just may not bloom as profusely.
6. Mint
Another delicious herb that produces tons of nectar is any kind of mint. They are smaller (only 12-18") and do equally well in partial shade as they do in full sun.
They are very hardy, and will do great in zones 4-11. The pink, lavender, and white/near-white flowers appear later in the season (around mid-summer).
Not only will you enjoy these fresh herbs, but the bees will too because it's easy for them to access the pollen inside of the cone-shaped buds.
7. Anise Hyssop
Also known as licorice mint, this plant is a real bee magnet. As the common name implies, it has strongly scented foliage that can be used in teas or cooking.
This versatile herb prefer lots of sunlight, but can handle the part shade too. It can get very large, and the flowers sit atop towering 24-36" stalks.
The light purple blossoms appear later in the year, around mid-summer and early fall. It does great in zones 4-9, and has thick foliage.
8. Black-Eyed Susan
These happy yellow flowers have a single row of petals that bees favor. They can easily get to the center where the nectar and pollen is waiting for them in great supply.
They do well in zones 3-9 with as much sunshine as they can get. When they bloom in mid-summer to about early fall, they can reach between 24-36".
9. Sedum
There are hundreds of sedums you can choose from, but the ones that bees like the most are those with intoxicating blossoms.
These drought-tolerant plants are usually late-bloomers, so they are great for providing tons of rich nectar later in the season. You'll have lots of choices, from ground covers to more upright varieties.
The most popular type is Autumn Joy. People call it a bee magnet because the flowers are constantly covered in various species of pollinators.
10. Wild Lupine
These beauties are also called sundial lupines because the leaves follow the sun. In fact, in late afternoon the leaves will face west.
Common wildflowers in many zones, they come in a rainbow of colors, from pink, yellow, red, white, dark blue, and violet. Though they prefer as much sun as possible, they'll do just fine in partial shade.
The stunning blossom spikes will reach heights of 12-24" in zones 3-9, and open sometime in the middle of spring.
11. Liatris
Bees are incredibly attracted to these bright purple and pink flowers because they are full of pollen that is easy to reach on the vertical stems.
Depending on the variety, they will either grow 18-24", or tower upwards of 36-48". You'll see them blooming the most in mid-summer.
They do amazingly well in a variety of climates, from zones 3-10, when they get full sun exposure.
12. Wild Geranium
These low-growing plants have delicate pink and lavender petals that rest among soft greenery. Wild geranium add a graceful beauty to any scenic landscape.
They are early bloomers, with the flowers only appearing from late-spring until mid-summer. These hardy perennials do best in zones 3-8, and need to be watered regularly.
They have a preference for full sun, grow outward along the ground, and only get to be about 18" tall.
13. Oregano
This very popular herb has flowers that bees go nuts over when it blooms. So it provides nourishment to both humans and pollinators.
It's also low-maintenance, since it is drought-tolerant, and can thrive in just about any exposure. This short herb (12-18") is happy in the ground or in a pot in zones 5-9.
The light pink blooms will come out as early as mid-summer, and as late as early fall.
14. Ornamental Catmint
A tall herb, with some species reaching 4-6', catmint has outstanding lavender or white flowers that attract bees from mid-summer to early fall.
It does really well in a variety of climates, from zones 3-9. All it needs is full sun and regular watering, and it will flourish.
15. Cosmos
These cheerful annuals come in wide range of shades of delicate white, pink, orange, yellow, and red. They are single-layer flowers that bees adore because they can access the nectar-rich middle effortlessly.
They are very slow to mature, so give them as much sunshine and heat as possible for the best results.
Depending on the variety, they can be 24-48" tall. They thrive in a variety of climates, and can bloom from late spring (in warmer climates) all the way until frost kills them in the fall.
16. Cleome Serrulata (Rocky Mountain Bee Plant)
As the common name implies, Cleome serrulata is a wildflower with lots of intoxicatingly sweet nectar that bees go crazy over.
This annual thrives in a variety of climates, reaching anywhere from 18-24" tall. The pretty pink blossoms prefer full sun, and will bloom from late spring until early fall.
17. Trumpet Vine
Also known as a cow itch or hummingbird vine, this impressive plant lives up to its name, with flowers that actually look like trumpets.
It's a climber, and the vines can reach upwards of 30'. It thrives in the sunshine in zones 4-10. The blooms are stunning, and can appear in a variety of different shades of orange and red.
These large blossoms show up around mid-summer or early fall, and provide lots of nectar for the bees.
18. Chives
Also called flowering onions, chives are an aromatic herb that bees go crazy over. These are the same herbs that we can use in cooking, so they are very popular to grow in containers or in the ground.
Their light purple or white blossoms can get 12-18" tall, and need full sun. These early bloomers show off in mid-spring, and perform best in zones 3-9.
Related Post: How To Attract Bees To Your Vegetable Garden
19. Marigold
If you enjoy bright orange and yellow colors in your yard, then these annuals are for you. They bloom constantly in a spectrum of dark reds, oranges, and even bright yellows.
They need full sun in order to reach their potential. The thick foliage is covered in bright blossoms until frost, and fills up any space you put it in.
20. Asters
With an enticing range of pink and purple petals, aster flowers attract bees with their fragrant nectar and thick pollen.
Growing anywhere from zones 3-9, these hardy perennials require full a sun exposure.
They can be anywhere from 3-4' high and bloom later in the year, usually around the end of summer or early fall.
21. Snapdragons
The iconic vertical snapdragons are incredibly easy to spot with their intense red, orange, yellow, and even lavender colors.
They are proud, reaching up to 18". The delicate flowers have a unique shape that create a welcoming oasis for bees.
If you give them abundant sunshine, they can bloom from mid-summer until late fall/early winter. Though Northern gardeners commonly use it as an annual, they are actually perennial in zones 7-11.
When it comes to finding plants for attracting bees, you have tons of options. Many of the bee flowers on this list are also very stunning, and will make you happy when you look at them. Adding them to your garden is a no-brainer!
Recommended Reading
More About Flower Gardening
What bee plants and flowers would you add to this list? Share your favorites in the comments below.