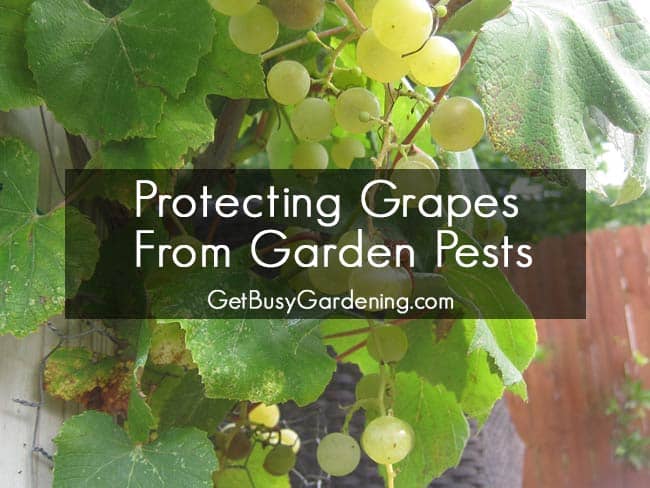 We have two grapevines in our backyard, one of them is two years old and the other one we got last year. We finally have our first grapes growing and we're very excited about it!
I know that birds and bugs can be a big problem for grapes and I wanted to avoid that if I could. So I set off to do some research about how to protect our grapevines from birds and bugs.
Related Post: Grapevine Beetle
I didn't find much information on the internet about protecting the grapevines. During my search, I did see several pictures that showed grapevines covered with what looked like a fine mesh cloth.
So I decided to use the same tulle material to cover our grapevines that I used to cover the squash plants.
You can also buy bird netting for the garden, which is inexpensive too. I've also seen bird repellent scare tape used at vineyards to protect grapes, but I haven't tried it in my garden yet.
This is a lightweight tulle material that you can find at any fabric store. It was about $1.40/yard. I bought 3 yards for each vine, which will allow room for growth.
Our grapevines are growing on a tall pergola structure, so that made it a little more difficult to cover them with the tulle.
Related Post: How To Trellis Grapes In Your Home Garden
How to Protect Your Grapevine:
First I stapled the tulle at the top of the pergola.
Then wrapped the tulle loosely around the vines.
Then I carefully folded the tulle and used clothes pins to keep the fabric closed.
The clothespins will make it easy to open the tulle and access the grapevines so I can train the vines throughout the summer and adjust the tulle if necessary. It didn't take very long to cover both grapevines.
Related Post: How To Control Japanese Beetles Organically
The tulle doesn't look too bad in the garden either. Although my husband thinks our pergola looks like it's been decorated for a wedding now. Ha, maybe I should string some lights in with the tulle.
This tulle fabric will work great to keep the bugs and birds away from our grapevines so we can have a wonderful grape harvest this year.
Sorry birds, no grapes for you!
How do you protect your grapevines from pests in the garden? Leave a comment below and tell me about your experience.
More About Organic Garden Pest Control