Fruit flies can be a major pest in the kitchen, especially during the harvest season! If they're driving you crazy, try this easy DIY fruit fly trap that not only traps them, but kills them too! Follow these step-by-step instructions to get rid of fruit flies for good!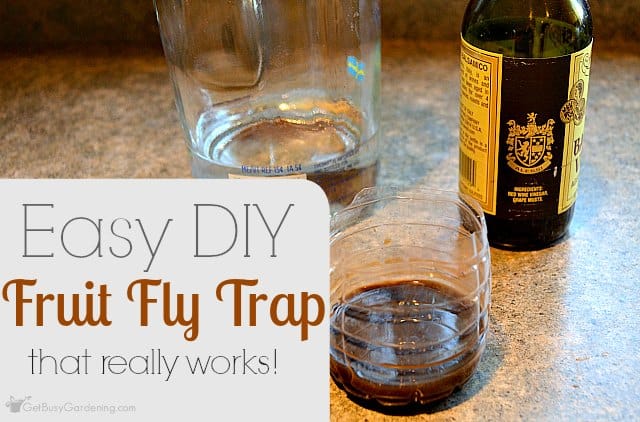 There are lots of designs for DIY fruit fly traps around the internet. The basic principle is pretty much the same for all of them, and there are many options of things to use for bait.
The bait can be anything from a piece of fruit, apple cider vinegar, fruit juice… well, basically anything that attracts fruit flies. But…
I've tried several types of bait in my DIY fruit fly trap, but have run into two problems.
First, the bait has to be more attractive than anything else in the house; otherwise the fruit flies won't be attracted to the trap.
The other problem: simply using fruit, juice or vinegar in the trap won't kill the fruit flies… and it grosses me out to watch them flying and crawling around inside the trap.
Bottom line, I want my fruit fly trap to kill the fruit flies, and kill them quickly.
How to Make a DIY Fruit Fly Trap That Kills Fruit Flies
After much experimentation, I found that balsamic vinegar or apple cider vinegar mixed with alcohol works the best.
Fruit flies can't resist the yummy vinegar, and that's what attracts them to the trap (even when the trap is sitting next to a pile of bananas!).
When the fruit flies feed on the mixture, the booze kills them. I don't know if the alcohol kills the fruit flies when they drink it, or if they get drunk and drown. I don't really care, as long as it works.
Supplies Needed:
Vodka
Container
Rubber band
Instructions:
Step 1: Choosing a container – Be sure to use a disposable container, you don't want dead fruit flies floating around in a dish you eat or drink out of. I cut the top off of a plastic water bottle and used the bottom to make my trap.
Step 2: Add the bait – It's important that you use a good quality balsamic vinegar or apple cider vinegar to attract the fruit flies. Don't use a pre-mixed salad dressing that has balsamic vinegar in it because that may not attract the fruit flies. Stick with the pure vinegars.
Step 3: Mix in the secret ingredient – Vodka is my secret ingredient (ok, the not-so-secret ingredient). It is what kills the fruit flies. I use a half and half mixture of vodka to vinegar. You only need a small amount of liquid in the trap.
Step 4: Secure plastic wrap over the top – Stretch plastic wrap over the top of the trap. Then simply use a rubber band to hold the plastic in place.
Step 5: Poke holes in plastic – Puncture a few tiny holes in the plastic. The fruit flies can get into the trap through the holes, but can't find their way back out.
I used vodka in my fruit fly trap because we had some on hand, but I'm sure any kind of alcohol would work (though I haven't experimented with any others).
Some kinds of wine work well too, but not all wines will attract fruit flies. But, like I said, fruit flies can't resist a good quality balsamic or apple cider vinegar.
If you don't have alcohol in the house, I've heard that a few drops of dish soap added to the balsamic vinegar will kill the fruit flies too, so you can give that a try.
Related Post: How to control houseplant pests organically
If you have a problem with fruit flies in your house, try this fruit fly trap and bait mixture. Within a short time, you'll have dead fruit flies in your trap. It works like a charm.
Related Post: Fighting The Good Fight Against Bad Bugs
By the way, sometimes people mistaken fungus gnats for fruit flies. If you have what appear to be fruit flies flying around your houseplants, those are fungus gnats and they aren't going to be attracted to a fruit fly trap. Click here to read about indoor pest control for fungus gnats… how to get rid of fungus gnats
More Posts About Garden Pest Control
How do you control fruit flies in your kitchen? Share your DIY fruit fly trap ideas in the comments below!