Canna lilies are one of the biggest attention getters in my gardens, and one of my favorite types of summer flower bulbs to grow. I've had canna flower bulbs in my garden for several years now, and I love them so much (The hummingbirds love the flowers too)! There are tons of different varieties of canna lilies, and I have a few different ones in my collection.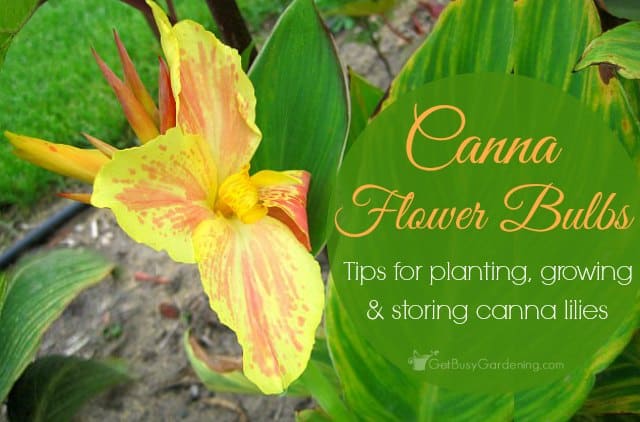 I love the tropical feeling that canna lilies add to my gardens, and they add a wonderful contrast of color and texture to my tropical garden. They have become a very popular flower bulb, and these days nurseries usually carry several different varieties.
Cannas are inexpensive enough to grow as an annual flower in cold climates, or the bulbs can be dug up and easily overwintered inside the house and regrown year after year.
Canna Lilies Are Easy To Grow
Canna lilies are versatile and will grow just about anywhere, as long as they have enough water and full sun. Both the flowers and foliage come in a variety of colors and different combinations, which makes it super fun to mix and match the different varieties.
The foliage alone on some cannas is enough to catch anyone's attention, it's like a piece of artwork. The contrast of the flowers against the foliage on some varieties is striking. Canna lilies are showy and bloom constantly throughout the growing season until frost.
Canna Lily Growing Tips
Canna lilies are easy to grow, and some varieties can even be grown in patio containers or in a pond or bog. But, like any plant, they do have ideal conditions that they prefer in order to grow their best.
Soil & Fertilizer
When it comes to soil, cannas aren't super fussy, but they do prefer a rich, fertile soil. Cannas also prefer moist soil, but can survive pretty well during a short drought period.
You don't need to fertilize cannas, but they will definitely benefit from being fed with an organic fertilizer now and then. Fish emulsion, compost tea or an organic granular fertilizer are all great options for feeding cannas.
Light
Canna lilies grow their best in full sun (6 hours or more), but will tolerate partial shade (they just might not flower). Cannas love the heat, and thrive in hot humid environments.
If you live in a super hot climate, then plant your canna flower bulbs in an area that gets shade during the afternoon when the sun is at it's strongest. Hot dry sun can fade the flowers – and in extreme cases, can burn the leaves.
Water
Cannas love moist soil, and they're perfect for planting in wet spots in the garden. Like I mentioned above, some canna lilies can even be grown in a shallow pond or bog. They will tolerate dry soil conditions as long as they are watered regularly.
Even though they prefer consistent watering, cannas aren't super fussy. I don't give my canna lilies any special treatment, and they have thrived through periods of drought just fine in my garden.
How To Plant Canna Flower Bulbs
Canna lily flower bulbs can be planted into the garden once the soil has warmed up in the spring. You could get an early start if you live in a cold climate with a short growing season like mine by planting them in pots in late winter or early spring.
Canna flower bulbs are very easy to plant. You could literally just dig a hole, dump the bulbs in, cover them with dirt, and most of them would grow just fine. But, you're probably going to want to be a bit more intentional about it than that.
It's best to plant canna flower bulbs 2-3 times deeper than the size of the bulb, and space them out so that they aren't touching each other. Don't plant the bulbs too deep or they may not grow. Lay the bulbs on their sides with the pointy tips up (if there are any pointy tips). But don't worry, even if you don't place them perfectly, they will figure out a way to grow.
Storing Canna Flower Bulbs For The Winter
Since canna lilies are only hardy in tropical climates, they won't survive the winter in the garden for most of us. Don't worry though, because it's super easy to save your canna flower bulbs over the winter, and plant them again year after year!
The bulbs will multiply during the summer too, so you can share with friends as your collection expands. Canna flower bulbs are super easy to overwinter. I pack mine into boxes and store them on the shelf in my basement. They can even be overwintered right in the pot if you have them growing in a container.
To overwinter them, I dig up my canna flower bulbs after the foliage has died back from our first hard freeze. Allowing frost to kill the foliage helps signal the plant that it's time to go dormant. Simply dig the bulbs out of the garden and shake off the large clumps of dirt.
Cut the foliage and stems off of the bulbs and allow them to cure (dry out) for a few days. Then you can pack them into a box and store them on a shelf in the basement or garage (never allow them to freeze though) until spring. Easy peasy. For detailed instructions on how to overwinter summer flower bulbs, read this post… How To Store Bulbs For The Winter
Collecting and Saving Canna Lily Seeds
You can trim the flowers off of your canna lily plant throughout the summer to encourage more blooms, but if you leave some of the flowers on the plant you might end up getting seeds. Cannas can be grown by seed, and many varieties will set seed after the flowers have faded. Then you can collect and save the seeds for next year.
Canna lily seeds are easy to collect, and they will form at the spot where the flower drops off the plant. The round seed pods will turn brown and split open when the seeds are ready to be collected. Canna lily seeds are easy to spot because they're fairly large, about the size of peas.
Start the seeds indoors in the winter at the same time you start all of your other garden seeds. Canna lily seeds have a hard outer shell, so it's best to nick them, and then soak the seeds before sowing. Canna lily seeds don't store well, so it's best to sow them within 6 months or so after you collect them.
Pest Control
Canna lilies don't have many issues with pests, but there are a few to watch out for. Japanese beetles are the biggest pest in my garden, and they love canna lilies. Slugs and snails can also be a problem for canna lilies. Pest control methods for these garden pests include hand picking the pests from the plant, and using diatomaceous earth to kill the pests. Soapy water and horticultural sprays like neem oil also work well as organic pest control methods.
More posts about growing flowers
Do you grow canna flower bulbs in your garden? Share your growing tips in the comments section below.
Pin It!