DIY liquid stevia is simple to make using the leaves right out of your garden! In this post, I'll show you exactly how to make stevia extract with my easy homemade two-ingredient recipe.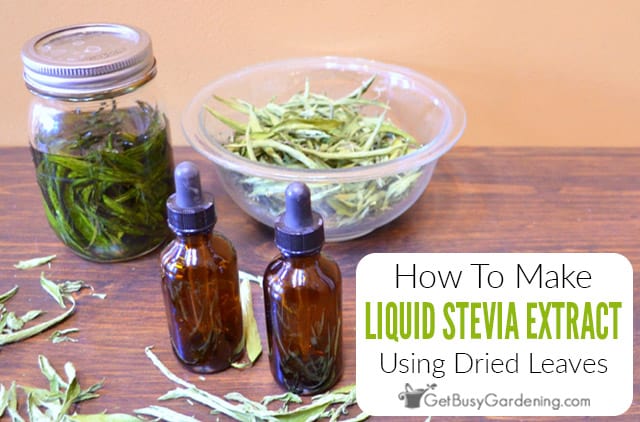 If you love natural sweeteners, I have great news for you. You can easily make your own homemade liquid stevia extract from the plant in your garden!
Whether you are trying to go low-carb, or you just want to avoid processed sugars, DIY stevia extract is a great alternative.
You can use it in drinks, baking, and all kinds of recipes. It's the perfect way to satisfy your sweet tooth without all that sugar.
Below I will guide you through how to make this sugar free sweetener using only two ingredients. It's so easy, you will kick yourself for never trying it before.
Here's what you'll find in this guide for how to make your own liquid stevia…
What Is Natural Stevia Extract?
Stevia extract is a liquid sweetener made from either a powder, or the leaves of the plant.
It has become very popular these days, and is widely used as a natural substitute for sugar or artificial sweeteners.
Most people are used to seeing it in a white powder form. But believe it or not, you can easily grow it in your garden, and then use the leaves to make your own elixir.
What Part Of The Stevia Plant Do You Use To Make Extract?
The only parts of the plant that you use for making stevia extract are the leaves. The flowers and stems are bitter, and will ruin the sweet flavor.
You can use fresh leaves, or dry them first. To do that, simply lay them out on an herb drying rack, use a dehydrator, or hang the stems upside down.
When & How To Harvest Leaves To Make Liquid Stevia
You can harvest the leaves any time during the summer and fall. Just make sure to do it before the plant flowers, or the leaves will taste more bitter than sweet.
Simply pick or cut the leaves from the plant as you need them. Then pull the whole thing once it starts to bloom, or in fall before frost.
Homemade Liquid Stevia Extract Recipe
The best part about this recipe is that you only need two ingredients, and you might even have everything you need already at hand. Here's my recipe…
2 cups loosely packed whole stevia leaves
1 1/4 – 1 1/2 cups clear alcohol* (enough to cover the leaves)
*I recommend using a high quality vodka, because it has no flavor. You could experiment with other types of alcohol, as long as it's clear. But I'm not sure how it would affect the flavor of your extract.
How To Make Liquid Stevia From Leaves
DIY liquid stevia extract is super easy to make, and it only requires a few common items from around your kitchen. Be sure to gather all of your supplies before getting started.
Supplies Needed:
Step 1: Put the leaves into the jar – Put the leaves into the jar. You don't need to crush them or jam them into the jar, just loosely pack them in. Using a canning funnel makes this job easier.
Step 2: Add the alcohol – Pour the alcohol into the glass jar, using enough to fully cover the leaves. You can add a little bit at a time, and gently tap the jar on the counter between pours.
This will allow the leaves to settle, and get rid of air bubbles. It will also will help you to gauge how much more alcohol you need to add to the jar.
Step 3: Let it infuse – Once you've added enough alcohol, cover the jar with the lid, and let it sit for 24-48 hours.
Don't let it infuse longer than 48 hours, or your DIY stevia extract will start to go from sweet to bitter.
If you think about it, shake the jar every once in a while to help release even more of the sweetness into the alcohol.
Step 4: Strain it – Use a small kitchen strainer to remove the leaves from the alcohol, then discard the leaves.
At this point, you have stevia infused alcohol. You can leave it as is, and use it to sweeten summer cocktails. Or you can continue on with the next steps to turn it into extract.
Step 5: Simmer the liquid – Pour the liquid into a small pot, and let it simmer over low heat for 20-30 minutes to remove the alcohol. Do not allow it to boil, or it could remove the sweetness.
Step 6: Put it into a storage bottle – Allow your sweet extract to cool, and then use the tiny funnel to fill your glass dropper bottles.
You can use your homemade liquid stevia extract right away, or store it in the fridge to keep it fresh.
If you chose to leave the alcohol infused, rather than turning it into extract, then you don't need to refrigerate it. The alcohol will keep it preserved.
How To Use Your DIY Liquid Stevia
If you've never used homemade liquid stevia as a sweetener before, be careful because it packs a BIG punch. A little really does go a long way.
To sweeten drinks or recipes, start with just a drop or two. If it's not enough, then stir in one drop at a time until you reach the desired sweetness.
Making homemade stevia extract from leaves you've grown yourself is simple, and so rewarding. Whether you are trying to cut out sugar completely, or just looking for the occasional alternative, this easy DIY liquid stevia is the perfect choice.
Related Products
More Garden Recipes You Might Enjoy
Have you ever made DIY liquid stevia extract before? Share your homemade recipe below.
Print This DIY Stevia Extract Recipe