Using lawn mowing patterns to cut your grass is beneficial, and makes the chore of cutting it more fun. In this post, I'll tell you all about how to use different grass cutting techniques to create those nice straight lines in your yard, just like the pros.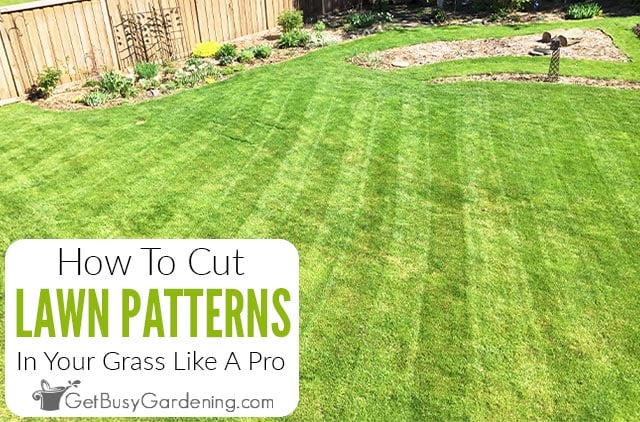 Learning the basic lawn mowing patterns will make your yard look amazing, and it's also better for the grass too.
You don't need to spend tons of extra time learning how to cut grass like a pro, it's all about being intentional with the way you mow.
When you are more intentional, it becomes much easier (and more fun!) to maintain a healthy lawn.
In this detailed guide, you'll learn all about the different grass cutting techniques and patterns, and how to easily use them to make nice designs in your lawn.
Why Use Lawn Mowing Patterns?
You don't need to be completely obsessed with having the perfect lawn to use mowing patterns. Some people totally geek out about it, and that's cool.
I'm not one of those people, but I do like to maintain the grass and keep it looking nice (after all, it is often the backdrop for my gardens in photos).
Being intentional about how I mow, and using simple grass cutting patterns, makes it much easier to maintain a healthy lawn.
Even if you could care less about creating perfect stripes or patterns in your grass, it's still important to pay attention to the way you mow.
Not only will your yard look nicer, your grass will be healthier, have less weeds, and be easier to maintain.
Benefits Of Grass Cutting Patterns
Here's the deal, if you always use the exact same pattern every time you mow, the tire tracks will start to wear out areas of the grass. This can cause ugly dead spots, which invite weeds to grow.
Using the exact same cutting pattern over and over will also compact the grass over time, making it harder for healthy new blades to grow.
Switching up your routine on a regular basis minimizes the wear and tear damage caused by the mower tires.
Alternating mowing techniques also keeps the grass from becoming compacted, allowing plenty of airflow, and keeping it looking its best.
Plus, you need to mow it a little taller in order to get the right effect, which is better for the grass too (but more on that later).
And, as an added bonus, mowing patterns into the grass also helps to hide the weeds, giving the illusion of the perfect lawn.
Professional Lawn Cutting Techniques
If you want to mow your lawn like a professional (or just maintain a healthier yard), then learning the basic patterns is key.
There are a few simple techniques you can play around with to see which ones you like.
The easiest one to start with is creating stripes in your lawn. Once you get the hang of that, it will be simple to create other designs.
Other common designs are the checkerboard pattern, straight diagonal lines, a criss-cross diagonal pattern, and diamonds.
It might sound like things just got complicated, but all of these fancy designs are just variations of the simple striping pattern.
What Pattern Should I Use To Mow My Lawn?
There is no perfect pattern to use on every lawn. I personally like to mix it up, and use a different one every time.
But I have a large yard that is pretty square, so I have plenty of room to experiment. If yours is oddly shaped or small, you might find that only one or two of the designs will work.
Once you figure out the ones that look the best in your yard, and are the easiest to create, mowing actually becomes kind of fun.
How To Cut Grass Like A Pro
Making lawn striping patterns won't add any work, it just takes a little extra thought and a bit of planning at first, so you can visualize what you want to do.
You don't have to mow over and over again, spending extra hours to create the stripes and patterns. It's all about how the grass lays after you cut it.
As your mower goes over them, the blades of grass will bend in that direction. Then when you go the other way, the grass bends in that direction.
The light reflects off of the blades differently in each direction – and that's what makes the lines.
Mowing the grass taller (raising the lawn mower height) will make the stripes show up better, because longer blades bend more than short ones.
How To Mow Patterns In Your Lawn Step-By-Step
You don't need any special equipment to create the professional look in your own yard, any push or riding mower will work. Here's how to create those pretty lawn stripes…
Step 1: Cut the outside edges – Mow around the outside edges of your yard first (just like when a Zamboni starts cleaning the ice).
This is where you'll turn your mower as you're cutting the rest of the grass. Having a few feet of turning space makes it much easier to create straight lines.
Step 2: Line up the first stripe – Make your first stripe using a landmark to keep it straight. I use the edges of my garden beds to help me get a nice straight pattern that matches the lines already in my yard.
You could also use a sidewalk, driveway, patio, or some other straight-edged hardscape in your yard as a guide.
Step 3: Use the first stripe as your guide – After you make your first stripe, turn your mower around on the outside edge of the lawn where you've already mowed.
Line your mower up so that the wheels are on the edge of the line you just created. Then follow that line to create your next stripe.
Step 4: Repeat the same pattern – Continue going back and forth over your lawn, lining your mower up after each turn with the last stripe you created.
Each new stripe you make will be in the opposite direction of the last, creating those nice clean lines. If you end up with a crooked line, just mow back over it in the same direction to fix it.
Step 5: Go over the outside edges again (optional) – Once you're done creating your lawn stripes, go back around the perimeter of the yard again.
This will get rid of any turn marks left over from your striping, and any unsightly clumps of grass that were dropped by the mower.
Taking this extra step gives the lawn a more finished look, but it is totally optional. If you're already happy with the way it looks, then you can skip this step.
Once you get some practice making nice straight lines, play around with other patterns and designs to see which ones you like the best in your lawn.
How Grass Type Affects Lawn Mowing Patterns
It's important to note that the type of grass you have can make a big difference in how dark your stripes will be.
We have Kentucky Bluegrass, which is a variety that does better in cooler climates (like we have here in MN). It has a longer blade, and is thicker and lusher than those you'd find in warmer climates.
If you live in a hot climate, have a shorter variety, or one that has a more stem than blades, it won't bend as nicely as the longer grass types.
In that case, the patterns won't be as prominent, or your mower may not leave any lines at all.
Lawn Mowing Patterns Tips & Tricks
Creating stripes and designs in your lawn is easy, and it won't take you any extra time to mow once you get the hang of it. Here are a few tips and tricks to remember when you're just getting started…
Try to use a different pattern or change the direction of your stripes after every 2-3 mows. This will keep the grass growing its best, and avoid wear and tear damage caused by the mower tires.
The trick to creating darker lawn stripes is to mow the grass taller, because the blades don't bend as well when they're cut short.
Use a sidewalk, driveway, or other hardscape in your yard as a guide to keep your lines straight.
Experiment with different cutting patterns to see which one you like, and what looks best in your grass.
General Tips For Mowing The Lawn
Mow your grass taller in the summer months to shade the soil so it won't dry out as fast, and you won't have to water as much.
To help with weed control, don't cut the grass too short. Weeds have a harder time establishing themselves in a thick, healthy lawn.
Cut the grass lower in the fall, and make sure it's short before snow covers it. This will help to avoid dead spots caused by winter damage, and also prevents mold growth in early spring.
Remove all the leaves and other debris from your lawn before winter to avoid dead spots in the grass come spring.
Keep your lawn mower in tip-top shape, and always be sure the blade is sharp for a clean cut.
To avoid ugly clumps of grass messing up your lines, raise the mower height. Then gradually lower it when it's time to cut your grass shorter. Mowing more frequently, and only when the grass is dry, will also prevent unsightly boogers.
When you learn how to use lawn mowing techniques and patterns, your grass will be much healthier and easier to maintain. Plus, it will look amazing too.
More Yard Care Tips
Share you favorite lawn mowing patterns or tips in the comments section below.