Harvesting rosemary is a very quick and easy process. In this post, I'll show you exactly when and how to pick rosemary from your garden for your biggest and best bounty ever.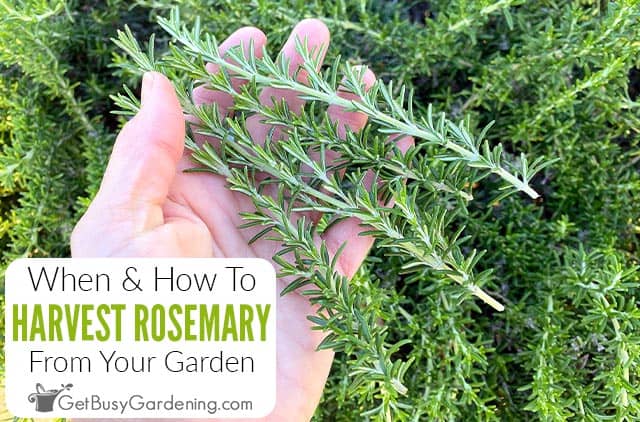 There's nothing like the taste and fragrance of freshly harvested rosemary straight from your garden.
Since it's a cut-and-come-again type of crop, the more you pick it, the more you'll end up with – as long as you do it correctly.
In this guide, you'll learn the best techniques for how to harvest rosemary, plus get tips on what to do with it afterward.
When To Harvest Rosemary
Rosemary is a perennial herb, so in many climates you can harvest small amounts all year long, even while it's flowering.
But it's ideal to do most of your picking during the spring and summer when it's actively putting on new growth.
It's best to tackle it in the morning after the dew has evaporated, but before the heat of the afternoon sun has kicked in.
Related Post: How To Grow Rosemary: The Ultimate Guide
How To Tell When Rosemary Is Ready To Pick
Rosemary is ready to pick as soon as you have an established plant that is putting on new tips and branches.
Look for flexible green stems emerging from existing branches to know exactly when it's ready.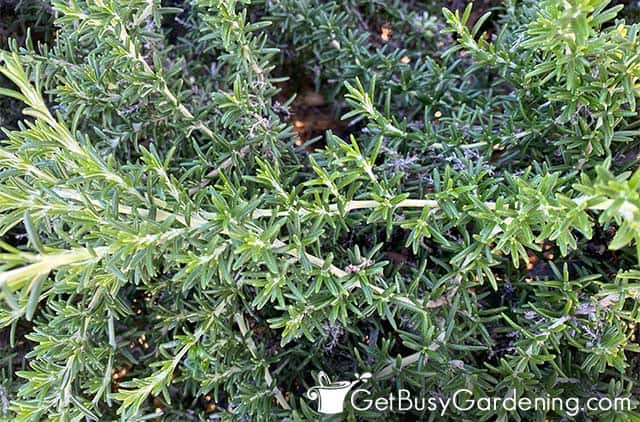 What Part Of Rosemary Do You Harvest?
Traditionally there are two parts of rosemary you can harvest, the tender new tips (sprigs) or the leaves. But all parts of the plant are technically edible.
The leaves contain the most flavor and aromatic oils, and are great for cooking, teas, and many other uses.
You can also use the tender new tips of the stems. But the tough or woody older ones are best for infusing things with flavor or scent, rather than eating.
Even the flowers are edible, with a slightly sweeter flavor. They're perfect for garnishing dishes or adding color to salads.
However you should focus your picking on healthy stems with green leaves. Yellowing, brown, or dry needles will not taste great.
Related Post: Propagating Rosemary By Rooting Cuttings In Water Or Soil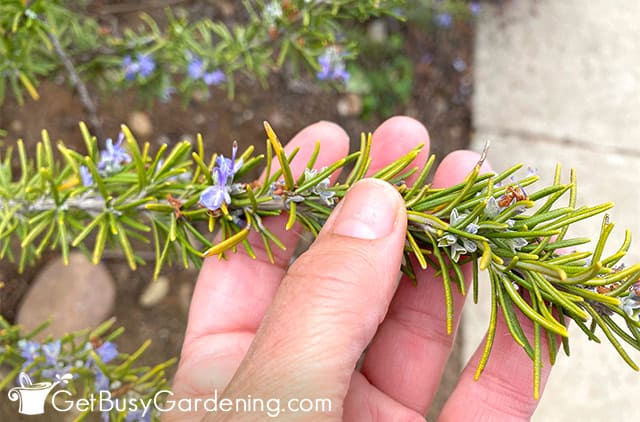 How To Harvest Rosemary
Harvesting rosemary from your garden is really quick and easy. Use these tips to get your best and biggest yields ever.
How To Harvest Rosemary Leaves
To harvest the leaves, you can simply just pluck individual needles directly from the plant as needed.
But, most gardeners snip off full sprigs, and then strip the leaves. Just run your fingers along the stem from the top down to remove them, or pinch them off with your fingers.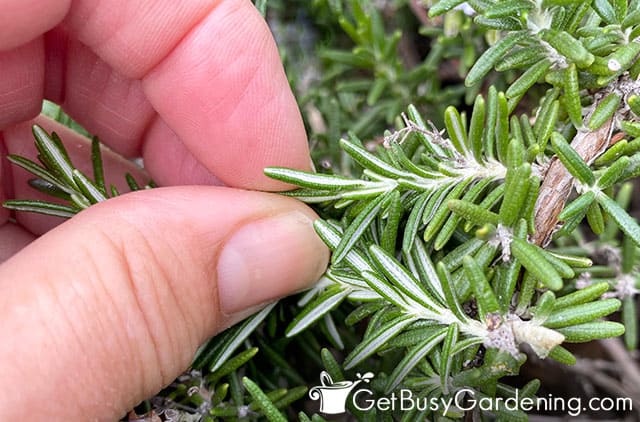 How To Cut Rosemary Off The Plant
The most popular method for harvesting rosemary is by snipping tender new tips or stems.
It's best to find branches that are 8" or longer. Then simply cut off the top 2-3" with sharp, sterile precision pruners.
How To Harvest Rosemary Before Winter
Rosemary will survive the winter in warmer climates. But if you experience freezing temperatures you'll need to harvest the rest before the cold kills it.
You can either pull the entire plant and gather all of the leaves and tender stems. Or, you can cut it all the way back to the ground if you find that easier.
Related Post: Pruning Rosemary To Promote Growth & Larger Yields
How Often Can You Harvest Rosemary?
How often you harvest your rosemary depends on how much you take at a time, and the size of your plant.
If you're snipping just a sprig here and there or only taking a few leaves, then you can do it as often as needed.
But avoid taking more than ⅓ of the plant's total size at one time. It will need time to recover after a large harvest.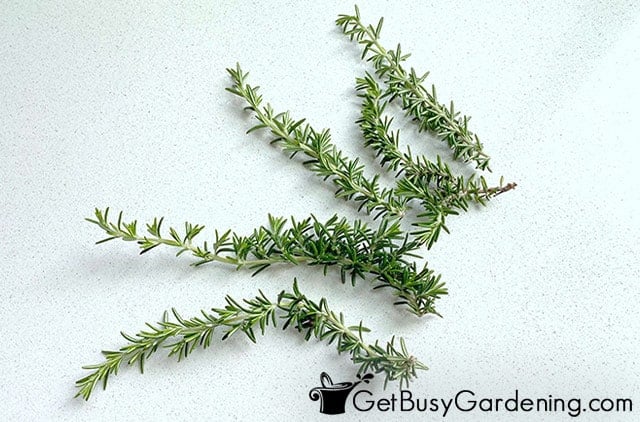 What To Do With Freshly Picked Rosemary
Freshly picked rosemary can be enjoyed right away by chopping the leaves or infusing whole sprigs into sauces.
Store any leftovers in a glass jar or small vase in the fridge. Keep the cut ends just barely submerged in clean water, and it can last for up to 2 weeks. Or, process it for long term storage by drying or freezing.
Washing Rosemary Before Use
It's a good idea to rinse your freshly harvested rosemary before using it to wash off any bugs or dirt.
Place the sprigs in a colander under running water and gently pat dry with a towel, or use a salad spinner.
FAQs About Harvesting Rosemary
Here I've answered some of the most commonly asked questions about how to harvest rosemary. If yours isn't on the list, please add it to the comment section below.
How do you harvest rosemary so it keeps growing?
The best way to harvest rosemary so it keeps growing is to cut a few stems weekly to encourage fresh new shoots. But never remove more than ⅓ of the plant at a time.
How do you harvest rosemary without killing the plant?
To harvest your rosemary without killing the plant, always use sharp pruners to remove stems rather than pulling or tugging on the branches. Also, avoid removing more than ⅓ of the total size at a time, or it may not be able to recover.
Can you harvest rosemary after it flowers?
Yes, you can harvest rosemary after it flowers. The flavor and texture does not change when it blooms like it can with other crops.
Can you use rosemary straight from the plant?
Yes, you can use rosemary straight from the plant. But it's ideal to give it a quick rinse before consuming, especially for branches that are low to the ground.
What is the best way to harvest rosemary?
The best way to harvest rosemary is by using sharp pruners to snip 2-3" sprigs of tender green stems.
Can you eat rosemary flowers?
Yes, you can eat rosemary flowers. They're slightly sweeter, but have a similar flavor and aroma to the leaves and stems.
Harvesting rosemary couldn't be easier. Now that you know the best techniques and time of year, you'll be able to enjoy your biggest bounty, and the best flavor and aroma possible.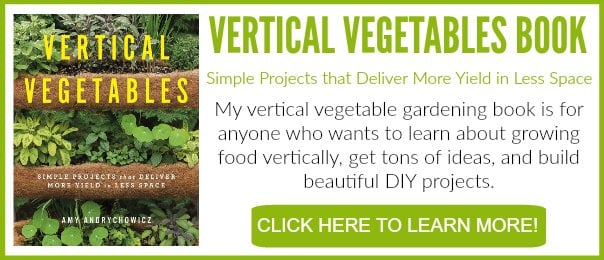 If you want to learn how to grow all of your crops vertically, including herbs, then you need a copy of my Vertical Vegetables book. It will show you all you need to know to have both a beautiful and functional plot, with 23 unique projects that you can build yourself! Order your copy today!
Learn more about my Vertical Vegetables book here.
More About Harvesting
Share your tips for harvesting rosemary in the comments below.