Canning potatoes isn't difficult, and it is so rewarding. In this post I'll show you exactly what you'll need and how to do it, with detailed step by step instructions.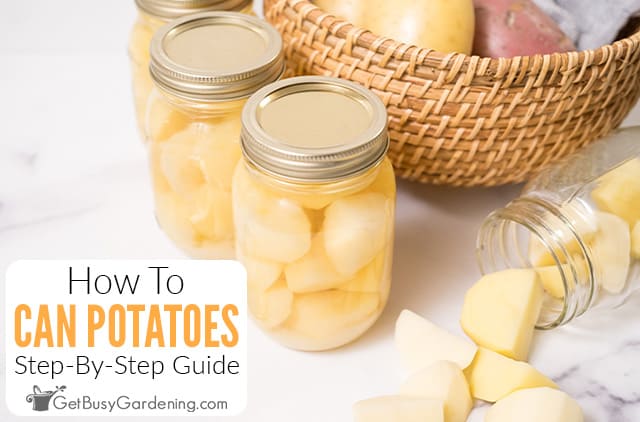 Do you love potatoes? If your answer is yes, then learning how to can them will allow you to enjoy them whenever you want.
They keep for months, and you can eat them right out of the can, use them in soups, casseroles, mash them, and more.
In this article I'll show you how to can potatoes from your garden or the grocery store with a few simple steps.
Best Types Of Potatoes For Canning
The best type of potatoes for canning are mostly the red, thin skinned white, and gold varieties.
These types are often called "waxy" or "boiling" potatoes, and tend to be lower in starch.
Small new potatoes are also a good option because of their firm flesh and thin skin.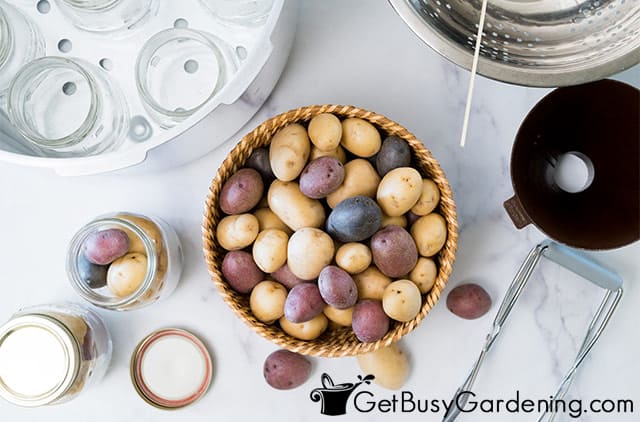 Preparing Potatoes For Canning
Preparing potatoes for canning is simple. First, wash and peel them, then cut them into 2" cubes. If you prefer, you could leave them whole if they're 2" around or smaller.
As you chop them up, place the pieces into a pot of cold water. This encourages more of the starches to leach out, as well as preserves the color.
Once you're done, use a colander to drain and rinse them. Next, par-boil them for about 10 minutes. Then, reduce the heat, and keep them warm until you're ready to place them into the jars.
Related Post: How To Prepare & Sterilize Jars For Home Canning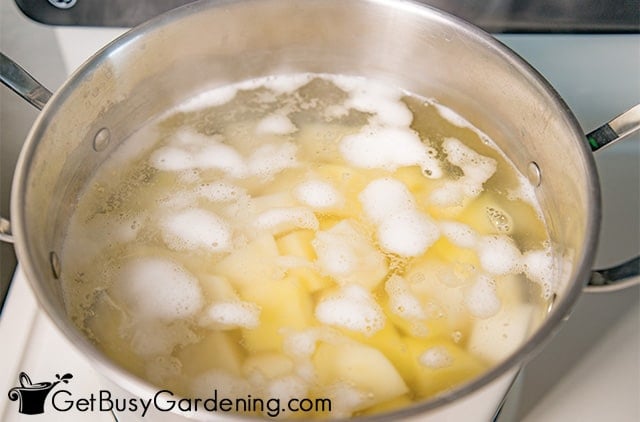 Processing Canned Potatoes
Since they are a low acidic food, the only safe way to process potatoes is using a pressure canner.
The water bath method is not safe because it can't get them hot enough to kill all of the harmful bacteria.
Tools & Equipment Needed
Below is a list of items you'll need. Gather everything before you start to make the process easier. You can see my full list of tools and supplies here.
How To Store Canned Potatoes
Check the seal of your canned potatoes before storing them. You can do this by pressing the center of the lid to ensure each one has a proper seal. If it moves at all, that means it did not seal.
In that case, you just need to put them into the fridge, and use those up first.
Otherwise, store them somewhere cool and dark. Places like the pantry, a cupboard, or your basement are all great choices.
Related Post: How To Make Healthy Potato Soup (Recipe)
How Long Do Canned Potatoes Last?
If stored properly, canned potatoes can last up to 12-18 months. Before eating them, always check to make sure the lid is still tightly sealed.
FAQs
In this section, I'll answer some of the most frequently asked questions about canning potatoes.
Can potatoes be canned with skins on?
You should not can potatoes with the skins on, due to the risk of bacteria contamination. Modern food safety standards require them to be peeled before canning.
Can you water bath canned potatoes?
You can't safely water bath canned potatoes because of their low acidity levels. They must be processed at a much higher temperature, which can only be achieved using a pressure canner.
Can potatoes be canned raw?
No, potatoes can not be canned raw because they contain too much bacteria. You should always par-boil them for about 10 minutes first in order to ensure they will be safe to eat.
Canning potatoes is easier than you might think. It's a great way to preserve your garden-fresh bounty, or stock up using ones from the store or farmer's market.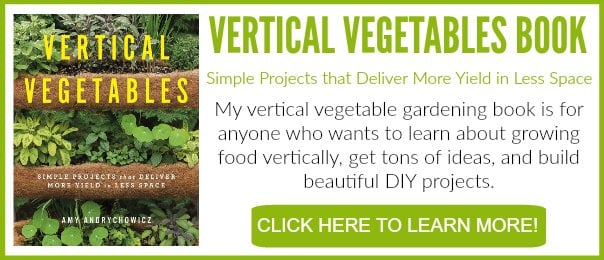 If you want to learn how to have a highly productive veggie garden, then you need my book Vertical Vegetables. It will show you all you need to know about starting and caring for your plot, plus you'll get 23 projects you can build yourself! Order your copy today.
Learn more about my Vertical Vegetables book here.
More Food Canning Posts
More About Potatoes
Share your tips for canning potatoes in the comments section below.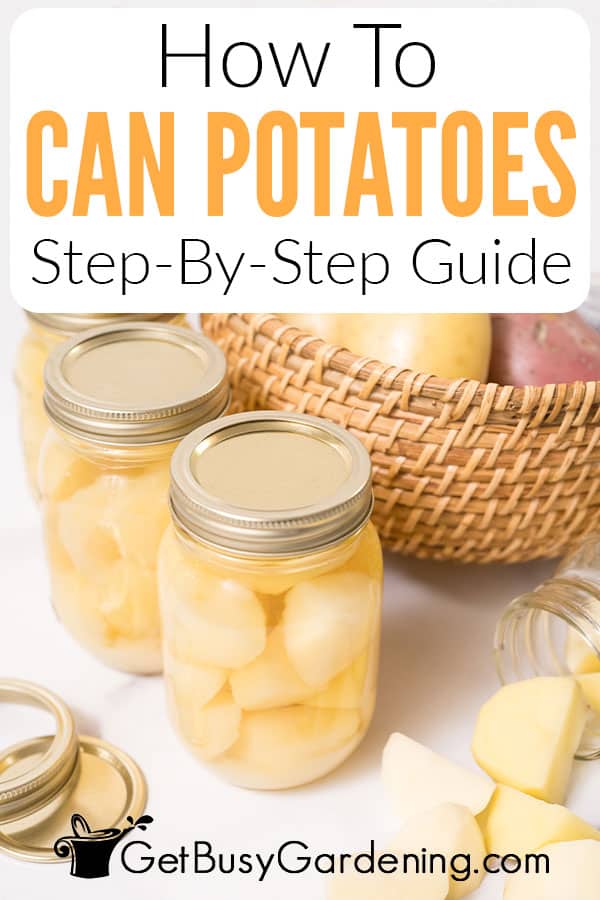 Recipe & Instructions