Canning peas is an excellent way to enjoy them throughout the year, even when they're not in season.
If you have a surplus of peas from the garden, canning them is one of the best ways to preserve them before they go bad.
It's easy to do, and it's great to have them on hand whenever you need them in your cooking. They also make for a quick and delicious side dish for any meal.
In this article, I'll tell you everything you need to know about how to can fresh peas with simple step-by-step instructions.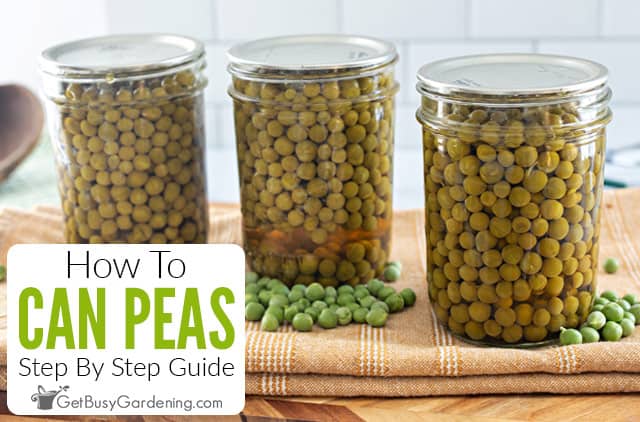 Best Types Of Peas For Canning
The best types of peas for canning are English varieties, also known as green hull, garden, or shelling.
The fresher they are the better they will taste in flavor and texture. Look for ones that are about 3-4" long, unblemished, and firm for the best results.
Preparing Peas For Canning
Preparing your peas for canning is very straightforward. First simply rinse them off to remove any dirt or debris, and drain them in a colander.
Then remove them from the shells, discard the hulls, and put the peas back into the colander. Once you're done shucking them rinse them again.
Make sure to wash and sterilize your jars as part of your preparation process too, and keep them hot until you're ready to pack them.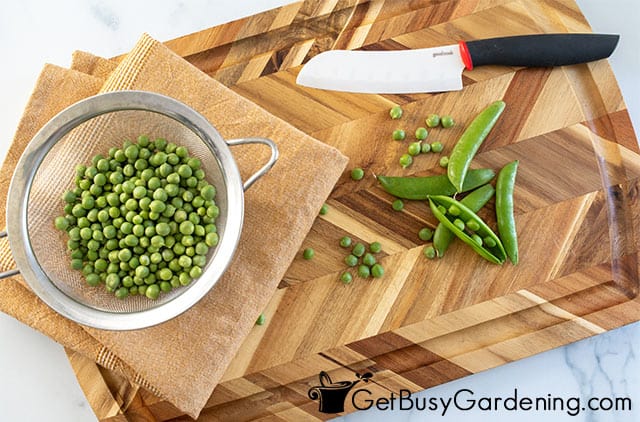 Methods For Canning Peas
There are two main ways to can peas: either raw or hot packing them. Both options can yield slightly different results.
The method you choose will depend on how much time you have, and your own personal preference. Test out both options to find the perfect fit for you.
Hot Packing
Hot packing means that you flash-cook the peas in boiling water for about two minutes before adding them to the jars.
This method will generally preserve their color better and will also result in the best texture.
Raw Packing
Raw packing means you fill the jars with uncooked peas. This method is much faster since you don't have to cook the peas before canning them.
However, they could end up being slightly mushier, and the color can leach out into the brine. Also keep in mind that the raw peas will float as you fill the jars with liquid.
Related Post: How To Freeze Peas The Right Way
Pressure Canning Peas
The only safe way to process your jars of peas is by using a pressure canner, because they are a low-acid vegetable.
This means that they need to be processed at a very high heat to kill any harmful bacteria that could be present. This cannot be achieved in a boiling water bath canner.
Tools & Equipment Needed
Below is a list of items you'll need. Gather everything before you start to make the process easier. You can see my full list of tools and supplies here.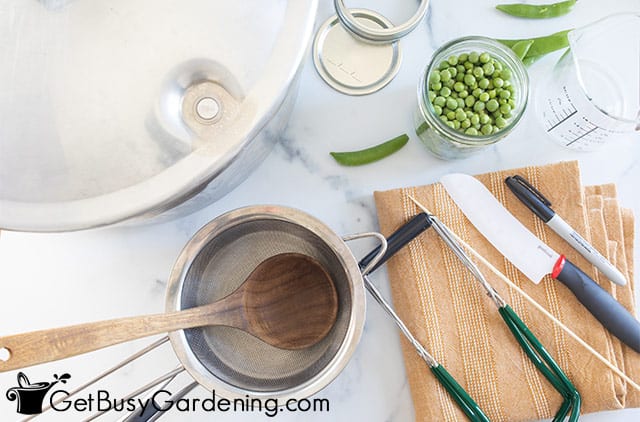 How To Store Canned Peas
Always be sure to store your canned peas in a dark, cool place, such as a pantry or cupboard.
Before storing them, check that each lid has a tight seal. If any of the lids didn't seal after processing them, put those into the fridge and eat them up right away.
How Long Do Canned Peas Last?
If stored properly, canned peas will last for up to 12 months in your pantry. Make sure to label your jars so you know when they will expire.
Before consuming, check that the lid still has a tight seal. If any popped while in storage, discard them.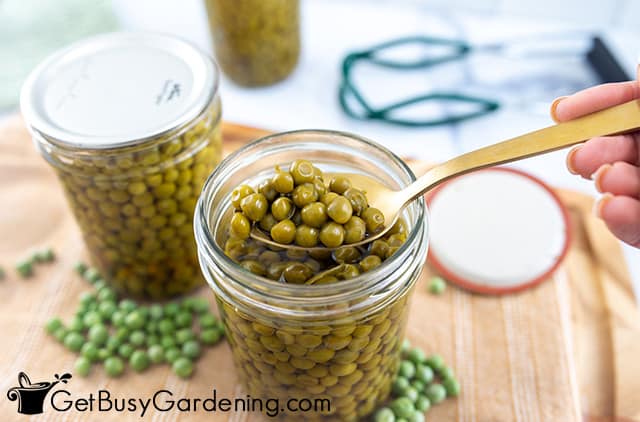 FAQs
Below, I've answered some of the most frequently asked questions I get about canning peas. If you can't find yours here, add it to the comments section.
Do peas have to be pressure canned?
Yes, peas must be pressure canned. They have a low acidity and aren't safe for processing in a boiling water bath.
Are canned green peas cooked?
Yes, canned peas are already cooked. However, they taste better if you heat them and add additional seasonings before consuming.
Which is better: frozen or canned green peas?
Whether frozen are better than canned green peas depends on how you will use them and your personal preference. Canned peas tend to be softer than frozen with slightly less flavor due to being processed in high heat.
Canning peas is easy and quick, and perfect for beginners to start with. It's a great way to preserve your garden's bounty, or stock up from the grocery store or farmer's market, and enjoy them all year long.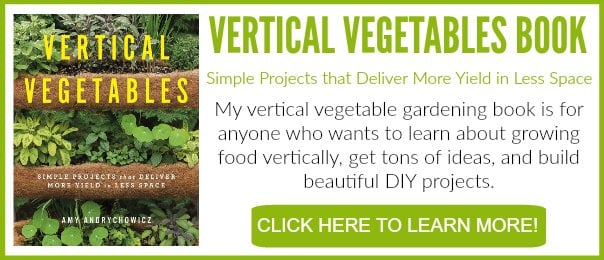 If you'd like to learn how to make the most of your space and get as much homegrown food as possible, then my Vertical Vegetables book is perfect! It will teach you all you need to know, has tons of gorgeous photos, and includes 23 DIY projects you can build for your own garden. Order your copy today!
Learn more about my Vertical Vegetables book here.
More Food Canning Posts
Share your tips for canning green beans in the comments section below.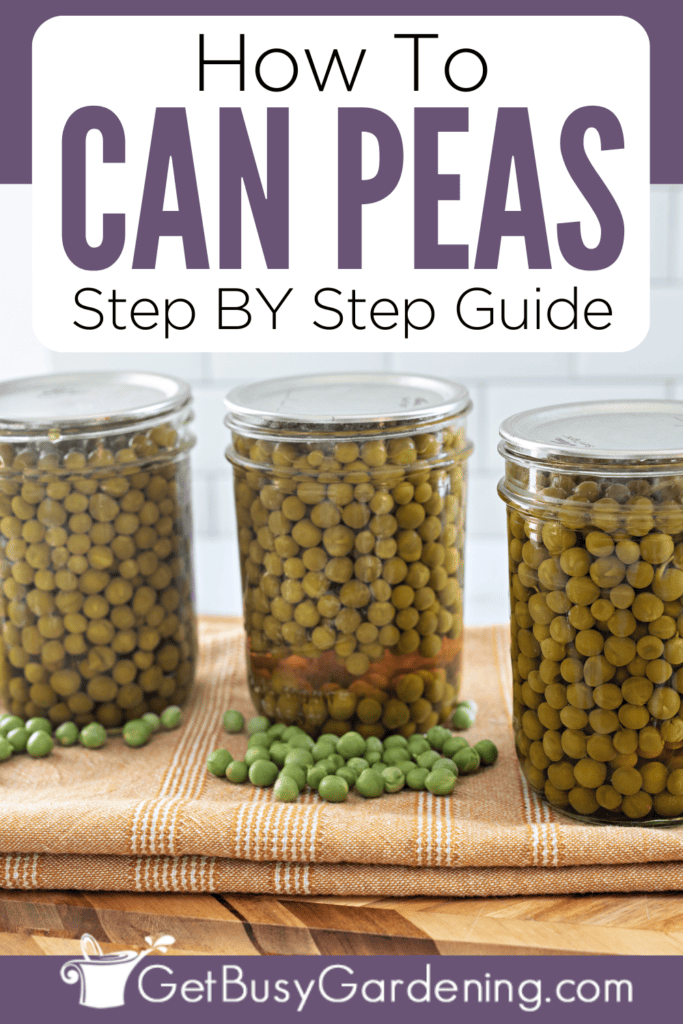 Recipe & Instructions