Canning rhubarb is a great way to enjoy it in your favorite desserts and more all year round.
Anyone who has it in their garden knows that you always end up with an overabundance in the spring.
The good news is that canning fresh rhubarb is a simple way to use it up and keep it for later so there's no waste.
It's excellent for making jelly, dessert fillings, jam, and so much more. In this article I'm going to show you how to can rhubarb in a few easy steps.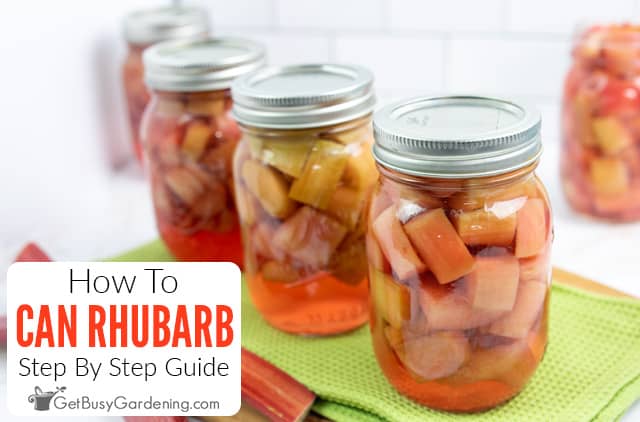 Preparing Rhubarb For Canning
Preparing rhubarb for canning is very simple. All you need to do is remove the leaves and ends, rinse it off, and then cut it into ½ to 1 inch pieces.
You could can it in plain water, or add sugar to pull out the natural juices and use that as your liquid brine.
Adding sugar helps to preserve the color and firm texture, and also compliments the flavor.
Use ¼ cup of sugar for every 2 cups of rhubarb. Toss them together in a bowl, then let it sit for 2 hours to allow the juices to excrete.
Methods For Canning Rhubarb
When it comes time to fill your jars, there are two methods you can choose from: hot or raw packing.
There's no right or wrong answer here, both will work great. Below I describe these two techniques in detail, as well as the pros and cons of each.
Hot Packing
With this method you flash-cook the rhubarb in your brine liquid or plain water and boil it for 1 minute before filling the jars.
The benefits of taking this extra step are that it reduces excess air when you pack the jars, and it also helps to preserve the color and flavor of the rhubarb.
Raw Packing
Raw packing simply means that you fill the jars with uncooked rhubarb, and then pour the boiling brine liquid over it.
This method is helpful if you're tight for time. The drawback is that you may have more air bubbles in your jars, and the color and flavor of the rhubarb tends to leach out into the brine more.
Related Post: How To Make Rhubarb Jam: Easy Recipe
Processing Canned Rhubarb
There are two methods you could use to can your rhubarb, either with a pressure canner or using a hot water bath. I'll go into details of both of these below.
Water Bath Canning Rhubarb
The easiest way to can rhubarb is to use a hot water bath canner. This method is safe because rhubarb is naturally acidic.
Once the water in the canner is boiling, process the jars for 15 minutes, adjusting for altitude if necessary. Then turn off the stove, remove the lid, and allow it to settle and cool for 5 more minutes.
Canning Rhubarb With A Pressure Canner
If you prefer you could use a pressure canner instead. However, the rhubarb can begin to break down from the higher heat, which means it may be a bit mushier using this method.
Bring the canner to a boil and allow it to vent for about 10 minutes, or until the vent closes on its own (depending on the brand you have). Then, process the jars at 5 pounds of pressure for 8 minutes, adjusting for altitude.
Related Post: How To Freeze Rhubarb (With Or Without Blanching)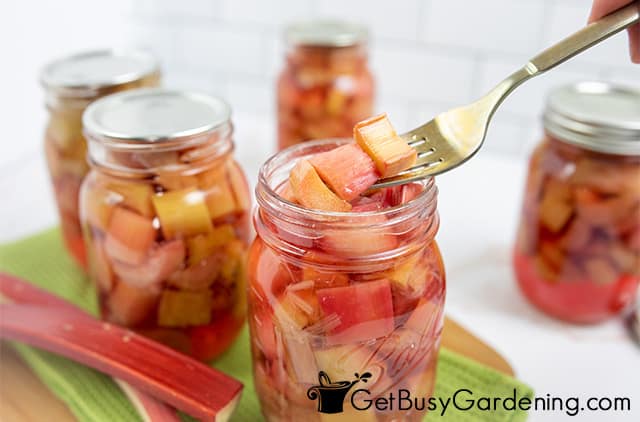 Tools & Equipment Needed
Below is a list of items you'll need. Gather everything before you start to make the process easier. You can see my full list of tools and supplies here.
Sharp kitchen knife
Mixing bowl (optional, if making sugar brine)
Cooking pot (optional, if hot packing)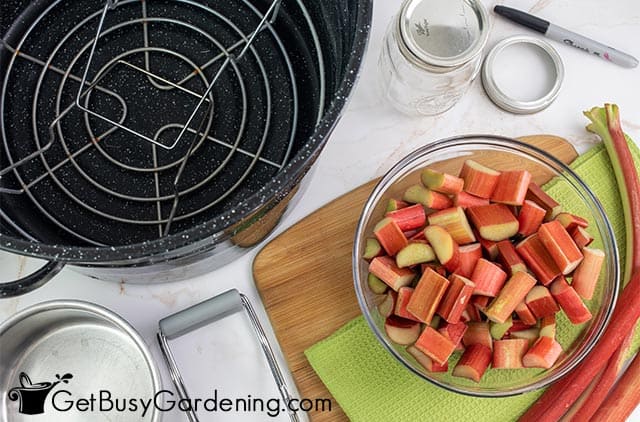 How To Store Canned Rhubarb
Remove the bands and store your canned rhubarb in a cool, dry, and dark place, such as in a pantry or cupboard.
Check each lid first to make sure it has a tight seal. If any of them didn't seal after processing, then put those into the fridge and eat them up within a week.
How Long Does Canned Rhubarb Last?
As long as it's stored properly, home canned rhubarb can last for up to 2 years.
Always double check that the lid still has a tight seal before eating it, and discard any jars that have popped open.
FAQs
Below are my answers to some of the most frequently asked questions about canning rhubarb.
Can I water bath can rhubarb?
Yes you can water bath can rhubarb. It's safe to use this processing method because rhubarb is naturally acidic.
Is it safe to can rhubarb at home?
It is safe to can rhubarb at home as long as you follow the proper procedures outlined in this article.
How do I know if my canned rhubarb has gone bad?
You'll know your canned rhubarb has gone bad if it's mushy, has an off-smell, if there are dark spots in the jar, or the lids have lost their seal. In this case throw it away.
What are some common mistakes to avoid when canning rhubarb?
Some common mistakes to avoid when canning rhubarb include under or over processing it. It's crucial to follow the proper procedure, temperature, and processing duration.
Can I can rhubarb with other fruits or vegetables?
Yes, you can can rhubarb with other fruits or vegetables. The most common combo is with strawberries. One thing to keep in mind is the duration of time required for canning other types of produce might differ from rhubarb. So if you run into that, process it for the longer duration.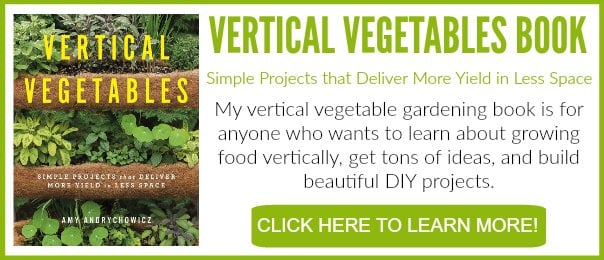 If you'd like to learn how to make the most of your space and get as much homegrown food as possible, then my Vertical Vegetables book is perfect! It will teach you all you need to know, has tons of gorgeous photos, and includes 23 DIY projects you can build for your own garden. Order your copy today!
Learn more about my Vertical Vegetables book here.
More Food Canning Posts
Share your tips for canning rhubarb in the comments section below.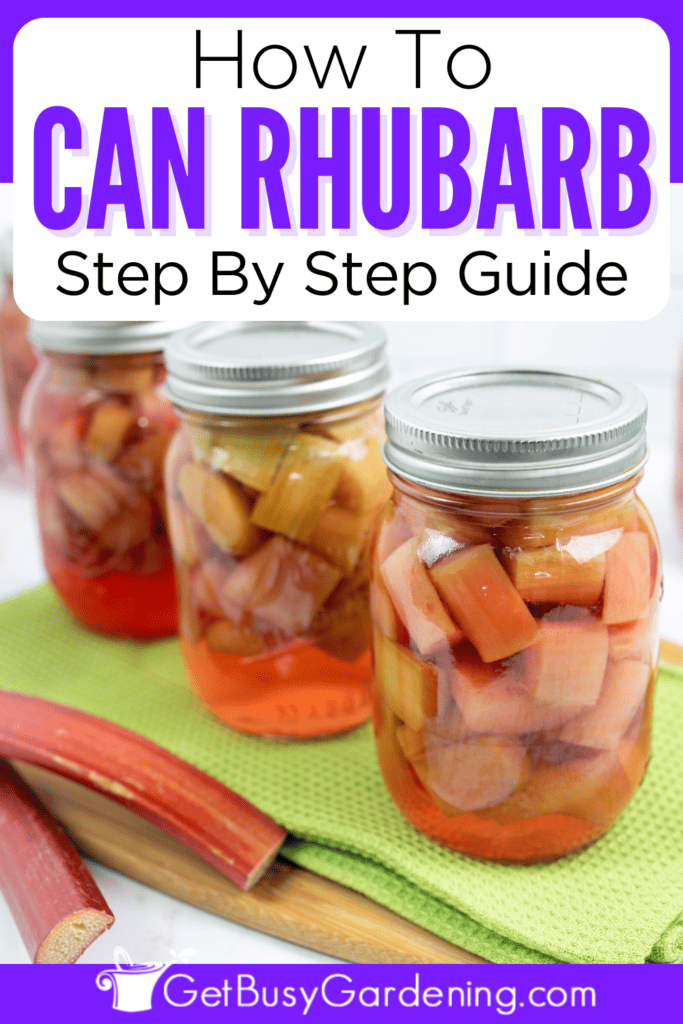 Recipe & Instructions