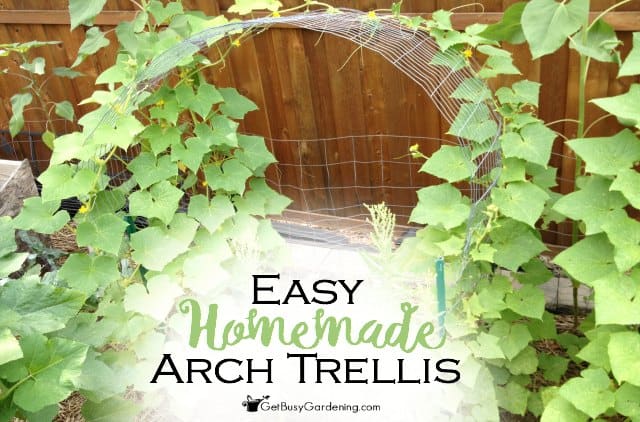 I love growing vertically. It takes up way less space in the vegetable garden than allowing vine plants to grow on the ground. I started growing cucumbers on a trellis a few years ago and I won't go back. Last year I did the same with my squash, and what a space saver!
Related Post: How To Build A Squash Arch
I've used a variety of trellises for my beans and cucumbers, mostly different types of trellises and topiary forms I had laying around. I tried using some cool topiary forms last year, but they were too dense, making it difficult to find and harvest the vegetables. I've also used straight trellises before, which I also find difficult for harvesting. The vegetables blend in with the foliage, and can be really hard to find. Plus, I can't reach the top of tall trellises.
I decided it was time to come up with a better trellis. I wanted something that looked cool and also made harvesting easy. I found a few designs on the internet, but nothing that I loved. I ended up designing my own, using a few of the concepts I saw on the internet.
I wanted the trellises tall enough so that I don't have to bend over too far to harvest, but they had to be short enough for me to easily reach the top. I decided to build an arch trellis so the vegetables would hang down and out of the foliage. Another thing I like about the arch trellis design is that I can grow lettuce, spinach, carrots, radishes and other short crops underneath the arches. The sun loving vines will shade the cold weather vegetables and keep them from bolting too fast. It's the perfect design.
How To Build A Homemade Arch Trellis
Materials Needed:
1. Measure and cut the fencing: I cut my fencing into 10′ lengths, which made the perfect sized arched trellis for me. You can make them shorter or longer depending on how tall you want the arch trellis to be, but don't go much taller than this or you will need a center support.
2. Pound the stakes into the ground: I spaced mine about 3′ apart, but you can choose any width you want for your arched trellis. (Caution: don't go much wider than 3′ for this design. The fencing isn't very strong, and the arch might collapse if the trellis is too wide.)
3. Attach the fencing to the posts: The type of posts I bought have notches on them that are specifically made for attaching this type of fencing. You may find that you need to use wire twist ties to secure the fencing to the posts.
4. You're ready to plant! My favorite cucumbers to grow on my arch trellis are Lemon, Homemade Pickles and Marketmore. My favorite types of green beans to grow on this arch are Kentucky Wonder and Blue Lake pole beans.
That's it! See, I told you they were easy to make. But, if you're not ambitious enough to make your own, you can buy some pretty cool cucumber trellis too, and they come in different sizes (medium, large, and deluxe) so you can find the perfect size for your garden. I love my new arched trellises, they make it so much easier to harvest my beans and cucumbers!  Note: The fencing isn't as supportive as I expected, and it will start to sag if it gets really heavy with cucumbers. But I harvest cucumbers so often that it doesn't happen much. Plus, the arch trellis pops right back into place once the cucumbers are removed.
More DIY Gardening Projects:
Products I Used
What are your favorite types of trellises to use for growing vine crops? Tell me about it in the comments section below.
Pin It!