Yellow is one of the most common and one of the most eye-catching colors in the garden, especially when it comes to annual flowers. Yellow annual flowers are so bright and cheery, how could you NOT love them? I know I do. So I decided to dedicate this post to celebrate the glorious color yellow that helps us create bright and bold summer gardens!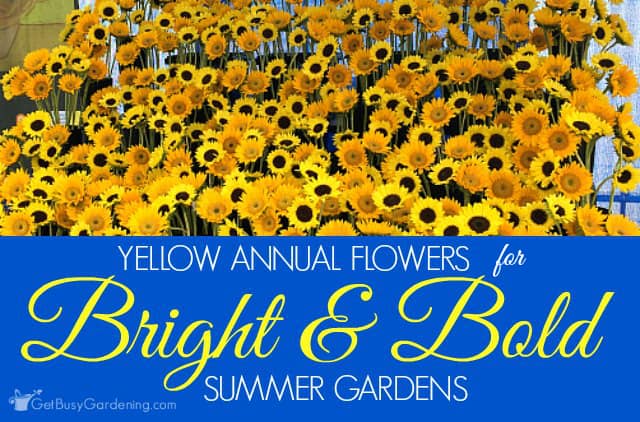 There are so many yellow annual flowers to choose from, I won't even attempt to get close to naming them all. But, I did want to compile a list of some of my favorites.
This way, I get to spotlight a few of the plants I got to trial in my garden this year (that will be in garden centers next year!), a few of my all time favorites, and a few brand new varieties that I hope to grow in my garden next year!
Some Of My Favorite Yellow Annual Flowers
Dahlia – I try to grow as many tropical flowers in my gardens every year as I can, and dahlias are one of my favorites. I have a dinner plate dahlia that grows huge yellow flowers, and it's spectacular. For sure one of my all time favorite dahlias!
The one in this photo is a smaller variety (and a new introduction for 2017), I'm hoping to add this one to my collection of yellow annual flowers next year. Dahlia bulbs are easy to overwinter in the house, and grown in the garden year after year.
Cosmos – Another fantastic annual flower, cosmos come in all sorts of colors – including yellow of course! Cosmos make a great backdrop for shorter plants, and the yellow flowers really stand out against their delicate green foliage.
Canna Lilies – More tropical flowers! I used to have quite the collection of cannas in my garden, and the yellow ones have always been my favorites.
They are spectacular when paired with dark foliage, and add a wonderful tropical feel to my annual garden. (oh, and you can easily overwinter these bulbs in the house too!)
Portulaca (aka: moss rose) – Moss rose is one of my favorite things to grow in my annul garden. It makes a super cute colorful ground cover, and has succulent looking leaves.
A yellow carpet of portulaca would look amazing in any garden. (It's also super easy to collect the seeds to save for next year!)
Marigold – Marigolds are a staple in my garden, and one of my all time favorite annual flowers. Yellow marigolds really add pop to any garden, and command attention!
Coreopsis – I love these delicate looking flowers. They dance in the breeze, which really makes the garden come alive. Bees and pollinators love them too.
Be careful though, because some varieties are aggressive self sowers (perfect for a wildflower garden!).
Sunflower – Bright yellow sunflowers are beautiful in any garden. They're especially great to plant around your vegetable garden because the bees and other beneficial insect absolutely love them!
Caledula – Caledula is not only a gorgeous shade of bright yellow, it is also an edible flower, and it makes a wonderful addition to the vegetable garden.
I like the bright pops of these yellow annuals mixed in my veggie patch, and calendula makes a wonderful addition to the annual garden too. (I recommend deadheading theses guys, because they can be aggressive self seeders).
Calibrachoa – Here's another beautiful plant that comes in pretty much every color you can imagine. Calibrachoa are a great plant to mix to your annual garden or flower baskets, and they are easy to care for. I'm in love with this yellow and white one from Proven Winners
African daisy – This is a new one for me this year, and it's one that Proven Winners sent me to trial in my garden. This soft yellow flower is a wonderful addition to my annual garden, and I can't wait until it fills in more. This is a brand new introduction, and you'll be able to buy this one next spring.
Zinnia – What can I say, zinnias make pretty much every list when I write about flowers. LOL! I love everything about them! A few years ago, I grew a variety that had yellow flowers with light orange stripes.
It was very unique (but of course, I can't find a photo of it!). I've seen a few different varieties of yellow zinnia flowers, so you shouldn't have a problem finding these. Learn how to grow them here.
Petunia – What annual garden would be complete without petunias?! If you're inspired to try creating a yellow theme garden, then you'll definitely need to add some yellow petunias. This is one of my favorite yellow petunias, and here are a few new varieties to look out for next year…
Snapdragon – Another one of my favorites, snapdragons are such cool plants. Snapdragons come in lots of different colors (including yellow of course) and they add wonderful height and texture to any garden. Plus the bees love them too!
Gerbera – I don't have any gerbera growing in my garden this summer, but I wish I did. I love them so much! Gerbera flowers look great in any color, but yellow might just be my fav.
Gladiolus – Yep that's right, gladiolus come in yellow too! Glads make a bold statement in the peak of the summer in any garden (and they often steal the show).
Gladiolus bulbs can be lifted from the garden and stored inside through the winter, so you can grow your favorite yellow varieties as annual plants year after year.
Pansies – Who doesn't love pansies? They are one of the first flowers us northern gardeners can plant in the spring, always a very welcome sight!
Yellow pansies have always been my favorite, and they come in lots of different shades of yellow. A fantastic early (and late) addition to your annual garden.
Ranunculus – I have never grown ranunculus in my garden before, but I SO want to!! Definitely a must on my list of yellow annual flowers for my garden next year. A very unique looking flower (and a bit of a show-off, LOL).
Celosia – There are so many cool varieties of celosia on the market these days, and I wish I could grow them all! Such a unique plant, especially when the flowers are yellow! Love!
Gazania – This is a new one to me this year, and I am in love with it. The flowers are so pretty and the yellow variety I'm growing is a very bright yellow. Such a cute little plant.
Bidens – Another new-to-me plant this year is yellow bidens. I really love the foliage on this plant, and the one I'm growing this year (in the photo below) is short, compact, and full of bright yellow flowers. Here's another cute yellow bidens plant.
Wow, right?!? I mean, just imagine what your garden would look like with some of these amazing additions.
Actually, you could create an entire garden area just using these yellow annual flowers, and it would be fantastic – with constant blooms from early spring through fall!
So next time you're designing your annual garden, make sure to add these sexy beauties to your list!
More Posts About Gardening With Annual Flowers
What yellow annual flowers would you add to this list? Add your top picks in the comments section below.
Pin It!