String of hearts plants are easy to care for and fun to grow. In this post, I'm going to teach you all you need to know about them, and give you tons of tips for watering, light, soil, fertilizer, pruning, and more!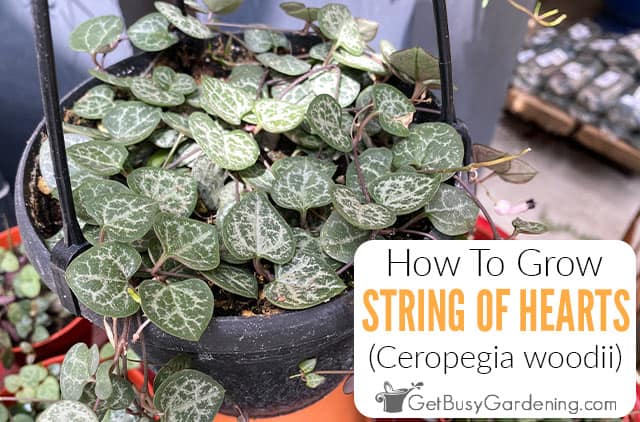 The low-maintenance and eye-catching string of hearts plant is a great choice for any home gardener looking for a beautiful indoor or outdoor vine.
I love putting them in hanging baskets or tall planters, and they're also great for setting on a bookshelf or cascading over a pedestal.
If you want to add this cool plant to your collection, then this guide is for you. And I'm going to tell you everything you need to know in order to be successful!
In this detailed guide, you'll learn just all about string of hearts care, and see just how easy it is to grow. From the best soil, light, and water, to how to make them fuller, encourage blooming, and much more!
String Of Hearts Quick Care Overview
| | |
| --- | --- |
| Scientific name: | Ceropegia woodii |
| Classification: | Semi-succulent |
| Common names: | String of hearts, rosary vine |
| Hardiness: | Zone 11 |
| Temperature: | 65-80°F |
| Flowers: | Cream, pink, magenta flowers, blooms summer-fall or repeatedly |
| Light: | Partial shade |
| Water: | Allow soil to dry between waterings, do not overwater |
| Humidity: | Little to none |
| Fertilizer: | General purpose plant food in spring and summer |
| Soil: | Fast-draining, sandy soil |
| Common pests: | Aphids, mealybugs |
What Is String Of Hearts?
String of hearts (Ceropegia woodii), is an evergreen vine native to South Africa. Though it's often called a succulent, it technically is not one.
The common name comes from the heart-shaped leaves that form in pairs down the long hanging vines. Each leaf is deep green with silvery or pale marbling on top, and purple underneath.
Another common name is 'Rosary Vine'. That's because the small aerial tubers that form between the leaves make the vines resemble a rosary.
That distinct shape of the leaves gives them many other nicknames too, such as 'Hearts Entangled', 'Chain of Hearts', and 'Sweetheart Vine'.
Their vines can get extremely long, up to 12', in the right conditions. They sprout from bulbous tubers that form under the soil.
Different Types Of Ceropegia woodii
Aside from the most common green/marbled variety, there are a few other popular types of Ceropegia woodii.
The variegated string of hearts has dapplings of pink and white alongside the green. There is also 'Silver Glory', which has pale, silvery leaves with a deep green border.
More uncommon, but beautiful if you find them, are the 'Orange River' and 'Durban' varieties.
Both are deep green, with less pronounced heart shapes. The latter is often called 'String of Spades' or 'Heartless' because of how different the leaves are.
Flowers & Bloom Time
If given the proper care, chain of hearts vines will produce small, vase-like flowers in the late summer to early fall.
The blossoms are rounded at the bottom and narrower toward the top. They range in color from pale cream to pink, or deep magenta.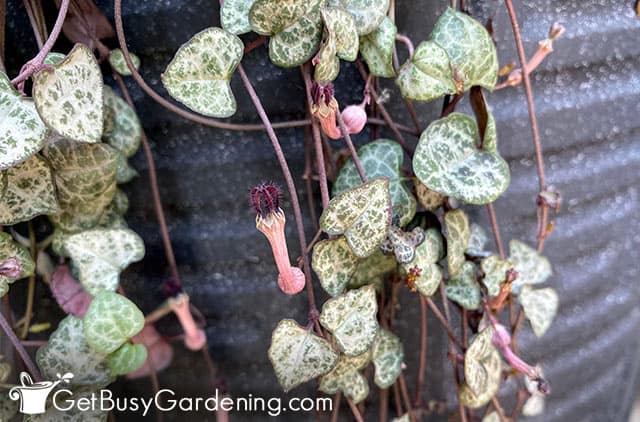 How To Grow String Of Hearts
Before learning about how to care for string of hearts, first you'll need to know where they'll grow best. Choosing the right spot can help them thrive for many, many years.
Ceropegia woodii Hardiness
Rosary vines are most commonly kept as indoor plants, since they're only hardy outdoors in zones 11 or higher. They cannot tolerate temperatures that drop below 40°F, and frost will quickly kill them.
Though they can survive brief periods of cooler weather outside, they will start to suffer if it stays below 60°F for long periods of time.
Where To Grow Rosary Vine
If you're lucky enough to be able to grow a rosary vine outdoors year round, keep it in a lightly shaded area that gets sunlight only in the morning or evening hours. Too much direct sun can burn the leaves.
For the rest of us, select a spot indoors that receives plenty of bright, indirect light. Because of the draping, cascading vines, they're very popular in hanging baskets, or set on high shelves.
In cooler climates, you can move them outdoors for the summer to bask in the heat and humidity. Just be sure to bring it back inside before it gets too cold for them.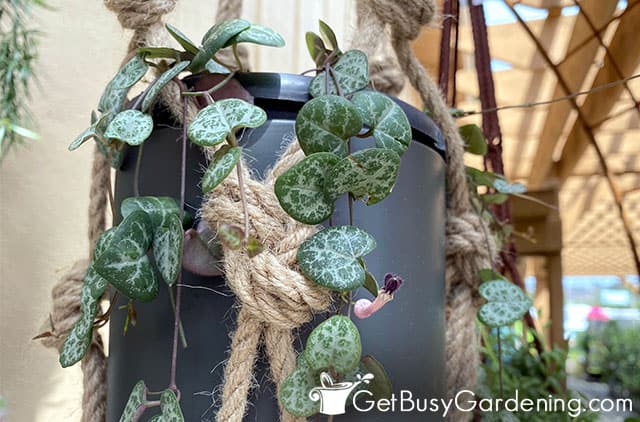 String Of Hearts Plant Care & Growing Instructions
Now that you've chosen the perfect place to grow your Ceropegia woodii, it's time to discover just how easy they are to take care of. With love, and honestly a little neglect, they can live for decades.
Light
String of hearts will grow rapidly in bright, indirect light. They can tolerate a little bit of direct sun, but too much can cause them to scorch.
Outdoors, keep yours in a partial or dappled shade location where it's protected from the intense afternoon rays.
While they may survive in lower light settings indoors, too little can slow them down, or cause them to become sparse or pale. So place them near a bright window, or use a grow light.
Water
The tubers and leaves of a rosary vine are good at retaining moisture, making them a drought-tolerant plant that prefers infrequent watering.
During the spring and summer, water when the soil feels dry at least an inch down. In the fall and winter, let it dry out more. Ceropegia woodii goes semi-dormant in those months, and won't need as much moisture.
Overwatering can lead to root rot and yellowing or browning of the vines and leaves. If you tend to struggle with this, an inexpensive soil moisture gauge can be a helpful tool.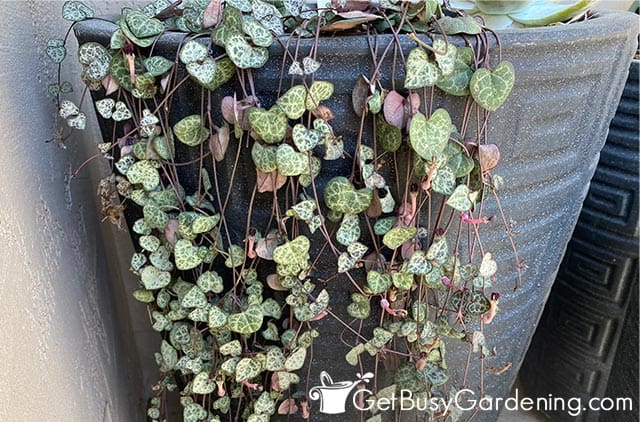 Humidity
The native environment for Ceropegia woodii is dry, so they don't need very moist air. Typical household humidity levels, anywhere from low to medium, will be fine.
In high humidity environments, you may actually need to water less than usual.
Temperature
Unfortunately string of hearts doesn't tolerate a very wide range of temperature swings. The ideal range for them is between 65-80°F.
If it's too hot, the vines will start to dry out or burn in the sun. On the flip side, colder weather will quickly kill it.
If yours is outdoors during a heat wave, move it to a shaded area to protect it, and water more often. And make sure to move it back indoors before it gets below 60°F in the fall.
Fertilizer
String of hearts do not require consistent fertilizer to grow well. But, an occasional feeding can invigorate them and encourage more flowering.
I recommend avoiding chemical products because they can cause fertilizer burn. Instead, use a natural liquid fertilizer like compost tea, or one for houseplants.
Fertilize them only during the spring and summer months, and stop feeding altogether in the fall and winter.
Soil
The best type of soil to use is one that is neutral to slightly acidic, and fast draining. A cactus and succulent mix is a great option.
Or, you can amend a general potting soil by combining it with equal parts coarse sand and perlite or pumice.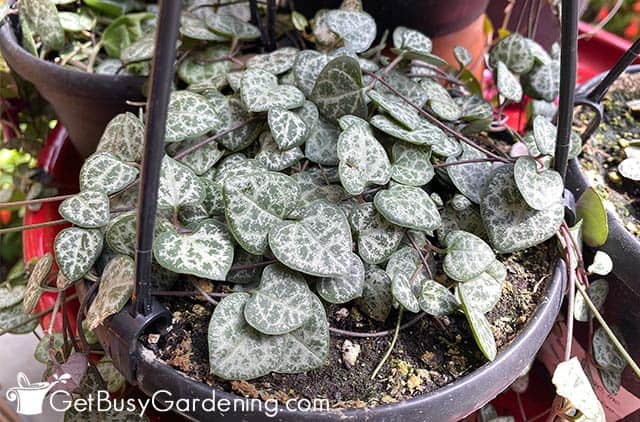 Repotting
There's little need to repot chain of hearts very often, they thrive when pot-bound. If you notice roots coming out of the drainage holes, it's time to move it to a new container.
The best time of year to repot them is in the spring or summer. Choose a container that is 1-2" bigger than its current one, and make sure it has adequate drainage holes in the bottom.
If you haven't repotted in a few years, it's a good idea to rejuvenate the soil by gently working in a slow-release granular fertilizer.
Pruning
There's no real need to prune string of hearts as a part of your regular care routine. But it's a good way to regulate the long vines, and encourage fuller growth.

It's best to trim rosary vines back in the spring, before their most active growth period. They can handle a hard pruning, so you can cut them down to whatever length you like.
To do it, simply clip the vines back to the desired length with sharp, sterile pair of micro pruners or precision snips.
String Of Hearts Pest Control Tips
A healthy Ceropegia woodii plant rarely has pest problems, but occasionally they can develop issues with aphids and mealybugs.
Both can be treated with an all-natural insecticidal spray, or with a homemade one. Simply mix 1 teaspoon of mild liquid soap with 1 liter of water, and wash the leaves and vines with it.
A neem oil spray is also very effective for getting rid of plant bugs. Especially for long term prevention, or recurring pests.
Bugs can also be removed with a cotton swab dipped in rubbing alcohol, which can help immediately improve an infestation.
String Of Hearts Propagation Tips
There are many ways to propagate string of hearts plants, and they're all pretty easy. You can root cuttings and aerial tubers, separate the tubers in the soil, or divide the rootball.
For cuttings, use a sterile pair of micro snips to clip the vines or remove the aerial tubers, and dust them with rooting hormone. Place them in moistened, fast-draining soil, and keep them in a warm place, or on a heating mat.
For any method you choose, you'll know you've had success when new vines and leaves begin to form. Get my full instructions for how to propagate them here.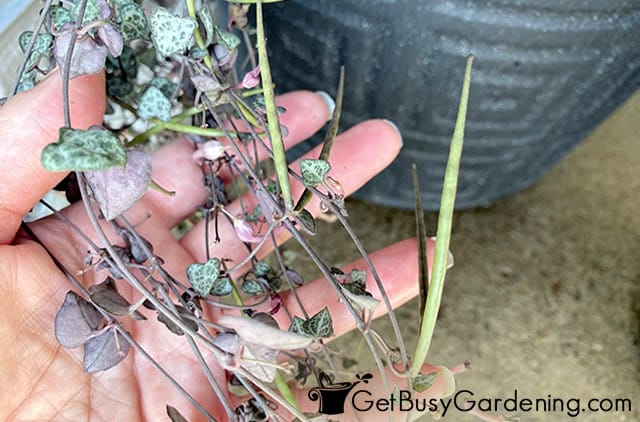 Troubleshooting String Of Hearts Care Problems
Although Ceropegia woodii is usually very easy to care for, you may run into an issue or two over the years. Here are my best tips for troubleshooting and resolving some of the most common ones.
String of hearts turning purple
The underside of the leaves are purple naturally, so there is no cause for alarm if you notice that. If you see significant levels of purple on the top of the leaves, it's possible you have the variegated variety.
Light exposure affects the color of the leaves. Lower light settings make the green more prominent, while bright light can increase purple tones.
Not Flowering
Though they'll likely have no problems blooming outdoors, it's much less common for a string of hearts plant to flower indoors. They need to be healthy, and receive plenty of bright, indirect light.
To encourage flowering, give them a monthly feeding of a natural liquid fertilizer in the spring and summer.
Leaves Turning Brown
If the leaves are turning brown on your chain of hearts, there can be a few causes. If it's just an occasional leaf here and there (especially near the top, or oldest part of the vine), it's a natural part of their life cycle.
But if there's a significant amount of leaves turning brown along the stem, that is most likely due to under watering. Never allow the soil to become completely bone dry.
Another cause could be sunburn or scorching from too much direct sunlight. Whether indoors or out, always keep them out of the hot afternoon sun.
Leaves Turning Yellow
When the leaves on a Ceropegia woodii turn yellow, then it's almost always caused by overwatering. They don't like wet feet, and too much water can lead to yellow leaves, and eventually root rot.
Let the soil dry out more between waterings, and invest in a soil moisture gauge if this is difficult for you.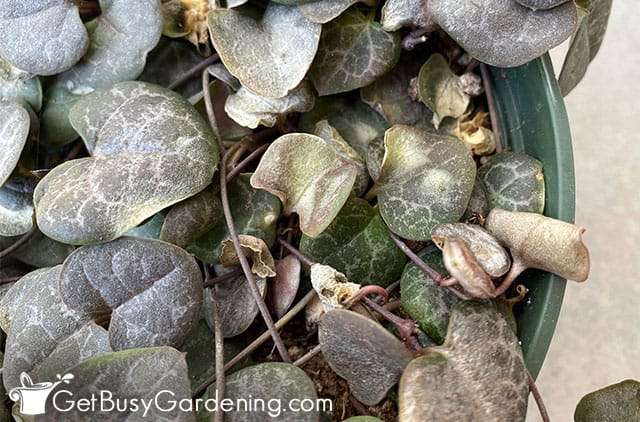 String Of Hearts Care FAQs
Here you'll find the most commonly asked questions about string of hearts care. If I haven't answered yours, please ask it in the comments section below.
Is Ceropegia woodii toxic to cats and dogs?
No, Ceropegia woodii is not toxic to cats or dogs. However the long hanging vines can look like toys to cats (and children) so you may want keep them out of reach for the health of the plant.
Do string of hearts plants grow fast?
String of hearts plants can grow very fast when given the proper care, especially in a bright light setting.
Is Ceropegia woodii a succulent?
No, Ceropegia woodii is not a true succulent. But it's ability to store water in its tubers and leaves gives it similarities that causes many gardeners to call it semi-succulent.
How do I make my string of hearts fuller?
The best ways to make your string of hearts fuller is to keep them in a bright location with plenty of indirect light. It's also a good idea to prune the vines occasionally to encourage branching and bushier growth.
Are strings of hearts hard to care for?
No, string of hearts plants are not hard to care for. They're very low maintenance, require infrequent waterings, and thrive on moderate neglect.
Now that you know all about string of hearts care, you're ready to add one of these beautiful plants to your collection. With my tips on growing rosary vines, you'll be able to keep any variety thriving for a long, long time.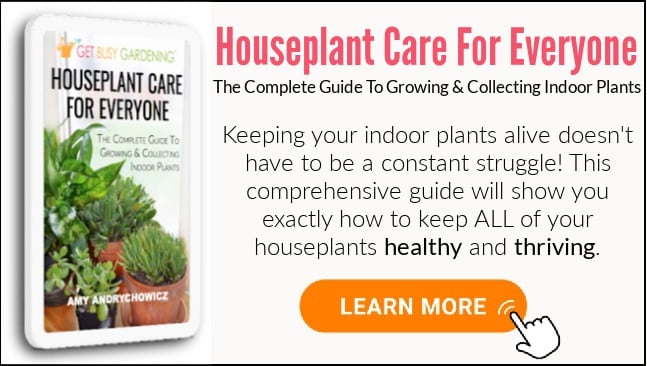 If you want to learn all there is to know about maintaining healthy indoor plants, then you need my Houseplant Care eBook. It will show you everything you need to know about how to keep every plant in your home thriving. Download your copy now!
More Houseplant Care Guides
Share you tips for successful string of hearts care in the comments section below.