A reader on my Facebook page recently asked:
Can you do a post on how to start your garden for the first time? Like how to prepare the soil for planting. What do you put in the soil to enrich it?
I decided to write this post in two parts because it really depends on what type of garden plot you're starting with.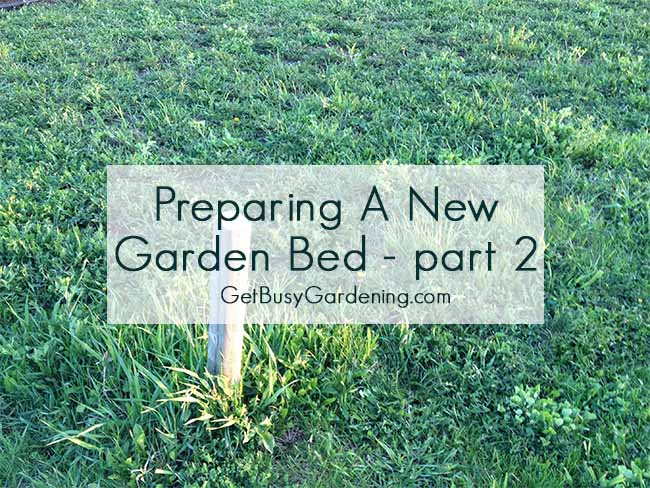 In my last post, How to Prepare a New Garden Bed for Planting – part 1, I showed you how to prepare a garden bed in an area where a garden existed previously. In this post, I want to show you how to prepare a garden bed in an area that is covered with sod or overgrown with weeds.
Preparing a garden bed in an area that hasn't been used as a garden before or an area that is overgrown with thick weeds and grass is a bit more challenging than starting with something that's been used recently. We had this dilemma when we rented a new community garden plot this year.
This new bed was completely overgrown with weeds and grass, so it wasn't as easy to prepare as the bed I talked about in part 1. Normally on a bed like this, I would have used the lasagna gardening method in the fall to kill the weeds over the winter, but we didn't know which plots we were getting until early this spring, so there was no time for that. To make life easier, I decided to use a similar layering method to kill the growth in the garden area.
Related Post: Preparing the Vegetable Garden for Next Year's Crop
I don't think this plot has ever been used before. The weeds in this garden were thick and very tall. It was so overgrown that you couldn't tell the difference between the grassy area and the garden area. I tried pulling a few weeds and they had monster roots. Hand pulling the weeds was definitely not an option. Yikes!
Preparing the New Garden Bed
Here are the steps I took to get this weed covered plot ready for planting:
1. Knock down or break up the weeds and grass: First, I mowed the weeds down using the lowest setting on the lawn mower. Next, I tilled the garden to break up the weeds and level it out a bit. This step is optional, you don't need to till the garden. Tilling alone won't kill the weeds, but it will knock them down enough for us to get the upper hand.
2. Add edging to keep the weeds and grass out: Once the borders of the garden area were established, I added plastic edging to help keep the weeds and grass from creeping back in around the garden edges. Inexpensive black plastic edging works wonders to keep weeds and grass from growing into the garden. You could also use fancier edging materials like brick or concrete bullet edgers. Just make sure to bury them deep enough to keep the weeds and grass from creeping underneath and back into the garden.
3. Smother the weeds and grass: Once the edging was in, I covered the entire surface of the garden with cardboard. The cardboard will smother the weeds and kill them. If you don't have cardboard available, you could use a thick layer of newspaper.
4. Pile on the compost: Next, I added a thick layer of compost over the top of the cardboard. This thick layer of compost will also help to smother the weeds and grass. This way I could plant my seedlings directly into the compost rather than poke holes in the cardboard. If I poked holes in the cardboard, weeds and grass would find their way through for sure. I would recommend a layer of compost that's 2″-3″ deep to block out any chance of light reaching the weeds underneath. This garden is 10′ x 20′ and I used abut 2 yards of compost to cover it. As the seedlings grow, the roots will make their way through the cardboard and into the soil underneath.
Related Post: How To Test Your Soil At Home Using A Soil Test Kit
5. Add a thick layer of mulch: Last, I spread a bail of straw over the top of the compost and watered the garden well. Watering the garden will help soften up the cardboard so it can conform to the ground and smother the weeds. Under all that wet mulch and compost, it won't take long for the cardboard to soften up.
The most important part of using this method is to keep the garden consistently watered. If the cardboard dries out, it will remain rigid and won't break down as quickly, and the plants will have a difficult time getting established. This garden won't be weed-free this year; no doubt some of those monster weeds will find their way through. But it will be much easier to manage a few weeds poking through than it would be to try to remove them all before planting.
More Tips for Garden Planning and Design
Have you tamed any rough patches of land to create a new garden bed? Tell me about your experiences in the comments section below.