When I first started gardening, planting my vegetable garden every spring was a very stressful. I used to "plan" as I went, deciding where to put stuff as I planted it. This messy way of planting always resulted in an overcrowded garden that was difficult to maintain. I learned the hard way that creating a backyard vegetable garden design makes life much easier, and helps to create healthier more beautiful gardens.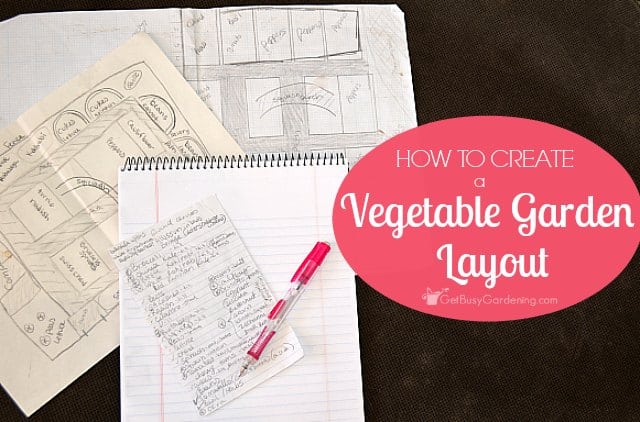 Not only was my vegetable garden always overcrowded back in those days, but it was difficult to weed and harvest too; I never left enough room to easily walk between the plants.

I also found it hard to properly rotate my crops since I couldn't always remember where everything was growing from year to year. Rotating crops is difficult in a small garden anyway, and pretty much impossible without a plan.
So that's when I began planning my vegetable garden before planting anything. I also started grouping plants that are in the same family, (cabbage family, nightshades…etc) to make crop rotation easier.
Vegetable garden planning has taken the stress out of planting, harvesting and maintenance. I can use my plans from previous years to help design my garden, and ensure proper crop rotation.
Plus, it's kinda fun to look back at all my old garden plans and remember what I grew each year.
Backyard Vegetable Garden Design Ideas
Creating your own backyard vegetable garden design plan doesn't have to be difficult. You don't need any fancy garden design software or a degree in home garden design to create your plan – you don't even need any graph paper or artistic ability!
You can simply sketch out your garden designs freehand. Heck, it doesn't even need to be THAT fancy.
Check out these vegetable garden design plans my husband and I drew the other day while waiting for our food at a restaurant. Yep, those are cocktail napkins.
Of course you could create a much fancier design by drawing your garden plan to scale with graph paper. I was able to easily create my design on graph paper after we installed raised beds in the vegetable garden, and I can reuse the design template every year.
Having rectangular raised beds definitely makes it easier to create a garden layout on graph paper. (Please don't be intimidated by my raised garden design layout, it seriously took me years to get to this point!)
However you decide to draw your backyard vegetable garden design, be creative with it. A vegetable garden doesn't have to merely be functional, it can be beautiful too.
Planting everything in rows with walking paths in between can be boring, and takes up more garden space. Plan to grow your vegetables in groups to make it more interesting, and maximize the space you have.
Be sure to include some trellises, arbors or garden arches as you design your own garden. Growing vertically not only saves space, allowing you to grow more, it also adds interest to the garden.
How To Plan A Vegetable Garden Layout
To create your backyard vegetable garden design layout, start by making a list of what vegetables you want to grow. Then draw the outline of the garden and any existing hardscapes.
Next add the planting areas and walking paths, making sure all areas of the planting beds are easily accessible.
As you design your garden, think about what will make it easiest for you to harvest once everything is full grown.
You can simply note what you will plant in each area on an informal sketch, or you can calculate the exact spacing you'll need for each plant and add it to your scale drawing.
Taking the time to plan your vegetable garden each year will take the stress out of planting, and help give you better results. It's fun to create a design for the vegetable garden and visualize how it will look once it's full grown.
When planting time comes, and you walk out to the garden armed with your garden design, you'll be thankful you took the time to plan ahead.
Next: Growing Vegetables: The Ultimate Vegetable Garden Guide
More About Vegetable Gardening
How do you create your backyard vegetable garden design? Share your story in the comments below.
Pin It!