Pickled garlic is quick and simple to make, and this recipe is has all of the tang you'd expect, with a slightly sweet and spicy finish. In this post, I'll show you exactly how to make it.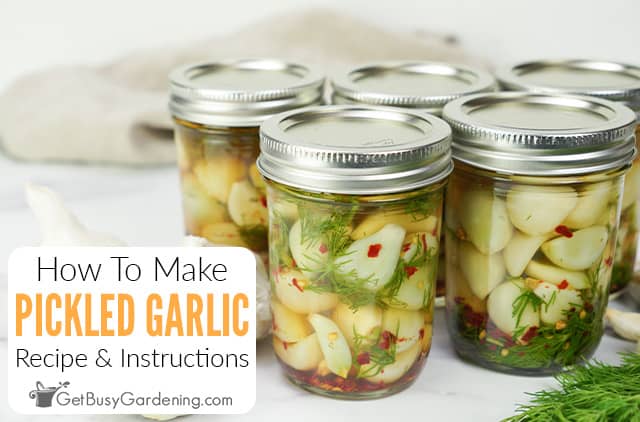 Making pickled garlic is easier than most people realize, and this recipe is sure to be a family favorite.
It's a great way to use the heads you grew in your garden, or you could get it fresh from the grocery store.
Below I'll give you my full recipe for how to make pickled garlic, along with tons of tips to get the best flavor.
Homemade Pickled Garlic
Homemade pickled garlic tastes much fresher than the stuff you buy at the supermarket. You can eat it right out of the jar, use it in your cooking, or for making fancy appetizers.
With just 6 common ingredients you'll be able to whip up a batch whenever you have a craving.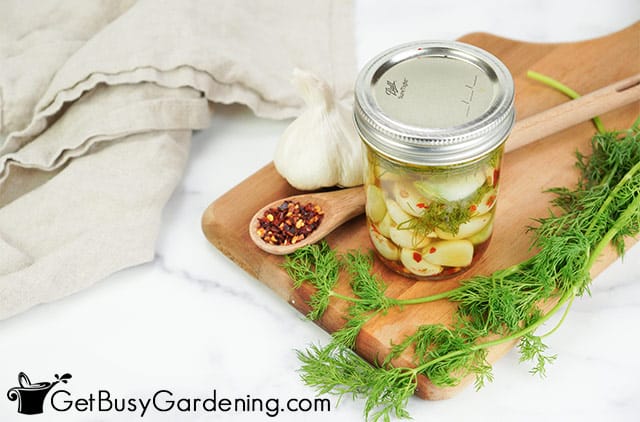 What Does Pickled Garlic Taste Like?
If you're wondering what this pickled garlic tastes like, you're in for a treat. It has a softer, more mellow and sweeter flavor compared to the pungent taste you get with fresh cloves.
The dill offers the common flavor you experience in pickles, and the pepper gives it a slightly spicy finish.
You can eat it right out of the jar, or use it to add a mild and slightly sweet garlic flavor to any of your dishes.
Types Of Garlic To Use For Pickling
You can use any variety of garlic for pickling. Younger and smaller cloves will be less potent and have a sweeter taste.
It's best to use the freshest heads that you can find. Discard any cloves that have brown spots or are dry and crunchy.
Related Post: When & How To Plant Garlic In Your Garden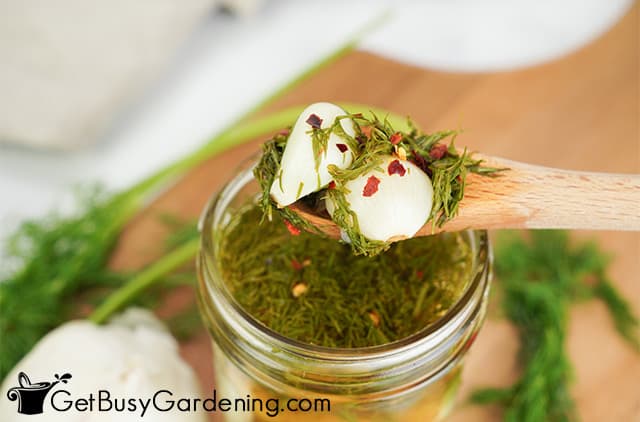 How To Make Pickled Garlic
Making DIY pickled garlic is much easier than most people think. This recipe comes together in a few minutes using items you probably already have on hand.
Pickled Garlic Ingredients
One thing I love the most about this pickled garlic recipe is that you only need 6 common ingredients to make it. Below is a list of what you'll need.
Garlic – Any variety will do, and you can use it from your garden or get it at the grocery store. Young and small cloves will give you the sweetest flavor.
White vinegar – Be sure to get white vinegar that says 5% acidity or higher on the label. If you'd like, you can use apple cider vinegar instead.
Pickling salt – For the best results I recommend using pickling salt only. Do not substitute with table salt because it will change the texture and flavor.
White sugar – Adding a bit of sugar to the brine will counteract some of the bitter qualities in the garlic and vinegar, while also enhancing the natural sweetness.
Fresh dill – We used fresh sprigs of dill, but you can use ⅓ the amount of dried instead. Or experiment by substituting other herbs that suit your taste, such as basil or rosemary.
Chile flakes – This recipe calls for red pepper flakes, but you can substitute with any spice that you want, or use a milder variety like black pepper. Or you can skip it if you don't like the extra touch of spice.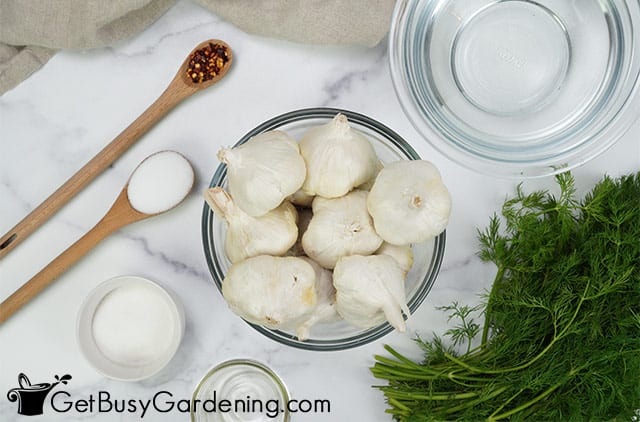 Tools & Equipment Needed
You'll only need a few kitchen items to make this, which you probably already have on hand. Gather everything ahead of time to speed up the process.
Tips For Pickling Garlic
One quick tip to keep in mind is that it's normal for garlic to turn a blue or green color occasionally when it's pickled, and there's no way to prevent it from happening.
But don't worry, the color change is nothing to worry about. The taste and texture will be the same, and it is perfectly fine to eat.
Using & Storing Pickled Garlic
The garlic will mellow with age, and the pickling brine will enhance the natural sweetness. So, the longer you let it marinade, the better it will taste.
For best results, let it sit in the refrigerator for 3-4 weeks before using it. You could eat it right away, but it will have more of a raw flavor.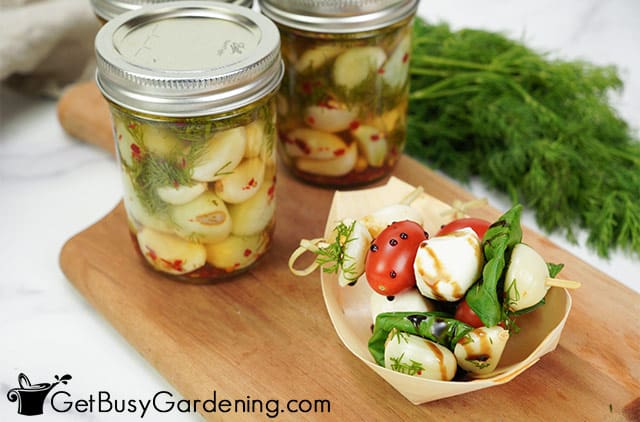 How Long Does Pickled Garlic Last?
Homemade pickled garlic can last in the refrigerator for up to 5 months.
Unfortunately it cannot safely be canned. Home canning equipment can't get it hot enough to kill harmful bacteria, so you must refrigerate it.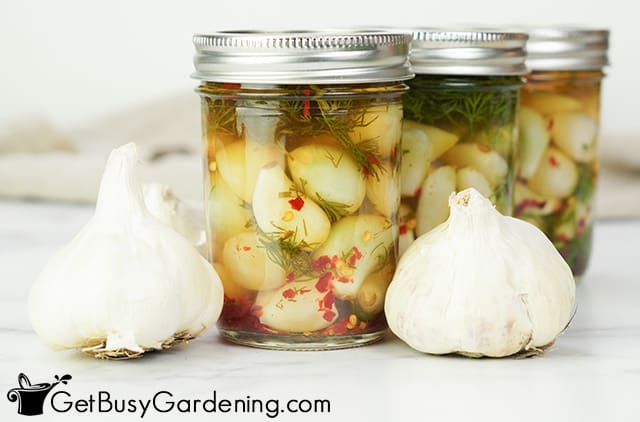 FAQs
Below I'll answer some of the most commonly asked questions. If you can't find yours here, ask it in the comments below.
What is pickled garlic made of?
This pickled garlic recipe is made of a blend of garlic, vinegar, herbs, and spices, with a bit of sugar to balance out the acidity and enhance the natural sweetness.
Can you eat straight pickled garlic?
Yes you can eat straight pickled garlic right out of the jar if you want. I recommend letting it marinade for a few weeks after making it though, for the best flavor.
Is garlic safe to pickle?
Yes, garlic is safe to pickle, and can last in the refrigerator for up to 5 months. However, it is not safe to can at home due to botulism concerns.
How long does it take for pickled garlic to be ready to eat?
Technically, pickled garlic is ready to eat right away. But I recommend letting it marinade for at least 3-4 weeks so the flavors have time to blend together, and mellow out the strong raw garlic flavor.
Is pickled garlic safe to can?
No, pickled garlic is not safe to can yourself. Home canning equipment cannot get it hot enough to kill all of the harmful bacteria. It is only safe to keep it refrigerated.
Making your own pickled garlic is easy and doesn't take much time. This recipe is so delicious, it's sure to become a family favorite!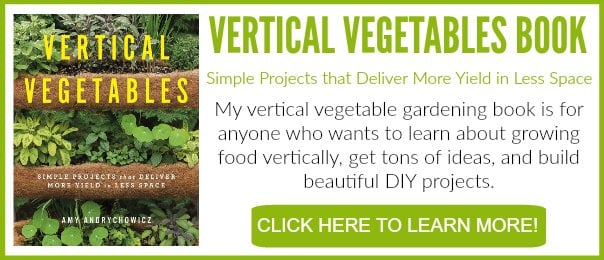 If you want to learn all about how to grow your crops up rather than out, then you need my Vertical Vegetables book. It will show you all you need to know to have both a beautiful and highly productive veggie patch. Order your copy today!
Learn more about my Vertical Vegetables book here.
More Garden Fresh Recipes
Share your favorite pickled garlic recipe in the comments section below.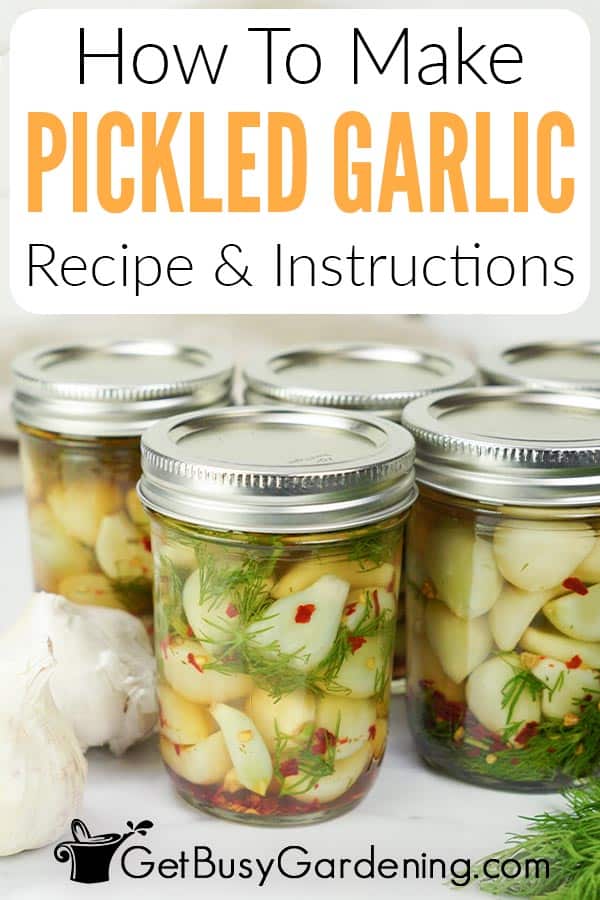 Recipe & Instructions