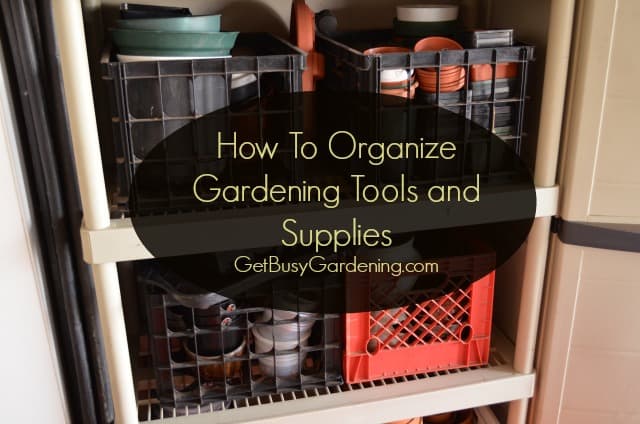 How would you suggest someone organize their gardening supplies if they have a small (city) or large (suburban) garden?
Gardening tools can be awkward and hard to store, but there are tons of great options to help get you organized.
How To Organize Garden Tools
For long-handled tools like rakes and shovels, you could get a small standing rack for your garage or shed (here's the standing rack that I have, or you can get one like this that fits in the corner). You can also store long-handled gardening tools by hanging them on hooks on the wall. I use this heavy duty long handle tool hanger for my tools too (I have a lot of tools!).
For hand tools, you could repurpose one of those hanging shoe organizers, the fabric ones with the pockets (like this one), and hang that on the wall. Then you could use the pockets to store the hand tools. Or you could use a pegboard to hang your garden tool on the wall just like any other tools (the first tool on the left is my hori hori knife, a favorite garden tool!).
You could also get bins or boxes to organize hand tools and supplies on the shelf. I like to use either clear storage bins, or put a piece of tape and mark what's in the bin so I know where everything is at a glance.
Another big space waster is empty pots. It's nice to have extra pots on hand, but they can really clutter up the space. Stack extra pots and put them into boxes or crates on a shelf for storage.
I love using tool storage crates (these are the ones I have) because it's easy to see what's inside, and they sit nicely on a shelf (I love these heavy duty standing shelving units for storing garden tool & supplies in my garage).
Oh, and if you have multiple pairs of gloves, store them like you would your socks. Roll the pairs up together so they're easy to find – and you're not wasting time digging for a matching pair (I have lots of garden gloves too, haha!).
Related Post: Sharpen Pruning Shears For The Perfect Cut Every Time
Do you have any final tips for the listeners?
Organize your tools and equipment now before the busy gardening season starts. It's so frustrating to hunt for tools when you just want to get out into the garden.
It's best to have a designated space for your garden tool and supplies, so they don't get lost in the clutter of everything else you have in the garage. I have several shelves that are only used to store my gardening stuff.
Also, try to put your tools in a place that is easily accessible during the busy gardening season, and where you'll be more likely to put them away when you're done. If you live in a cold climate, try to have a place where you can put your gardening tools away for the winter, or swap them out of an attic or tool storage space for your winter equipment.
What about you? Leave a comment below sharing how you organize gardening tools and supplies.