It can be so tough to find the perfect gifts for dad, especially when he says, "I don't want anything." Come on, dads, help us out a little! Whether it be for his birthday, the holidays, or if you're looking for Father's day garden gifts, look no further. You can't go wrong with this list of gardening gifts for dad, he's sure to love them all.
If you are looking for the perfect gardening gifts for him, but don't have a lot of guidance, this handy gift guide has your back.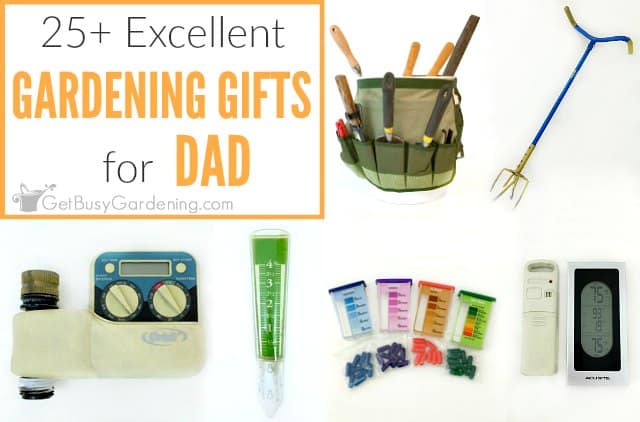 Gardening Gifts For Dad
Even if your dad has everything (or says he doesn't need anything!), I'm willing to bet you will be able find several things on this list of gardening gift ideas for dad that he doesn't already have. Have fun shopping!

A soil test kit is perfect for the dad that likes to be precise and scientific in his garden. It is super easy to use and helps your dad figure out exactly what nutrients his garden needs.
A lot of dads like to geek out about how much rain their garden gets, so a rain gauge would be the perfect gift. This easy to read rain gauge measures up to 5 inches of rain. It has a really cool design that magnifies numbers when it fills with water. Your dad can even mount it to a post or stake it in his garden.
Digital hose timers are amazing! All your dad needs to do is set up the watering interval and the duration of how long to water his garden. And voilà, he no longer has to worry about whether or not he watered the garden! He could also it hook up to a drip irrigation system to make watering containers or the garden even easier.
An indoor/outdoor thermometer is a great gift for the dad who likes to obsess about the weather. Not only does it display the current temperature both inside and outside, but it also displays the humidity percentage.
For the dad that loves to always know the temperature outside, this outdoor wall thermometer will be a big hit. It's large and easy to read so he can hang it in his garden and see it from a distance. So, when he wants to know the temperature outside, he can just look out the window.
Rain barrels are a great gift for your conservation savvy dad. This rain barrel is made from food grade drums which means it produces safe water for all your plants. The water spigot on the barrel connects to a standard garden hose, so your dad can water his garden directly from the barrel.
One of the biggest pains of raking leaves is trying to get the leaves into the trash bag. These awesome hand leaf scoops help to save time and frustration for dad when he's cleaning the yard. They also protect your dad's hands from needles and sharp items, and would work great for cleaning up the garden too.
This time lapse camera will turn your dad into the next Steven Spielberg of time lapse videos. He can create a time lapse video of setting up his garden, or a project he's working on around the house. He can even use it to find out what critters are feasting on his garden plants or destroying the bird feeders when he's not looking.
If your dad is constantly carrying (ehem, losing) multiple tools around the garden or the house, a bucket tool organizer is the perfect gift. It slips easily over most 5 gallons and is durable for all the projects your dad wants to tackle. Your dad will never lose his tools again (well, maybe we won't go that far!).
A garage tool organizer is a great addition to your dad's garage or garden shed, and will help him keep all of his long handled garden tools organized. It easily holds and organizes over 40 tools. There are three different options to help you find the best storage organizer for your dad's space.
Gardening Tools For Dad
Looking for even more gardening gifts for him? What dad wouldn't love some shiny new tools?! Here you will find an excellent list of hard-core gardening tools for dad. These quality gardening tools make excellent gifts for dads. Plus, not only will they make his life easier, they'll also make him look really cool too! He'll be happy, and all the neighbors will be jealous.
The Garden Weasel saves your dad's back when he needs to aerate or weed his garden. All he has to do is stand over the area and turn the handle. It works great for any sized raised garden bed too. He can even use it for uprooting those nasty weeds in his flower beds.
You know how much those pesky dandelions that pop up all over the yard drive your dad crazy. Well, weeding has never been more fun than with this stand up weeder. It grabs weeds out by the root and your dad can place them directly in a trash can. He can use to remove weeds from the garden and from the lawn.
The Hori-Hori Knife is a great multi-purpose tool for your dad's garden, and has tons of uses. With both straight and serrated edges, it is perfect for cutting through roots, digging out weeds, or opening bags of mulch and dirt. It even has inch markings on the blade so your dad will know what depth he is planting his seeds and garden plants. Plus it will make him look really cool.
A pitchfork is great for moving a variety of items around your dad's garden. It can also be used to clear old mulch from around his plants and spreading new mulch, or for turning the compost pile. This pitchfork has steel tines that have been tempered to last.
The Cobrahead Weeder is the best tool for handling all the nasty weeds, and uprooting grass that's creeping into the garden. It has been nicknamed a "steel fingernail" because it is the best tool for weeding and digging. It was designed by gardeners, so you know it's legit.
It's important for dad to keep all of his gardening tools sharp and ready to use, so a  tool sharpener would be perfect for him. It will sharpen all of your dad's garden tools. I do mean all of his tools. It's perfect for pruners, knives, shears, and axes…etc.
If your dad likes to take his gardening to the extreme, this weed torch is the perfect gift. It connects to a propane tank, so he can easily torch weeds along the edge of his driveway, or use it to light his charcoal grill. Take that weeds!
Felco Pruners are a great gift if your dad is in need of upgraded pruning shears. The blades are made out of high-quality hardened steel. Plus, the blades are replaceable. These pruners really are top-of-the-line and will last your dad a very long time.
This battery operated leaf blower is amazing, and best of all… it's cordless! It has variable speeds and its performance will rival any gas engine leaf blower. A leaf blower is not only great for cleaning leaves off the grass in the fall (no more raking!), but it's also handy for cleaning off the deck and patio, and even blowing all the dust and grime out of his garage or garden shed.
The Power Assist Wheelbarrow can carry up to 200lbs and is controlled by a simple pushbutton. Since its battery operated, your dad can easily haul heavy soil, rocks or mulch around his garden without breaking a sweat.
Gardening Books For Dad
More Gift Ideas For Gardeners
Share your top picks for the best gardening gifts for dad in the comments section below.