Whether it be for his birthday, Christmas, the holidays, or if you're looking for Father's day garden gifts, look no further. You can't go wrong with this list of gardening gifts for dad, he's sure to love them all.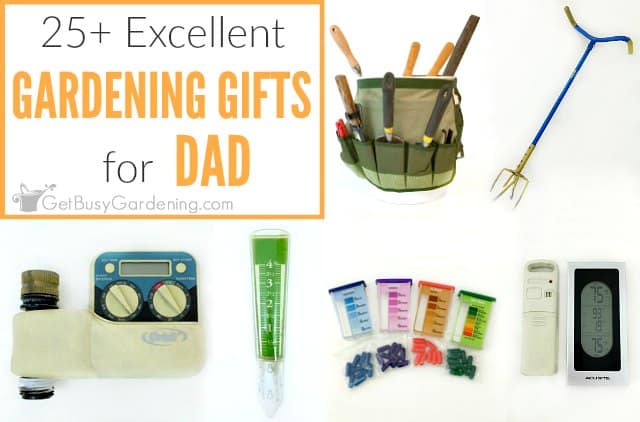 It can be so tough to find the perfect presents for dad, especially when he says, "I don't want anything." Come on, dads, help us out a little! If you are looking for the perfect gardening gifts for him, but don't have a lot of guidance, this handy gift guide for gardening tools has your back.
Even if your dad has everything (or says he doesn't need anything!), I'm willing to bet you will be able find several things on this list of gardening gift ideas for dad that he doesn't already have.
Excellent Gardening Gifts For Dad
Cool Gardening Tools For Dad
Looking for even more great gardening gifts for dad? What dad wouldn't love some shiny new tools?! Here you will find an excellent list of hard-core gardening tools for dad. These quality gardening tools make excellent presents for dads.
Plus, not only will they make his life easier, they'll also make him look really cool too! He'll be happy, and all the neighbors will be jealous.
Gardening Books For Dad
As you're looking for gardening gifts for dad, don't forget about books. There are tons of great gardening books out there that will give dad plenty of ideas and step-by-step projects to keep him busy. Here are some of my favorites…
Dads are hard to shop for, especially when he's a gardener are you're not! I hope that you have found tons of gardening gift ideas for dad on this list.
But don't worry if you didn't find anything you like here. I have a ton of other gift guide for gardeners that will give you even more ideas for what to get dad…
More Gift Ideas For Gardeners
Share your top picks for the best gardening gifts for dad in the comments section below.