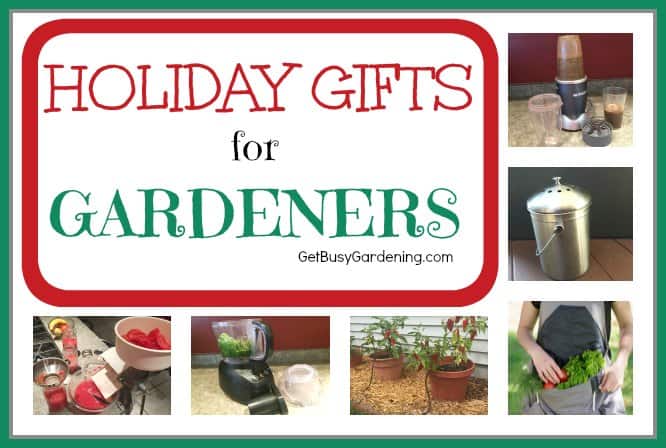 Can you believe it's already that time of year again? Time for my annual guide Holiday Gift Ideas For Gardeners. WOW! I really love putting these posts together for you every year. It's so much fun and it gets me in the holiday mood.
These lists are always a combination of stuff I already have and use all the time (and love!), and stuff that's on my wish list. I hope that you'll enjoy this list, and find it useful. Heck, if you're working on your wish list, maybe all you have to do is just send this link to your family and friends and make it super easy for them to shop for you this year! Nice!

Alright, time to go shopping!!…
Holiday Gift Ideas For Gardeners
Roo Apron
The Roo apron gives you the ability to weed, deadhead, harvest and pick fruit hands free. Simply fill the front pouch with whatever you are collecting, release the ropes from the clips and whatever you have collected will funnel out the bottom of the apron. The Roo also has two deep front pockets for your phone, gloves, shears, etc. The Roo is made from industrial strength canvas cotton with a water resistant lining. Machine washable and one size fits all.
Food Processor
This food processor lives on my counter through the harvest season. I use it for everything from making salsa to liquefying homemade soups, or shredding zucchini for bread. It makes quick work of all my food processing, and gets a lot of use around here!
Buy It Here
Sauce Master Food Strainer
I got this food strainer as a gift a few years ago and didn't quite know what to do with it at first. But let me tell you, it is now an essential tool that I use constantly throughout the canning season. It's awesome for making tomato sauce and salsa, or pretty much anything else you need to process tomatoes for. Quick and easy.
Buy It Here
Magic Bullet NutriBullet
Last summer I started experimenting with making smoothies using the produce from my garden, and now I'm completely hooked. I have a smoothie just about every single day, and would be lost without my NutriBullet. It's so much easier (and faster) to use than pulling out my blender, and cleanup is a snap. Daily smoothies made with organic homegrown produce, yum!
Buy It Here
Drip Irrigation Kit
One of the biggest complaints I hear from my gardening friends is that it's a major pain to water their containers during the hot summer months. A few years ago, we bought a kit and added drip irrigation to all of our pots. It was super simple, and it has made life so much easier! My pots get the consistent water they need, and look gorgeous all summer long without me having to remember to water them. There you go, problem solved!
Buy It Here
Compost Bucket
I used to use an ugly plastic bucket (that was stained and broken) to collect my kitchen scraps for the compost bin. But NO MORE!! I absolutely love my fancy kitchen compost bucket. It's pretty to look at, so I can leave it right on the counter if I want. Plus is has a lid with a filter, so if I forget to take it out right away, it won't get stinky. Oh, and the handle makes it easy to carry it out to the compost bin too.
Buy It Here
Related Post: 2015 Holiday Gift Ideas For Gardeners
Even More Gift Ideas For Gardeners
Related Post: 15 Last Minute Stocking Stuffers for Gardeners
Stocking Stuffers for the gardener on your list
You Might Also Like…
What's on your Holiday Gift wish list this year, or what would you add to my list?
Pin It!