It can be tough to find the perfect gifts for gardeners, especially if you're not a gardener yourself! Don't worry, I've got you covered. This gift guide for gardeners is jam-packed with tons of wonderful products that I love, and they will too!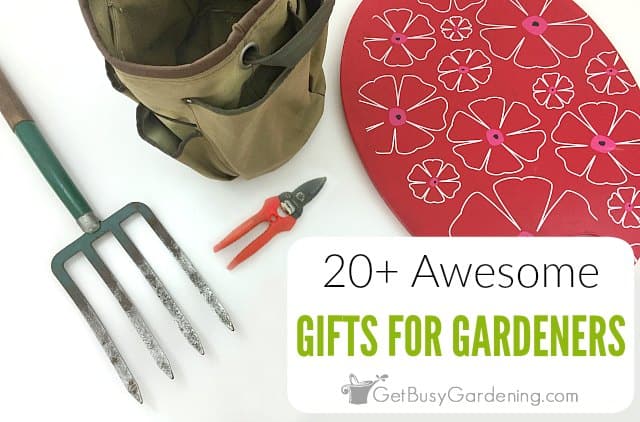 Whether you're looking for holiday or Christmas gifts for gardeners, something for their birthday, a housewarming gift, or some other special occasion… you'll find the perfect presents for garden lovers on this list. This list is a mix of things that every gardener needs and wants – and some things they really, really want, but might not buy for themselves.
You really can't go wrong giving any of the items on this list as a gift for someone who likes gardening! And, if you're a gardener yourself, you can pass this gift guide along as a not-so-subtile hint to your family and friends for what to get you.
20+ Great Gifts For Gardeners
1. Gardening Tool Bag – Every gardener needs a way to organize and carry their tools while working in the garden! This tool tote bag isn't just functional, it's cute too. The pockets on the outside are great for hand tools and pruners, but also perfect for stashing their phone or keys.
2. Garden Tiller/Cultivator – This small cultivator is perfect for any garden, and easy to handle. Great for breaking up the soil in new or existing beds, and working compost and other amendments into the soil. Works for small or large garden beds, and can even be easily lifted into large raised beds.
3. Collapsable Garden Waste Bag – Gardeners need somewhere to put the leaves, clippings and weeds as they work, and this garden waste bag is the perfect solution. Durable and portable, with a drawstring on top and a weighted bottom so it stays upright. It also has drainage holes in the bottom for less mess. When it's not in use, it folds down to a compact size for easy storage.
4. Large Watering Can – This sleek looking, lightweight watering can holds 2 gallons of water to make watering containers and the garden quick and easy.
5. Large Utility Tub – There are so many uses for a large utility tub for gardeners, they'll wonder why they never thought of getting one for themselves. Mixing soil, soaking plants, leaf and garden waste collection, hauling tools and plants… the list goes on and on.
6. Sloggers Garden Clogs – Forget wearing old tennis shoes in the garden, a pair of high quality gardening shoes are a game changer – and Sloggers are the best gardening shoe out there. They're comfortable to wear, and water proof. No more wet or muddy feet. Plus they slide off and on easily when coming in and out of the house.
7. Garden Dump Cart – This Garden Dump Cart is perfect for hauling dirt, compost, mulch, plants, pots… and anything else your gardener needs to lug around the yard. The quick-release dump feature makes for fast unloading. The large pneumatic tires and padded handle makes it easy to pull heavy loads.
8. Decorative Bird House – Gardeners love welcoming birds into their garden. Not only are birds fun to watch, they are beneficial to have around because they eat the bad bugs on our plants. This decorative bird house is colorful and adorable too.

9. Hideaway Hose Reel – Hoses can be clunky to work with, and look ugly when they're left in a random pile. Garden hose reels are such practical gifts for gardeners. This one looks great, and will help extend the life of their garden hose. Plus, the base swivels and stakes to the ground to make reeling in the hose much easier.
10. Garden Hose Guides – Running a hose out to the garden can quickly become a pain when they have to stop every few seconds to make sure none of their plants are being crushed. Hose guides help gardeners by protecting their plants and flowers from being damaged by the hose.
11. Harvesting Basket – A must for any gardener who grows food or likes to collect cut flowers from the garden. This harvesting basket has a handle that makes it easy to hold onto, and it's deep enough for large harvests. Plus, it looks great so they can just put it right on the kitchen counter for storing their fresh veggies until they're ready to use them.
12. Cute Garden Stakes – Gardeners love adding fun and colorful decorations to their garden. These decorative garden stakes aren't just cute gardening gifts, they're functional too. They can be used in pots or in the garden for staking plants, or simply for decoration.
13. Garden Plant Clips – A practical and thoughtful gift, these garden plant clips make it super easy for gardeners to support plants and flowers. Plant clips are much easier to use than twine or string, they are reusable, and they look nice too.
14. Garden Obelisk – Give your favorite gardener a gift that's both functional and beautiful. They are sure to fall in love with this obelisk, and it will look fantastic in their garden too. Perfect for trellising vining plants, supporting flowers or vegetables, or simply standing on its own as a decorative element in the garden.
15. Garden Spading Fork – This is a gift that every gardener definitely needs. This garden spading fork is great for turning the compost pile, spreading mulch, working the soil, breaking up tough dirt, or digging up plants – you name it! Your favorite gardener might even trade in their spade shovel once they see how useful this tool is.
16. Tool Storage Cabinet – Every gardener needs a place to store their tools and supplies! This tall storage cabinet works great as a garden tool holder, and will keep everything organized in one place. Plus it's heavy duty, and strong enough to hold heavy items like bags of dirt or fertilizer too, and it looks great.
17. Corona Hand Pruners – No gardener can live without a nice pair of pruners, and they are always good gifts for gardeners. These pruners are a perfect, all-around garden pruner. They're great for using out in the garden, or for pruning potted plants.
18. Giant Garden Kneeling Pad – This is not the average, flimsy kneeling pad! It's much thicker and larger than any other garden kneeler I've ever used, and it's by far my favorite. Plus, it's lightweight and easy to carry around the garden.
19. Long Handled Watering Wand – A long handled water wand is an excellent solution for watering those hard-to-reach plants. It's great for watering hanging baskets, but also makes it easier to water garden beds and potted plants without requiring so much bending.
20. Boot Scraper Brush – After a hard days work out in the muddy garden, it's great for gardeners to have a scraper brush to clean off their shoes before heading inside. This deluxe scraper brush can be mounted in a convenient location to make it super easy to keep the dirt outside.
Garden Book Gifts
Books make cool gifts for gardeners too! Here's a short list of general gardening books that any gardener will love.
It can be hard to find great presents for gardeners, especially if you don't have a green thumb yourself. I hope this list has helped to give you tons of ideas! It's by no means a comprensive list of gifts for gardeners, just a few of my favorites.
Don't worry if you didn't find anything that you liked on this list, I have tons of other gardener gift guides. So be sure to check these out for even more even more gift ideas for gardening enthusiasts…
More Gardener Gift Guides
Add your ideas for the best gifts for gardeners in the comments section below!