It can be tough to find the perfect gifts for gardeners, especially if you're not a gardener yourself! Don't worry, I've got you covered. This gift guide for gardeners is jam-packed with tons of wonderful products that I love, and they will too!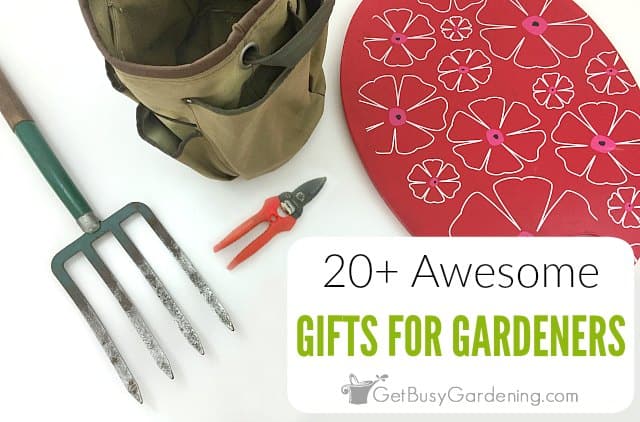 Whether you're looking for holiday or Christmas gifts for gardeners, something for their birthday, a housewarming gift, or some other special occasion… you'll find the perfect presents for garden lovers on this list. This list is a mix of things that every gardener needs and wants – and some things they really, really want, but might not buy for themselves.
20+ Awesome Gifts For Gardeners
You really can't go wrong giving any of the items on this list as a gift for someone who likes gardening! And, if you're a gardener yourself, you can pass this gift guide along as a not-so-subtile hint to your family and friends for what to get you.

It can be hard to find great presents for gardeners, especially if you don't have a green thumb yourself. I hope this list has helped to give you tons of ideas! It's by no means a comprensive list of gifts for gardeners, just a few of my favorites.
Don't worry if you didn't find anything that you liked on this list, I have tons of other gardener gift guides. So be sure to check these out for even more even more gift ideas for gardening enthusiasts…
More Gardener Gift Guides
Add your ideas for the best gifts for gardeners in the comments section below!