I am willing to bet there is always that one person on your gift list who seems to have everything. They are the hardest person to buy for holidays, Mother's Day, Father's Day, and birthdays alike. Yet, you still set out searching to find that perfect gift. Here are some ideas for the avid gardener on your list: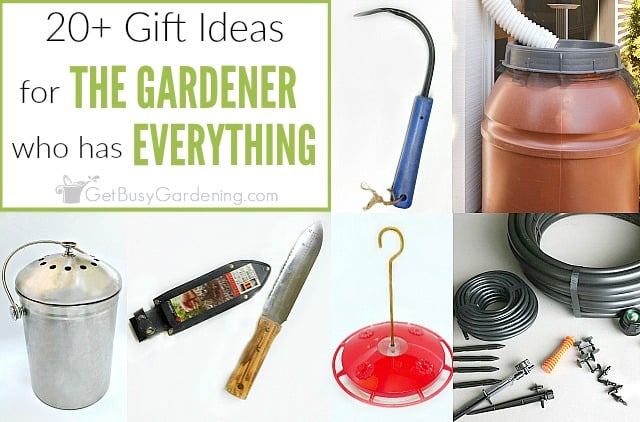 Bees are a major source of pollination plants. This Solitary Bee Nester provides a home for the non-stinging Mason Bees. Mason Bees are known for being outstanding pollinators. Place one on a tree or wall where it gets morning sun and let them do the work for you.
Having serrated and straight edge blades, this Hori Hori Weeding Knife is perfect for both gardening and landscaping. This knife even boasts inch markings to help make sure your seeds and bulbs are planted at the correct depth.
USA made, this Cobrahead Weeder can dig through any soil without much of a fight. The Cobrahead Weeder is developed by people with many years of gardening experience.
This easy to clean and fill feeder holds 12 ounces. There are 4 feeding areas so plenty of birds can be around the Hummzinger Hummingbird Feeder at the same time. Rain is redirected by the raised flowers on the feeder and there is an ant moat built in.
Having guides for your hose will keep the hose from getting into unwanted areas and possibly smothering some of your plants. These sturdy Cast Iron Hose Guides are built to last and make a great decorative yet useful piece in your gardening beds.
When gardening whether inside or out, having the proper tools is important. However, using those tools causes them to dull over time and then they are no longer as useful. That is where this all in one tool sharpener comes in handy. You can sharpen any of your garden tools with this one item.
Gathering your fruits and vegetables is the best part of gardening. However, it is difficult if you don't have a decent basket to carry them into the house. This large wooden garden trug is perfect for carrying all of your fruits and vegetables.
This drip irrigation watering kit waters up to 8 potted plants. Installation only takes about 30 minutes. It also allows you to shut it all the way off when it isn't needed. A kit like this makes watering your plants much easier.
Potting plants is fun and can be therapeutic as well. However sometimes, it isn't all that easy to get up and down from the ground for one reason or another. If getting up and down isn't the problem, forgetting the needed tools is another issue. Having a potting bench puts everything you need in one place and brings the plants up to your level so planting is easier.
Pruning plants is crucial in making sure that they stay healthy. These Felco Pruning Shears are the perfect shears for the job. The blades are made from high quality hardened steel. When they wear out, they are replaceable too.
Wheelbarrows can get pretty heavy and hard to wheel around. This power assist wheelbarrow makes moving things around much easier. The 200 pound weight limit opens up how much you can haul at a time.
The amount of space you have to grow things determines what you grow. This 5 tier vertical garden helps to increase your available gardening space. Not only does it expand your available space, it helps to save water by allowing water to flow through it.
The roof panels are made from a double-walled polycarbonate to help protect your plants from getting too much sun. The sides allow for up to 90 percent of light to go through them as well. The aluminum frame is sturdy and is a beautiful grey color. To make it even better this Hybrid Greenhouse comes with one manual roof window.
These Vertical Garden Pockets are easily mounted or tied where you want them. They are made of non-toxic eco-friendly material that holds any needed moisture for your plants. They can also be strung together so you can use more than one in the same space.
With a carbon filter to manage odors and stainless steel build this Kitchen compost bucket is perfect to use inside. Plus the 1 gallon size is the perfect size for using in the kitchen.
Rocks, soil and woodchips get heavy when you have to move them around. This hand cart will make moving them much easier. Plus, it folds down for easy storage.
Books for the Gardener Who Has Everything
More Gift Ideas For Gardeners