Canning strawberries is an easy way to enjoy them all year round in your favorite desserts and more.
If you are lucky to have an abundance of fresh strawberries from your garden, canning them is one of the best ways to use them up before they go bad.
Canned fresh strawberries are great for making compote, sauces, dessert fillings, jam, and more.
Below I'm going to show you how to can strawberries the right way, including lots of tips so that you will have the best success.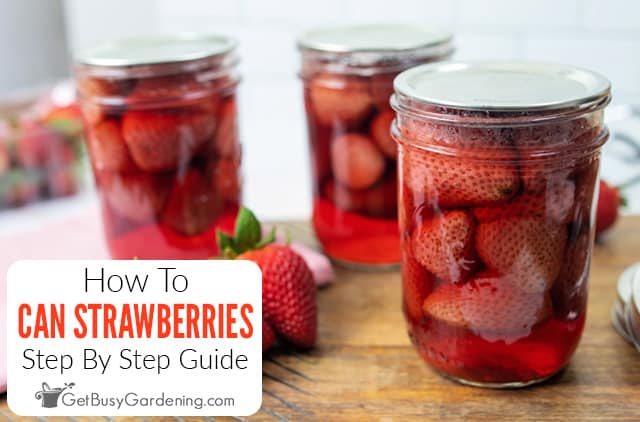 Can You Can Strawberries?
Many people often ask if you can can strawberries, and the answer is yes. It's actually very easy too.
They're a great cupboard staple to have on hand so you can make delicious dessert fillings, baked goods, and more whenever you want.
Best Types Of Strawberries For Canning
For optimal canning results, the best strawberries to use are ones that are fresh, ripe, and firm.
Avoid canning unripe strawberries with white or green patches, as they will not preserve well and will lack flavor.
The freshest strawberries will be the most delicious, while also preserving their structure during the heating process.
Preparing Strawberries For Canning
All you need to do to prepare your strawberries for canning is to rinse and strain them, then cut off the green tops.
It's best to use some sugar in the prepping process. Simply sprinkle it over your freshly washed and cut strawberries and let them sit in a bowl.
The sugar will pull the juices out naturally, as well as making the fruits sweeter, and keeping them firmer after processing.
Related Post: How To Can Strawberry Jam (With Recipe!)
Methods For Canning Strawberries
You can can strawberries by either hot or raw packing them. The method you choose will depend on the amount of time you have, as well as how you plan to use them later on.
Hot Packing
With hot packing, you flash-cook the strawberries and their juices for 1 minute before canning them.
The pros for using this method are that it helps maintain the color and flavor better. But it takes slightly longer, since you have the added step of cooking them.
This is ideal if you plan to use your strawberries in desserts and dishes where presentation and color matters.
Related Post: How To Make Strawberry Jelly: Easy Recipe
Raw Packing
For this method, you put the raw strawberries into the jars, then add in hot juice, syrup, or water.
Though this method is slightly faster, the flavor and color of the fruit won't be maintained as well or as long.
But that may not be a big deal if you're planning to use them in recipes where appearance isn't important. For example, inside of pies or blended into smoothies.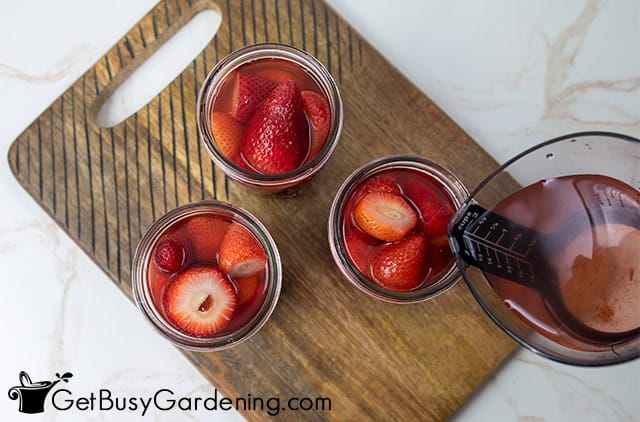 Water Bath Canning Strawberries
The best processing method to use for canning strawberries is a boiling water bath. This is safe because strawberries are naturally acidic.
Simply process them in your water bath canner for 10 minutes. A pressure canner is too hot, and the extreme heat can break down the delicate fruits.
Tools & Equipment Needed
Below is a list of items you'll need. Gather everything before you start to make the process easier. You can see my full list of tools and supplies here.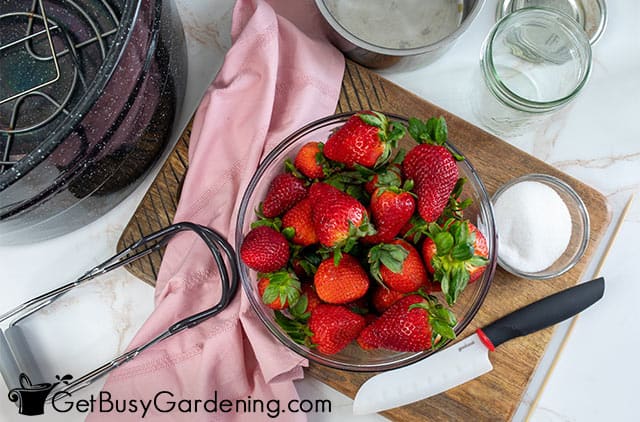 How To Store Canned Strawberries
It's important to store your canned strawberries in a cool, dry, and dark place, such as in a pantry or cupboard.
But first, check each lid to make sure it has a tight seal. If any of them didn't seal after processing, then put those into the fridge and eat them up within a week.
How Long Do Canned Strawberries Last?
Canned strawberries will last for 12 months when stored properly. Once the jars are open, they will last about 1 week in the fridge.
Ways To Use Canned Strawberries
There are so many delicious ways to use canned strawberries. Here are a few of my favorites.
Fruit compote – This can be used on top of pancakes and waffles or stirred into your oatmeal or yogurt.
Pie filling – Add more sugar to create a delicious pie filling, topper for ice cream, or cheesecake.
Drinks – Use them in smoothies, shakes, mocktails, or homemade soda and lemonade.
Baked goods – You can use canned strawberries instead of fresh in any of your favorite baked goods.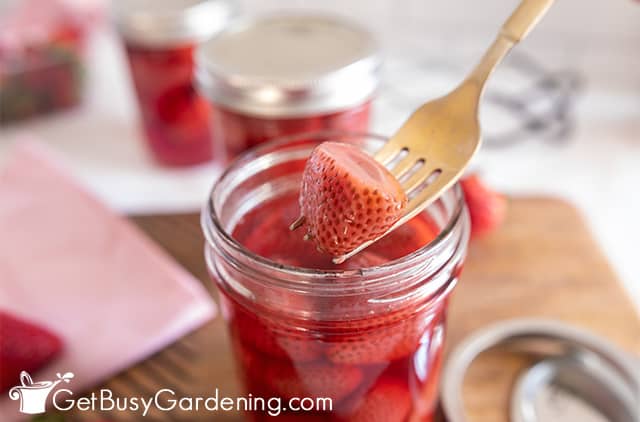 FAQs
Below are answers to some of the most frequently asked questions about the canning process in strawberries.
Can whole strawberries be canned?
Yes, whole strawberries can be canned. They taste the best when a little sugar is added to them so that they maintain color and flavor.
Can you can strawberries without sugar?
Yes you could can strawberries without sugar, and instead use juice or plain water. However the drawback is that the color and flavor will leach out into the brine liquid, resulting in mushy strawberries with less flavor.
How many strawberries fit in a canning jar?
You can fit about 1 to 1 ½ pounds of whole cored strawberries in two pint jars or one quart jar.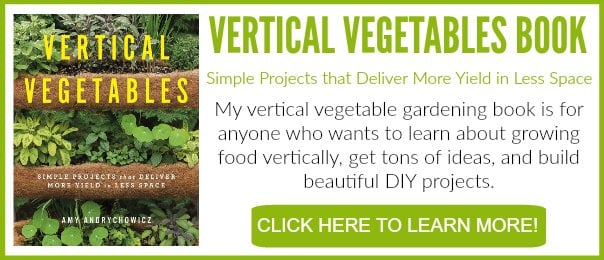 If you'd like to learn how to make the most of your space and get as much homegrown food as possible, then my Vertical Vegetables book is perfect! It will teach you all you need to know, has tons of gorgeous photos, and includes 23 DIY projects you can build for your own garden. Order your copy today!
Learn more about my Vertical Vegetables book here.
More Food Canning Posts
Share your tips for canning strawberries in the comments section below.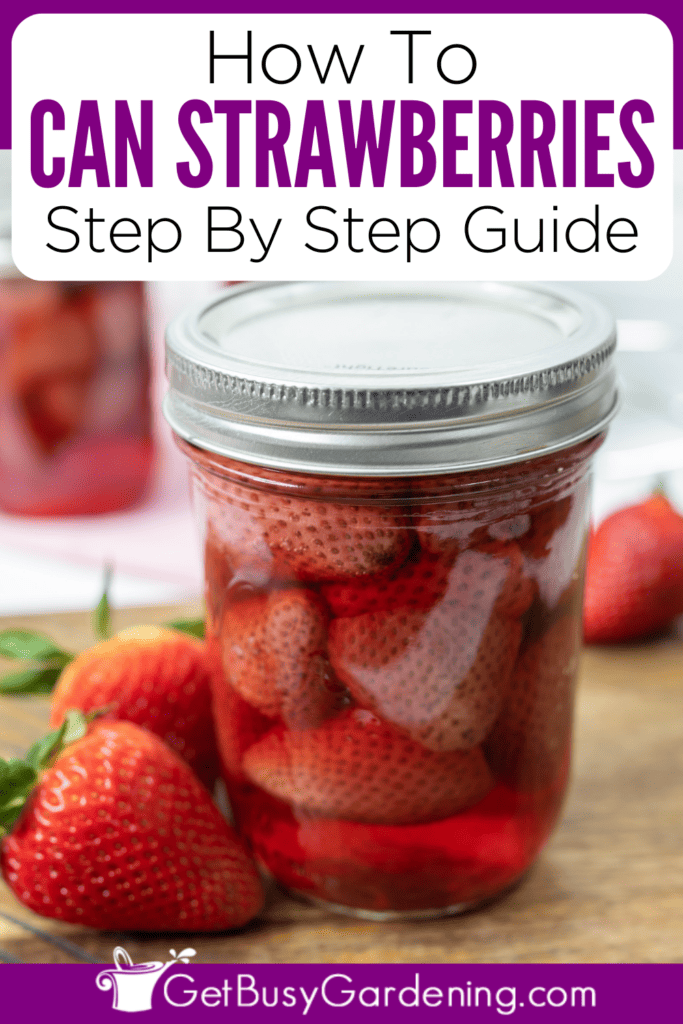 Recipe & Instructions