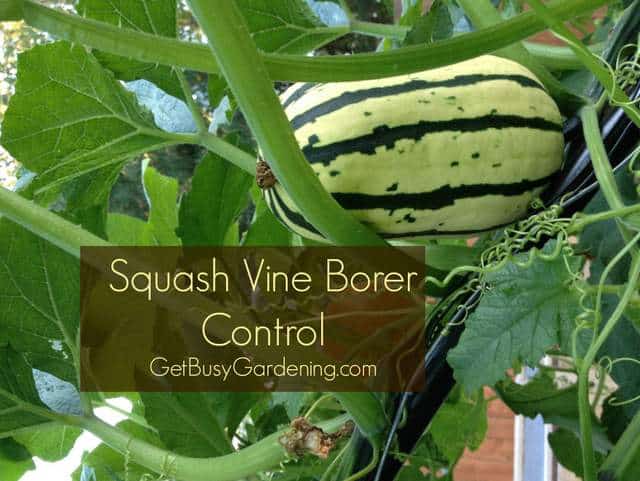 Squash is one of my favorite vegetables, and I grow it in my garden every summer. Each year I am optimistic that this year will be better than the last – and that somehow my squash plants will be immune to the squash borer.
It always starts out the same… my squash plants grow nicely with tons of flowers at the beginning of summer. By mid-summer they start to grow tiny squash from the flowers, and it's an exciting time.
But then the inevitable happens… the squash plants begin to wither and die because it turns out they are not immune to the squash borer after all.

To my dismay, most of the squash plants end up dropping all of their tiny squash before they die. It's the most frustrating thing to watch.
The squash borer is the larvae of the squash borer bug. The squash borer bug lays its eggs on squash plants in early summer.
Once the eggs hatch, the squash borer larvae will bore into the squash vine and feast. Eventually the squash borers will hollow out the squash vine, killing the plant.
How to Protect Your Squash Plants
Row covers can be used to keep the squash borer bug from laying it's eggs on squash plants. You can buy row covers that are made specifically for keeping bugs off your plants, or you can make your own.
I made my own row covers with tulle fabric I had left over from my wedding. Tulle fabric is inexpensive to buy, it's only about $1.40/yard at my local fabric store (and you can buy it even cheaper online).
There are lots of materials you could repurpose to make row covers too. Pieces of old screen material, thin curtain sheers, lightweight garden fabric, greenhouse shade cloth, or other lightweight material work great for row covers.
It doesn't matter what type of material the row cover is made out of as long as it can keep the squash bugs out and let rain, air and sunlight through.
I didn't do anything fancy to make my row covers.
First, I simply laid some metal tomato cages on their sides.
Then I laid the tulle over the top.
Next I secured the fabric around the edges with rocks.
Finally, I used clothes pins to attach the fabric to the tomato cages.
My homemade row covers work great, and have made it through strong winds and rain just fine.
Once the squash plants start to flower, the row covers need to be removed to allow bees to pollinate the flowers. It can be difficult to control the squash borer by using row covers alone – but if you time it right, you may be able to avoid the squash borer in your garden.
Have you successfully used row covers to avoid the dreaded squash borer? Leave a comment below and tell me about it.
More About Garden Pest Control